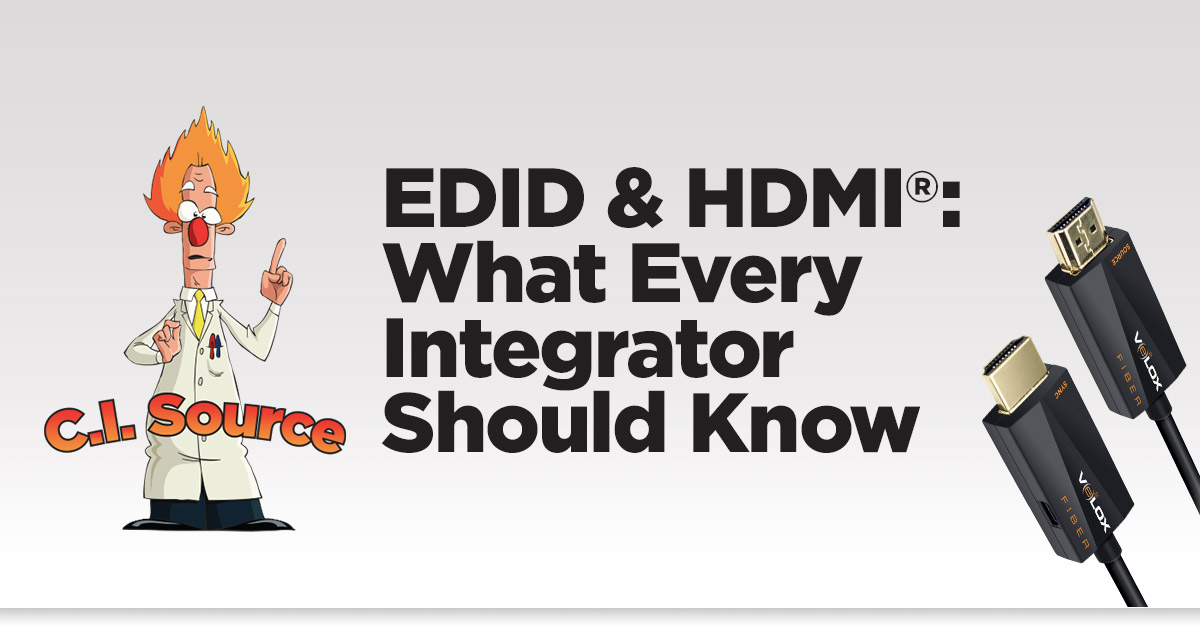 Communication is the key to success in 100% of relationships. It is no different for devices. They must communicate proficiently to be successful as well. However, as it is between people, it is between devices. Even though there may be communication, it doesn't mean there are no issues or problems. So, how DO HDMI® enabled devices communicate? Simple answer: EDID.
Every custom integrator will encounter problems between HDMI enabled devices that are ultimately caused by EDID. Understanding what EDID is and how it will impact your system will give you a step up in the field when it comes to diagnosing and fixing EDID related errors.
What is EDID
EDID is the introductory greeting and handshake between two devices. EDID stands for "Extended Display Identification Data." Upon the "handshake" connection, the source device (the monitor) communicates with the display (the video source/the sink) and transfers essential data for a successful link. EDID sends and receives a tremendous amount of information that needs to be shared between the source and the display to confirm they are compatible. EDID data includes manufacturer and specification data including:
Brand/Vendor
Product Code/ID/Serial number
Date of Manufacture
Video Input Type
Horizontal and Vertical Size
Display Capabilities (size, resolution, etc.)
Color characteristics
Resolution/Timing information
HDR Compatibility
EDID revision
HDCP compatibility and confirmation
This "handshake" of data communicated from your device to your display screen helps you get the information needed for picture and audio results, transmitting the best possible signal. Today's HDMI devices most often use E-EDID (Enhanced Extended Display Identification Data) that includes additional information that also specifies audio capabilities including codecs, sampling rates, channels and vendor-specific specifications.
How EDID Affects AV Systems with HDMI Enabled Devices
When you start building AV systems, the complexity always increases compared to a simple one to one connection. The communication becomes more complicated with each new device added to the system design. A large number of problems experienced in HDMI networks are related to EDID management. When there are multiple devices communicating at the same time, miscommunication and non-compatibility are inevitable. Not every device may be compatible in its ability to transmit the same amount of information. If you are switching between channels and land on a 4K channel that streams 4K content, EDID is going to initiate a hot plug reset to go through your receiver to your display to tell it that you now need to switch from 1080p to 4K resolution, which requires using a different chipset on both your display and receiver. Often times, if issues occur, it is somewhere between this transmission depending on how complex a home theater system may be. For systems with complicated setups and AV racks, it requires a lot more "switches" to go through than just wiring to one single device. With all of the different brands of HDMI enabled devices, they are all going to have different data tolerances, resulting in "communication" issues.
Diagnosing EDID Issues
Identifying EDID issues can be tricky, as sometimes it can present itself as an HDCP error or just give you a black screen. Other signs include long time to sync, audio drop outs, mode out of range and resolution not supported messages.
If you're using Apple TV to stream content, read our article about solving common Apple TV errors. We've also written an article on solving issues with DirectTV or CATV systems showing a black screen or HDCP not supported error message.
Preventing or Repairing EDID Issues
To prevent issues with EDID from the start, MHTG recommends using active HDMI cables with built-in EDID repair, or our stand-alone repair tools for use with passive HDMI cables. For high-end systems requiring long runs, our Velox active fiber cables are a top choice. If you already have cables in the wall and replacing them is not an option, a quick fix can be made using one of our EDID repair tools. The HDM-GA1, HDM-GA2, HDM-AIO or HDM-JRPLUS are engineered to solve many of the most common issues resulting from EDID. The HDM-GA1 and 2 also expand the bandwidth of passive cables to 24Gbps or more (depending on cable quality and length). If this feature isn't needed or your system does not use passive cables, then the HDM-JRPLUS would be your best solution.
For security system installations with multiple displays, the HDM-EDIB is an EDID blocker to prevent conflicts between NVR/DVR and video distribution systems. When distributing the HDMI video signal of an NVR/DVR to multiple displays, there is often an issue with display "weirdness", (ie: off-center picture, black screen or a non-syncing video). This is caused by the simple fact the NVR/DVR devices do not parse EDID data from multiple displays well. The simple and effective solution is to eliminate EDID. When EDID no longer needs to be negotiated it is easy to set the output resolution of the NVR/DVR and then your installation is complete.
Read our Home Tech Tips blog for more articles about HDMI, 4K, 8K, written specifically for custom integrators.