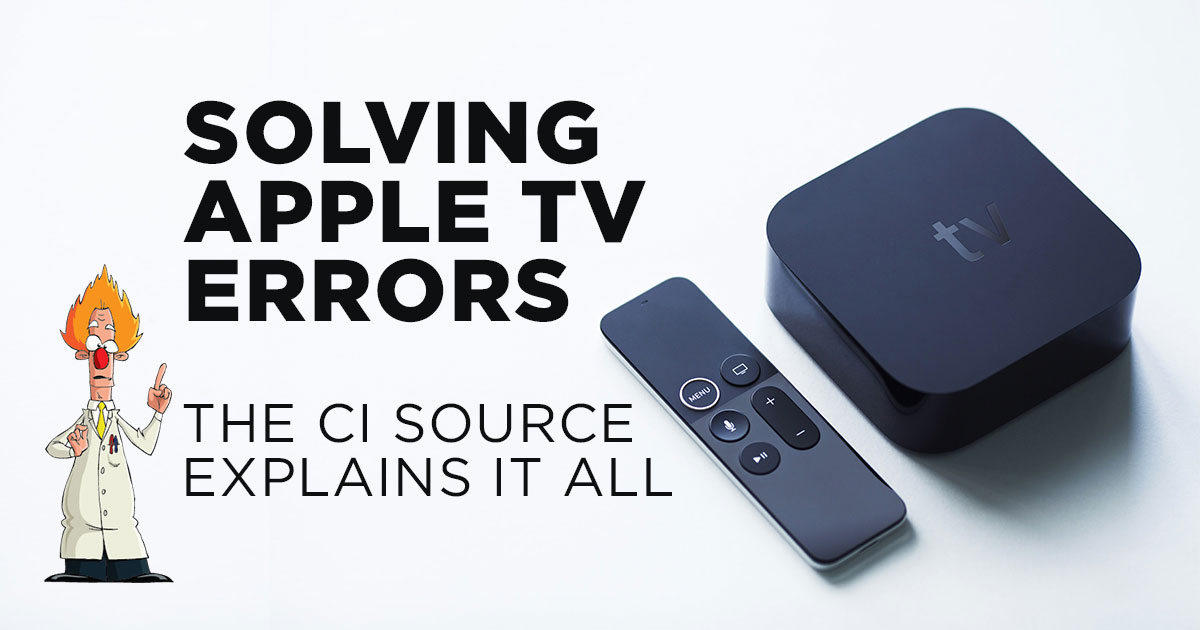 Apple TV Error Messages
We hear calls every single day about Apple TV error messages for HDCP incompatibility or issues with black screens. Since each home theater system is different, solving the issue requires answering questions so that we can determine the true cause of the problem. Often times, it comes down to these two common issues. Here's what they are and how to solve them.
Apple TV Problem: HDCP Error Message
Is your system showing an HDCP incompatibility message? This is most commonly due to voltage/current (amperage) supply issues. Newer displays are built to provide even less voltage/current than before, making it harder to support thinner and/or active cables plus the source devices. This problem is seen often with longer passive or active HDMI cables that do not have any external power source.
Solutions:
Replace the HDMI cables with shorter, thicker passive cables of higher quality. We recommend our Ethereal Velox of MHX Series HDMI cables. We've designed these cables for better compatibility with devices requiring this additional voltage.
If replacing cables isn't possible, you can use the Ethereal HDM-AIO, HDM-VCT inline at the source to inject voltage/current into the TMDS feed and solve the issue. This allows you to keep your cables in place.
Apple TV Problem: Black Screen or a Dim Screen
If you're getting a black screen and have already gone through the most obvious steps of resetting, checking plugs, etc., then it more than likely is an issue with your 4K settings. Apple TV's default 4K setting is a spec requiring content resolution and bandwidth so high that your system cannot support it. In fact, we noticed that the default setting of 4K/60, 4:4:4, Dolby Vision, HDR at 10 bit requires 24Gbps bandwidth, which most displays or systems cannot handle at this point and time under the HDMI 2.0 spec. In fact, the current HDMI 2.0 spec supports up to 18Gbps, which may be what's giving you this dreaded black screen.
How? Your display and Apple TV are backwards compatible with older versions of HDMI, but requires EDID to determine your system's resolution in order to know which chipset is needed, which forces a hot plug reset to force the switch between chipsets. If you're switching between 1080p and 4K channels, EDID is telling your system to switch chipsets. However, if your Apple TV is set on a higher spec that your system can actually handle, you're going to have problems.
Solution:
Update to the most recent firmware first before doing anything else.
Go into the Apple TV settings. The terminology may vary by the model, but generally, any place where you can set the resolution to MATCH, do so. This will tell Apple TV to match the resolution settings of your streaming content.
We suggest you turn OFF the Dolby Vision setting because most displays cannot support this feature. For example, Sony and LG use different versions that are not mutually compatible. One way to know is if Dolby Vision is turned on and your picture is dim, then turn this setting off. The dim picture is an indication that it is not reading the data correctly.
Restart the system and you should now see content without any issues.