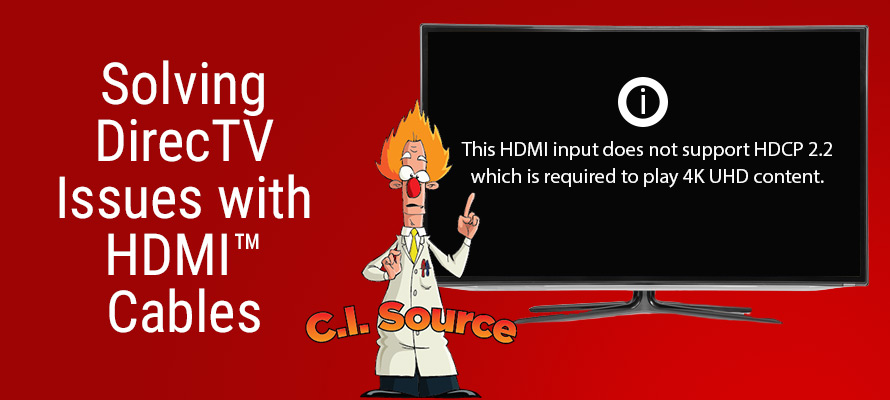 The technical support team at Metra Home Theater Group is getting more and more calls about issues with DirecTV receivers and their HDMI cables. This applies to active HDMI cables and longer passive HDMI cables. In each case that we have heard about, the system had been working fine (sometimes even for years), until something within the last 90 days occurred which caused it to fail. When the failure occurs, the TV displays the dreaded HDCP incompatibility message on the screen.
Integrators saw this same compatibility warning last summer, which you may remember from when we covered the good and bad news about the HDCP Pro 2.2 rollout on our Home Tech Tips Blog. That article included information on how the automatic update feature would affect custom integrators. While the DirecTV issue is an entirely new problem that we've been trying to diagnose, we think we've figured it out.
But first, let's review some important background information on HDMI.
HDMI Power Sources
There are multiple points of power within the HDMI interface, not all of these are on the data feeds.
5V Trigger: Voltage (only voltage) from the source to the display (This lets the display know that something is knocking on its door).
Hot Plug: The reverse of the 5V trigger, this is the display replying to the source.
TMDS Voltage: Here is where it gets interesting. While the Data (picture/sound) travels from the source to the display, the power to run the source output comes from the display over the same lines that carry the picture/sound Data. This same Voltage/Current also powers up any active (Redmere) cables.
What does this have to do with the problem that we are seeing with DirecTV units?
It is our opinion that a recent update changed and raised the acceptable Voltage/Current parameters for running the HDMI output. Under the previous specs, many displays, switches and extenders barely had enough Voltage/Current overhead to support an active cable and the DirectTV receiver. With updated specs raising acceptable Voltage/Current parameters, it just simply collapsed. We have also seen this issue with longer passive HDMI cables.
What is the solution for DirectTV Voltage issues?
The technical support team at Metra Home Theater Group recommends the following:
Need help? Metra Home Theater Group dealers can call and speak directly to our technical support team at 1-866-839-9187. Not a customer? Apply to become a Metra dealer today.