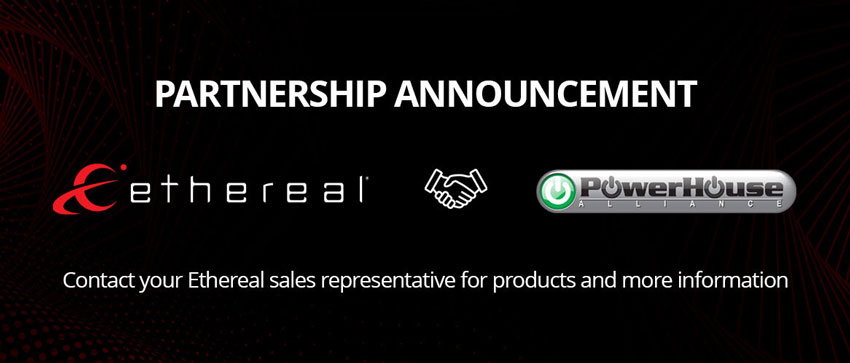 Holly Hill, Fla. Ethereal®, formerly MetraAV, announced today that it has forged a partnership with PowerHouse Alliance, a wholesale distribution network that provides name-brand products to custom installers, specialty dealers, large retailers and industry buying groups throughout North America. Ethereal and the PowerHouse Alliance's new partnership agreement allows members to distribute Ethereal's Big Dog Power line of smart power distribution products to their customers.
The PowerHouse Alliance has created a seamless conduit from the manufacturer to the integrator by offering dealers the products they need to complete jobs in every category including residential and commercial audio/video, home entertainment, security, networking, IT and more. Ethereal is excited that customers will now enjoy easier access to their premium products as a result.
"Ethereal is extremely excited to be partnering with PowerHouse Alliance as we continue to manufacture world-class AV, home theater, power, networking and security products. A partnership with PowerHouse Alliance will enhance our ability to get them into the hands of our customers in the most convenient method." Says Jessy Crabb, General Manager of Ethereal.
PowerHouse Alliance offers international distribution with a local touch. Dealers can access Ethereal's products via pick up or delivery within 24 hours of order placement from one of 70 convenient locations across the United States and Canada. Additional information is available at PowerHouseAlliance.com. Any custom integrators or retailers interested in more information on this partnership can contact their Ethereal Sales Representative.
About Ethereal
Ethereal is a pioneer in HDMI® cable technology, power distribution products, premium audio cable design, and AV integration headquartered in Holly Hill, Florida. Ethereal's brands include Ethereal Home Theater®, Velox®, Helios®, and Big Dog Power®. A strong commitment to research and development has resulted in a history of providing first-to-market technology for HDMI cables and electronics with numerous industry awards for innovation. Formerly known as MetraAV, you can connect with Ethereal on Facebook, Twitter, Instagram, LinkedIn and subscribe to their page on YouTube to watch informational product videos and more. For ordering information and pricing, visit MetraHomeTheater.com or call 386-255-0234.
About PowerHouse Alliance
The PowerHouse Alliance is a national consortium of regional wholesale distributors delivering name brand products for custom installers, specialty dealers, large retailers and industry buying groups in the residential and commercial audio/video, home entertainment, security, networking, IT and consumer electronics accessories markets. With combined annual sales in excess of $700 million, PowerHouse Alliance member companies represent 900,000 square feet of warehouse space in 70 convenient locations across the U.S. and Canada, stocked with more than 250+ product lines including house-brand A2V. Creating cost efficiencies for manufacturers and buying power for customers, the Alliance offers a North American footprint with the added benefit of local sales, training and support.
Powerhouse Alliance members include: 21st Century, AlarMax, Davis Distribution, ECD, Evolution Entertainment Corp., KOA Electronics Distribution Inc., Mountain West, Pioneer Music Company, Next Level Distribution, Professional Audio Associates, Sierra Select, and Ui Supplies.