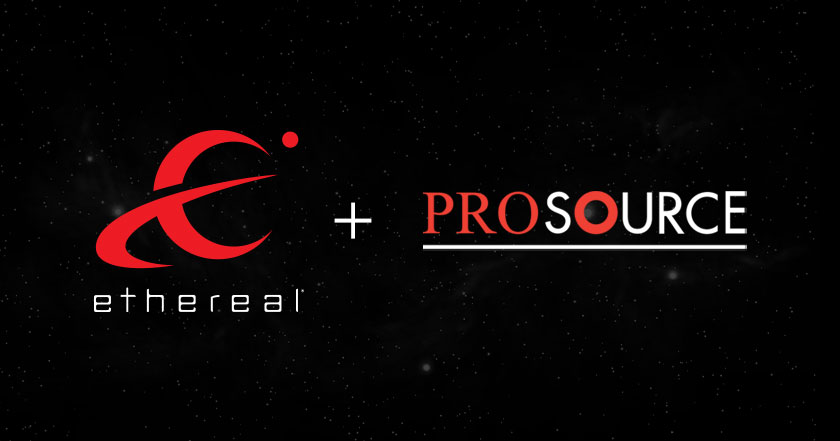 Holly Hill, Fla. – Ethereal, formerly MetraAV, has announced a new partnership with ProSource, a cooperative, member-governed, not-for-profit group representing more than 600 custom integrators and specialty retailers. Ethereal recently launched its award-winning Big Dog Power line of smart power distribution products, providing ProSource members smarter and easier remote management of connected devices. Big Dog Power combines all the features integrators need into one device to deliver surge protection, remote control, smart home integration, rack temperature management, and more.
Ethereal's commercial catalog consists of HDMI electronics, including repair tools, extenders, splitters and switches, along with converters, IR kits, HDMI® cables, audio cables, patch cables, innovative power distribution products, bulk wire, and much more for both residential and commercial installations. "Ethereal's vast array of premium residential and commercial integration products are a perfect fit for a partnership with ProSource, which represents such a wide variety of integration professionals." says Jessy Crabb, General Manager of Ethereal.
The ProSource team is proud to partner with Ethereal®. After a comprehensive review and meetings with the sales and engineering teams at Ethereal, Frank Marengo, ProSource Director of Sales, ProSource members, Home Pro, Maxicon, 1st Priority Audio, and myself concluded that it was clear that Ethereal has the scale, engineering discipline and spirit of partnership that would serve our members well" says Jim Pearse, President of ProSource. "The consensus was unanimous, Ethereal would be a step forward for our members" core cable needs."
Custom integrators or specialty retailers interested in distribution opportunities with Ethereal are invited to contact their local distributor or their Regional Inside Sales Manager for purchasing information.
About ProSource
ProSource is a cooperative, member-governed, not-for-profit buying group representing 600+ custom integrators and specialty retailers. With annual sales of more than $6 billion, ProSource is the largest specialty and consumer-electronics merchandising group in the United States, which allows it to negotiate stronger programs with manufacturers, help independent dealers stay relevant to consumers, and keep the specialty A/V channel competitive. For additional information go to www.prosourceinfo.com
Follow ProSource
About Ethereal
Ethereal is a pioneer in HDMI® cable technology, power distribution products, premium audio cable design, and AV integration headquartered in Holly Hill, Florida. Ethereal's brands include Ethereal Home Theater®, Velox®, Helios®, and Big Dog Power®. A strong commitment to research and development has resulted in a history of providing first-to-market technology for HDMI cables and electronics with numerous industry awards for innovation. Formerly known as MetraAV, you can connect with Ethereal on Facebook, Twitter, Instagram, LinkedIn and subscribe to their page on YouTube to watch informational product videos and more. For ordering information and pricing, visit MetraHomeTheater.com or call 386-255-0234.