New Technology Takes 4K at 18Gbps Even Farther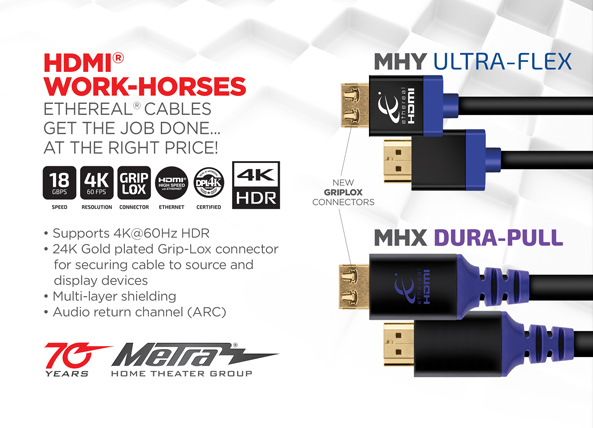 CEDIA attendees will see new HDMI® cables and electronics from Metra Home Theater Group's Ethereal brand, as they unveil exciting new solutions for custom integrators. New technology and redesigned features in Ethereal's popular MHX and MHY HDMI cables will be on display at booth #2325 at the 2017 CEDIA Show in San Diego, CA. Ethereal's innovative and problem solving line of HDMI® diagnostic and repair tools will also be showcased.
Ethereal's MHX and MHY series HDMI cables feature high quality construction and offer an incredible value for their price point. Using new technology, these cables lines will now take 4K content even farther. The new MHY high speed HDMI cables with ethernet support 4K at 60Hz HDR, delivering 18Gbps from 0.5 to 10 meters, and 10.2Gbps at 12 to 15 meters. The new MHX high speed ethernet cables have extended their length for delivering 18Gbps content to 7.5 meters. MHX cables between 8 and 12 meters deliver 10.2Gbps and the 15 to 17 meter cables deliver 6.75Gbps. For 4K / HDR content at 18Gbps, the Gigabit Accelerator (HDM-GA1) can be used with the 8 to 17 meter MHX cables.
All of the new Ethereal MHY and MHX HDMI cables have been certified by DPL Labs and include an audio return channel (ARC) and multi-layer shielding. Integrators will appreciate the new 24K gold plated Grip-Lox connector that secures the cable to the source and display devices, to prevent cables from being accidentally removed. This offers increased pull tension without the risk of damaging connected equipment.
Problem Solving HDMI Electronics
Metra Home Theater Group has consistently been a pioneer in HDMI electronics, leading the industry in developing innovative technology for HDMI diagnostic and repair tools. This year, Metra Home Theater Group has updated their HDM All-in-One Correction Tool (HDM-AIO) to encompass all of the correction solutions found in their HDM Junior, Voltage Control Trigger, Active Cable Voltage Stabilizer and HDMI 5V Injector. Existing HDMI electronics have also been updated to support new technology. These problem-solving tools are engineered to tackle the latest challenges of today's custom integrators. With growing issues between HDMI enabled sources and displays, these tools combat the dreaded black screen, error messages and other HDMI related problems CI's face due to EDID, voltage, and more. When paired with Metra's reliable DPL certified cables, custom integrators can rest assured that they will not be called back to the site due to product failures.
To learn more about all of the new technology and products launched at the 2017 CEDIA show by Metra Home Theater Group, visit https://metrahometheater.com/cedia.html. Connect with Metra Home Theater Group on Facebook or Twitter to stay up to date on the latest news. For more information, visit Metra Home Theater Group online at MetraHomeTheater.com.