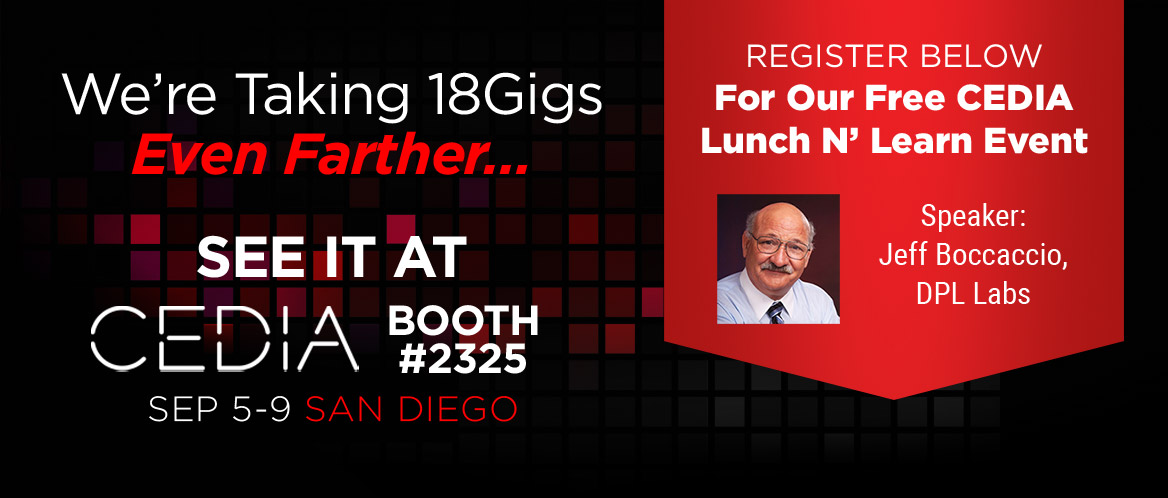 At CEDIA, we're launching cutting-edge technology that will take you even farther for 4K / HDR! Our new Velox HDMI Active cables will deliver 18Gigs farther than any other cable manufacturer has ever gone…
This is just one of our many #MetraHomeFirsts for pioneering new technology for HDMI cables and electronics. Just how far can we go? Visit our booth for a demonstration!
---
Reliable Solutions that Save Time and Money
Say goodbye to scratching your head over black screens and error messages, we have your go- to tools for fast and easy HDMI related repairs. More than 10 new HDMI electronics will be launched to provide integrators even more problem-solving tools for the field. With growing issues between HDMI enabled sources and displays, our new solutions are engineered to combat the latest problems CI's face due to EDID, voltage, and more. Pair them with our reliable, upgraded MHX and MHY HDMI cables and you'll see how our products will save you time, prevent the "it's not working" trips back to the site, and stop unnecessary revenue leakage.
Versatile Security Products that Bring More Profits
Our Spyclops Surveillance Systems will be expanding our line of NVRs, IP Cameras and All-in- One Kits for residential and commercial security solutions. Our new 4-in- 1 hybrid products are compatible with the most popular camera technologies, making our line the most versatile solution for integrators. We've designed these features to provide more value to your customers, so you can bring in more profits for your security projects.
Register Now for Our FREE Lunch and Learn
Going Long with 18Gigs
September 7th and 8th at Noon
You're invited to our 12th Annual CEDIA Lunch and Learn event featuring Jeff Boccaccio, President of DPL Labs. Jeff will discuss and demonstrate the newest technology for high performance copper HDMI cables, when to use copper versus fiber, and how version 2.1 of HDMI will impact these new products. We hope your company will take advantage of this free, exclusive training event on Thursday and Friday at noon. Reserve your seat online by completing the form below for each person attending, or call Theresa Zimmerman at (866) 839- 9187 ext 2384.
Visit Us At CEDIA 2017
Booth #2325
NEW PRODUCTS UNVEILED
New Technology for our redesigned Velox Active, MHX and MHY HDMI Cables
Additional Solutions for Spyclops Surveillance Systems NVR's, IP Cameras and Kits
More TV Mounts
Next Generation Problem Solving HDMI Electronics and Tools
High Performance Velox Audio Cables
Structured Wiring Panels
Lunch N' Learn
Jeff Boccaccio of DPL Labs will Discuss:
How Copper Can Still Provide Long Distance for 18Gigs
Learn How Chemistry, Electronics, and Wire Layout Can Extend Your Distance
The Art of Taming the Equalizer Beast
Facts to Help You Choose Between Fiber and Copper
Demonstration of New State of the Art Products Designed for 18Gigs
How Will HDMI Rev 2.1 Affect These Products?
Reserve Your Seat at the Lunch N' Learn Event
*Please fill out separate form for each attendee.