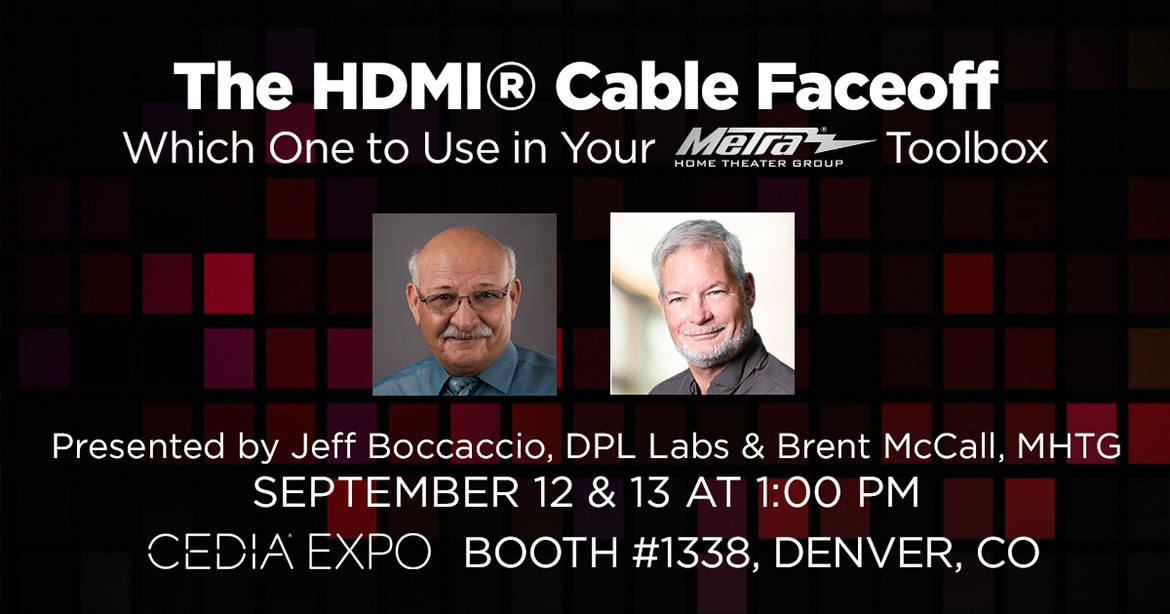 We're Hosting an HDMI® Cable Faceoff
Thursday, September 12 at 1:00 PM
Friday, September 13 at 1:00 PM
CEDIA Booth #1338 in Denver, CO
Don't get stuck on another problem job! Jeff Boccaccio of DPL Labs and Brent McCall of Metra Home Theater Group will show integrators when to use fiber, active and passive copper, along with the latest HDMI tools for 4K and 8K home theater systems. He'll showcase new innovative technology designed to fix or upgrade existing systems and help you get to 8K - without the bumpy ride. While no single product will work for every project you encounter, there is an ideal solution for each price point, length, and requirement. Knowing when to use each will help you be more competitive and successful in your installation projects.
Attend our workshop session at CEDIA booth 1338 on Thursday and Friday at 1:00 PM and you'll be entered in a drawing for a chance to win new products from Metra Home Theater Group.
Register and Attend for Product Giveaways!
Register to attend the workshop using the form below or scan your badge at our booth prior to the start of the workshop and you'll be entered into a drawing for one of the three product giveaways for that day. The drawing will take place at the end of the workshop on Thursday and Friday at 2:00 PM and you must be present to win.
HDM-GA2 - Next-Generation Gigabit Accelerator
EHV-HDP18 - Velox Passive Premium HDMI Cable - 18 meters
IB-HDAOC-050 - The Install Bay Fiber HDMI Cable - 50 feet
Join us at CEDIA Expo Booth 1338 from September 12-14 in Denver, CO
Register to attend the workshop