Velox Active HDMI Cable Delivers 4K / HDR at 18Gbps for up to 30 Meters
Metra Home Theater Group is launching exciting new solutions for custom integrators at the 2017 CEDIA Show in San Diego, CA. The most exciting announcement is the launch of their latest Velox Active HDMI cables, showcasing new technology that delivers a verified 18Gbps UHD, HDR signal up to 30 meters (98 feet). This is currently the longest distance a copper HDMI cable has ever been verified to deliver content at 18Gbps to support UHD, HDR and 4K video applications. See a live demonstration at Metra's CEDIA booth #2325, unveiling this new technology in action.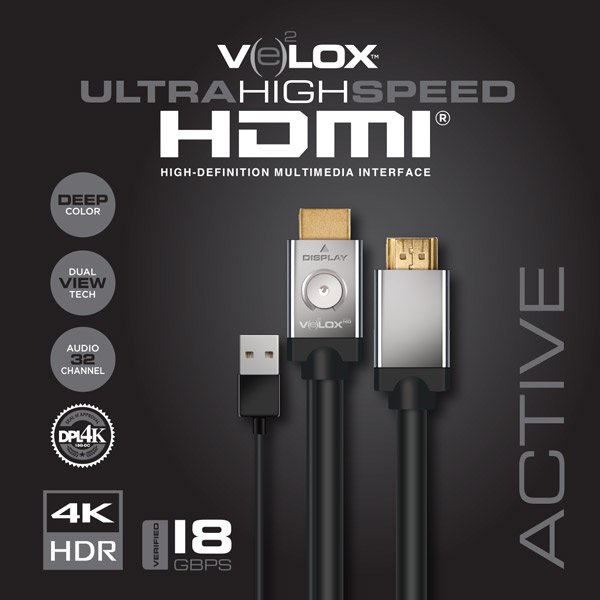 To discuss the technology behind the cables, Jeff Boccaccio, President of DPL Labs, returns once again as the featured speaker at Metra's 12th Annual Lunch N' Learn event at CEDIA. Thursday and Friday's training sessions titled "Going Long with 18Gigs" will have standing room only. Boccaccio will discuss how the chemistry, electronics and wire layout of an HDMI cable can extend its distance for 18Gbps. His presentation will also cover "the art of taming the equalizer beast" and deliver facts to help integrators choose between fiber and copper HDMI cable solutions. Boccaccio will also give a live demonstration of the new Velox Active cables and end the training session with a discussion about how HDMI Rev 2.1 and the transition to 48Gbps will affect and impact current HDMI products on the market.
Going Farther with 4K
As resolution increases, so does the need for higher bandwidth, and with it, the challenges for engineering cables to deliver true 4K / HDR content over longer distances. Metra's newest chipset technology in the Velox product line will allow custom integrators to use copper cables to deliver true 4K / HDR content farther than ever before. For even longer runs, Metra's Velox Active Optical Fiber cables will deliver 4K / HDR at 18Gbps up to 100 meters, or 328 feet. The Velox Fiber cables were launched at the 2016 CEDIA show and were another example of pushing the limits to manufacture connectivity solutions for even longer distances.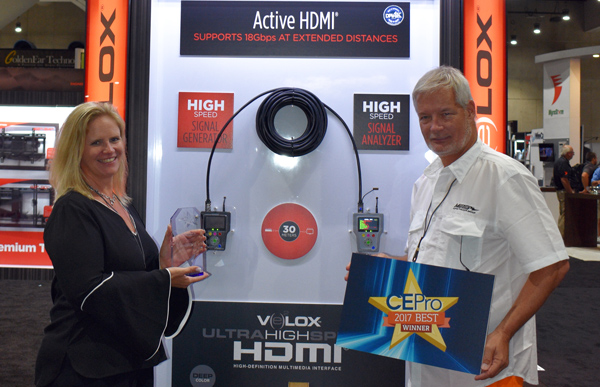 A History of Firsts
Metra Home Theater Group's investment and strong commitment to research and development of cutting-edge solutions has made them a pioneer in HDMI cable technology. In 2016, Metra Home Theater Group became the first and only company to manufacture a 22 meter (72 foot) HDMI passive cable supporting 18 Gbps. Other "Metra firsts" include introducing the world's first working 30 meter (100 foot) HDMI 1080p system, creating the first HDMI cable tester, the first EDID diagnostic and repair tool, the first HDMI surge protector and many more. Overall, the manufacturer has a long history of providing first-to-market solutions for HDMI cables and electronics, and has added yet another "Metra first" to their list, with the launch of the 30 meter (98 foot) Velox Active HDMI cable supporting 18Gbps at the 2017 CEDIA Show.
Velox Cable Technology
Velox's active cables support HDMI 2.0a, are HDCP 2.2 compliant and support resolutions up to 4K at 60, all color subsampling (4:4:4:, 4:2:2, 4:2:0), deep color and HDR. Velox cables incorporate Metra's innovative version of symmetrical HDCP and EDID rise time accelerator for both the data and clock lines on the I2C bus (the Display Data Channel). This reduces EDID errors and, and because this repair is bidirectional, ensures that the HDCP handshaking occurs reliably.
To ensure signal integrity and synchronization, Velox cables incorporate clock amplification and intra-pair skew correction necessary for delivering the latest video and audio formats reliably. Additionally, a 100-millisecond delay on the Hot Plug Detect signal assures that the HDMI source device receives the EDID information correctly from the sync. They are constructed of the highest quality materials, with 100% pure copper. Metra Home Theater Group's Velox line is known in the industry as the most reliable cable, with no defective products ever being returned, due to their superior construction, cutting-edge technology and a commitment to outstanding, uncompromising quality.
Velox cables also include Metra Home Theater Group's unique interchangeable color-coding scheme for easy cable identification and management. This built-in feature helps integrators identify cables by the color nub they assign at either the display or source side, without the need for labels, tags or guesswork.
As with all of Metra Home Theater Group's HDMI cables, the new Velox line has been certified by DPL Labs, an independent testing facility. DPL testing clears away the "smoke and mirrors" common in the HDMI cable business by creating a fair but tough comparative standard against which all HDMI products can be tested.
To learn more about all of the new technology and products launched at the 2017 CEDIA show by Metra Home Theater Group, visit https://metrahometheater.com/cedia.html. Connect with Metra Home Theater Group on Facebook or Twitter to stay up to date on the latest news. For more information, visit Metra Home Theater Group online at MetraHomeTheater.com.