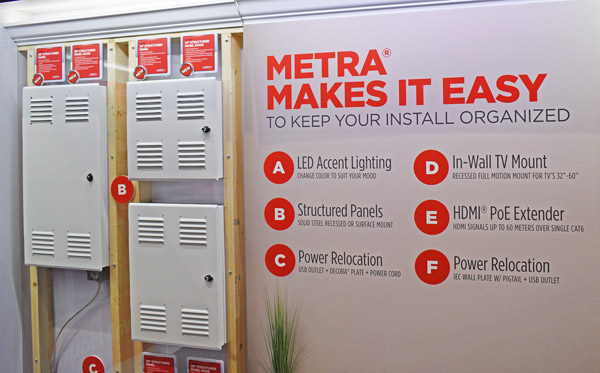 Metra Home Theater Group has expanded their product line to now offer structured wiring panels. Helios, their brand for retail audio and home theater accessories, will introduce new TV mounts that are redesigned with functional new features. New products will debut at the 2017 CEDIA Show in San Diego, CA.
Adapting TV Mounts for Today's Needs
Metra Home Theater Group has redesigned and expanded their Helios product line of TV mounts to solve the problems of today's custom integrators. "We listened to integrators who are in the field everyday to see how we could adapt our products to better serve their needs. Their feedback helped us redesign our next generation of Helios TV mounts," says Stewart Denton, manager of product development for Metra Home Theater Group.
Commercial or residential buildings can provide a challenge for TV mount installation if the standard 16" studs are not in place. To address this issue, many of the new mounts are compatible with both 16" and 24" center studs. This offers a more versatile mounting solution for integrators. Two new large, full motion mounts for 42" to 84" TVs are offered with a center extension (FML642) or a side extension (FML64S). These sturdy mounts have a weight capacity of 132 pounds, a tilting angle of +5 to -15 degrees, and allow for dual stud installation with 16" or 24" center studs. The LPU64 is a new, ultra-low profile, fixed TV mount for 42" - 84" TVs that is only 14 mm (0.55") from the wall. It has a weight capacity of 99 pounds and also offers dual stud installation. The FMM44 is a full motion mount for medium sized TVs from 26" to 60", with a weight capacity of 66 pounds and single stud installation. The FM44IW is a 400x400 full motion mount designed for in-wall installations between 16" center studs. It fits TVs from 32" to 60" and has a weight capacity of 75 pounds.
New Structured Wiring Panels
Metra Home Theater Group has expanded their product line to include structured wiring panels, a new product category for the manufacturer. The structured panels offer flexible mounting for stud spacing variations in either a recessed or surface mount installation. They are constructed of solid steel with a durable, white powder coat finish and include grommets and ten cable ties and mounts. Three sizes are available for 14" (CS-SP14), 20" (CS-SP20) or 28" (CS-SP28) panels. Hinged metal panel doors are sold separately, and include a lock and two keys for added security. The structured panel doors can support up to four 120mm cooling fans with preset mounting holes and integrated louvered ventilation for improved cooling. Doors are available for 14" (CS-SPD14), 20" (CS-SPD20) and 28" (CS-SPD28) panels.
To learn more about all of the new technology and products launched at the 2017 CEDIA show by Metra Home Theater Group, visit https://metrahometheater.com/cedia.html. Connect with Metra Home Theater Group on Facebook or Twitter to stay up to date on the latest news. For more information, visit Metra Home Theater Group online at MetraHomeTheater.com.