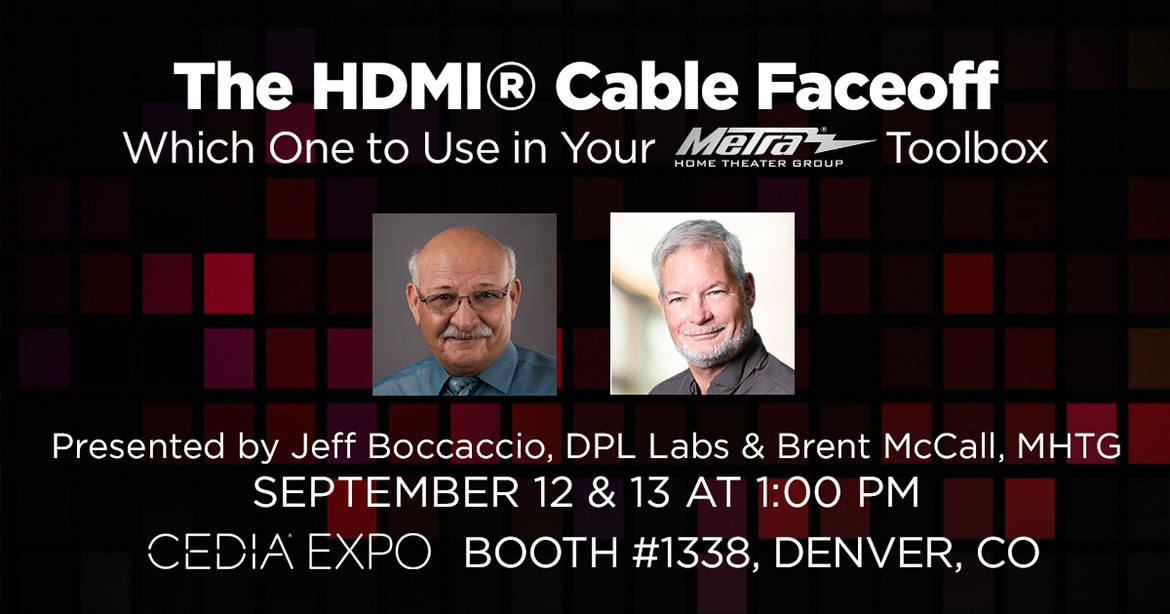 Metra Home Theater Group® (MHTG) is excited to host a workshop at this year's CEDIA Expo featuring Jeff Boccaccio, president of DPL Labs and one of the industry's leading experts on digital signaling solutions and HDMI®, along with Brent McCall from MHTG's technical support and product development team. This one-hour long workshop session is hosted at MHTG's booth #1338 on Thursday 9/12 and Friday 9/13 at 1:00 PM. Both days will have the same session topic and attendees will be entered in a drawing for a chance to win new products.
Jeff Boccaccio and Brent McCall's expertise in HDMI make them both uniquely qualified to present, "The HDMI Cable Faceoff: Which One to Use in Your MHTG Toolbox." The workshop will teach the pros and cons of all transmission lines so custom integrators can adapt to any project's requirements. The goal is to prevent integrators from getting stuck on problem jobs by showing when to use fiber, active and passive copper, along with the latest HDMI tools for 4K and 8K home theater systems. Boccaccio will also showcase new innovative technology designed to fix or upgrade existing systems and help integrators get to 8K - without the bumpy ride. While no single product will work for every project encountered, there is an ideal solution for each price point, length, and requirement. A live HDMI testing demonstration will also be included in the workshop to show attendees the differences between each type of product. Knowing when to use each will help integrators be more competitive and successful in their installation projects.
"Metra Home Theater Group has a great working relationship with DPL Labs and our customers look forward to hearing Jeff at every CEDIA Expo they attend. We look to DPL Labs for their expertise and distinct leadership in the field and to also help our customers adapt to the constantly changing technology that impacts their projects," said Jessy Crabb, MHTG's general manager.
This HDMI workshop continues MHTG's commitment to train and educate customers on the latest technology. This year's CEDIA Expo will be held from September 10-14 in Denver, Colorado and MHTG dealers can contact their sales representative for a promo code to receive a free badge to attend the CEDIA Expo. Workshop attendees will be entered into a drawing to win the HDM-GA2, Velox EHV-HDP18 HDMI cable or the Install Bay 50ft. fiber IB-HDAOC-050 HDMI cable. The drawing will take place at 2:00 PM on Thursday, immediately following the workshop, with a second drawing for these same products on Friday at 2:00 PM. To register online to attend this workshop, visit https://metrahometheater.com/cedia.html. To enter the drawing, participants must register online or scan their badge and be present at the booth during the drawing time.
MHTG will also be launching a variety of new AV distribution, HDMI, power and retail products at the 2019 CEDIA Expo. An array of HDMI matrixes, extenders, switches, fiber tools and next-generation repair solutions from Ethereal® will be unveiled to dealers and distributors. These new products are simple to set up and will be available in different transmission distances and resolutions, supporting up to 4K at 60Hz HDR. New Helios® retail AV products will also be joining the product lineup to expand their existing power and home theater solutions. Additional new product announcements will be made closer to the show date.
About Metra Home Theater Group®
Metra Home Theater Group® (MHTG), a pioneer in HDMI® cable technology, is a division of Metra Electronics®, the world leader and "The Installer's Choice"® for vehicle installation kits and car audio accessories for more than 70 years. Headquartered in Florida, MHTG's brands include Ethereal Home Theater®, Helios® and Spyclops Surveillance Systems®. Metra's strong commitment to research and investment into the development of cutting-edge solutions has a history of providing first-to-market solutions for HDMI cables and electronics. Its Velox Active HDMI 30 Meter Cable was recognized as the Top Long-run Copper HDMI Cable at the 2017 CEDIA Expo. Connect with Metra Home Theater Group on Facebook, Twitter, Instagram or LinkedIn. For ordering information and pricing, visit MetraHomeTheater.com or call 386-255-0234.
About DPL Labs
DPL Laboratories, Inc. was founded in 2007 by Jeffrey Boccaccio and is an independent testing laboratory that developed the DPL Certification Program specifically for HDMI High Speed Digital Signaling. DPL Labs intense testing process takes full advantage of the latest in test equipment using DPL's unique Argumentative Matrix HDMI measurement protocol. This world-class state-of-the-art digital testing laboratory is located at DLP Labs' headquarters in Ormond Beach, FL. DPL Labs works with some of the finest product brands in the industry who are committed in building the best products for reliability and costs.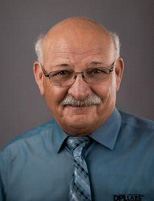 Jeff Boccaccio
DPL Labs President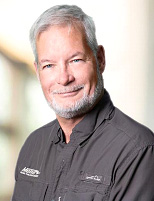 Brent McCall
Technical Support and Product Development for Metra Home Theater Group