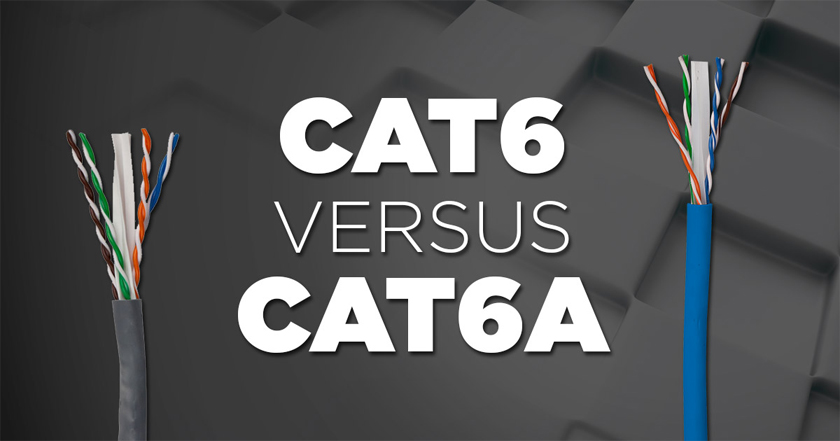 What is the Difference Between Cat6 and Cat6A Cable?
Wondering which cable to use in your system? Here is a quick overview of category cable from an integrator's perspective, as written by our tech team. We've also provided a short history of networking cables to offer a better understanding of how category cable has evolved over the past 40 years to meet the increasing performance requirements in AV networks.
Category 6 raised the bandwidth of a UTP cable to 250 MHz at a speed of 10Gbps up to 55 meters. It is also available in a shielded version.
Category 6A was introduced in 2008 and supports speeds up to 10Gbps up to 100 meters at a bandwidth of 500 MHz. It was originally only available as a fully shielded cable. However that has changed, there are now effectively two types of Cat6A cable.
Cat6A F/UTP (Shielded) this is a 4, unshielded twisted pairs with an overall foil shield.
Cat6A U/UTP (Unshielded) this is a 4, unshielded twisted pairs without an overall foil shield.
SPECIAL NOTE: S/FTP (screened/foiled twisted pair) cable, also known as Cat7, has 4 individually shielded pairs plus an outer braid around all four pairs.

It is important to note that because of a tighter (pair) twist count and thicker insulation, (all of which is designed to increase the bandwidth pass-through, reduce inter-pair crosstalk and protect other devices from possible noise contamination), Cat6A does weigh more, cost more and is greater in mass.

When discussing the differences between these two cable types (and the old school Cat5e), it is important to understand the installation requirements and the reasons for the performance upgrades.
A Short History of Networking Cables
In the beginning, there was coax. It was big, slow, hard to terminate, and to be honest, and it was "Meh" as a networking format. To solve these issues in the mid 1980s, UTP was introduced alongside Cat1. It had a much smaller diameter than the coax solution and it was easier to terminate. This was followed fairly quickly by Cat2, 3 & 4, and while each of these had a network performance increase, they all suffered to some degree EMI and bandwidth issues.
It was not until the advent of Cat5 in 1995 that real and somewhat affordable networking capability could be achieved in both the workplace and the home. For the first time, reliable 10/100 speeds and long-distance (100 meters) were a reality. Still, even that was not enough. Cat5e arrived in 2001 and pushed the capability to 1 Gigabit at 100 meters.
Around 2005, Cat6 made its appearance. At its start, it was very pricey and was consequently only used in very high traffic or high-speed applications. While this was fine for many small operations, it did not take long to become stressed by the traffic flow. In 2008 Cat6A was introduced and again, performance increased. Now the pinnacle of speed was 10G. As in the past versions, people thought, "Well, that is as fast as we can or need to go". Yes, Cat7 and Cat8 are realities and in use, but in most cases, they are too expensive and hard to work with for residential applications, for now!
What Does This Mean for the AV Industry?
In summation, Cat6A is now the recommended cabling platform for data and AV installations over 180 feet in distance. Network cabling has played an ever-increasing role in the world of AV since the mid-1990s, as a networking backbone (Ethernet), a control cable (serial and IR), and most recently as an AV conduit (HDMI® Extenders). In the early days of 1080p extenders, Cat5 or Cat5e was more than adequate to do the job. This changed with the introduction of HDBaseT™ and the real need to support 10.2Gbps, (notably for 3D). For that the industry began to recommend Cat6, which was sufficient for a while. But all things change. Now the need is to go well past the traditional 10Gbps barrier for support of HDMI 2.1, and for that the time has come to step up to the Cat6A specification.
Cat6A does require a re-evaluation of traditional installation and termination practices, but it is not significantly harder than Cat6. In fact, with the proper termination, (see Ethereal's C6ATTF-10), it can be less time consuming than previous terminations. For more information visit our YouTube Channel and check out our "how-to" video for Cat6A cable termination at https://youtu.be/sl_gqfsMpv8. To achieve 10GBASE-T certification, see our Cat6A Installation and Best Practices guide.