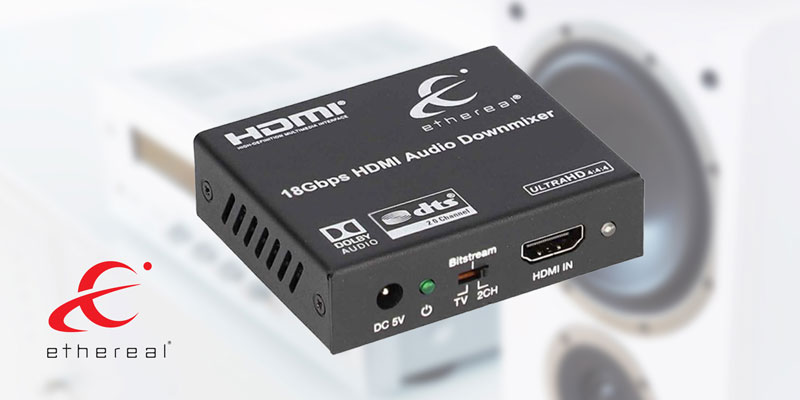 Metra Home Theater Group® (MHTG) is now shipping a new HDMI® Audio De-Embedder with Down Mixing, the CS-HDMABOD, by Ethereal®. This device allows you to take an HDMI source and de-embed the audio for use in either an optical audio connection or stereo RCA analog connection, all while still passing audio through on the HDMI output, preserving the quality of sound. This de-embedder can also down mix multi-channel bitstream audio to a stereo output to allow the installer to maintain 5.1 surround audio on the HDMI output.
This next-generation product has been engineered with updated functionality to support HDMI 2.0, HDCP 2.2 (and earlier versions), and support 1080p, 3D, and 4K/60Hz 4:4:4 up to 18Gbps. This audio de-embedder is a helpful solution for integrators when running audio return channels in 4K systems for residential or commercial AV environments. The CS-HDMABOD is in stock now at MetraHomeTheater.com.
CS-HDMABOD Specifications:
Easily obtain an analog or digital audio output connection from an existing HDMI source
Selectable HDMI audio on HDMI output for native pass-through, 5.1 CH or 2 CH
Audio outputs: optical audio and stereo RCA analog
Optical digital audio supports LPCM 2CH, Dolby Digital 2/5.1CH, DTS 2/5.1CH
Supports HDMI 2.0 and HDCP 2.2 (and earlier versions)
Supports 1080p, 3D, 4K/60Hz 4:4:4 up to 18Gbps
CEC pass-through
---
About Metra Home Theater Group
Metra Home Theater Group (MHTG), a pioneer in HDMI cable technology, is a division of Metra Electronics, the world leader and "The Installer's Choice" for vehicle installation kits and car audio accessories for more than 70 years. Headquartered in Florida, MHTG's brands include Ethereal Home Theater,Heliosand Spyclops Surveillance Systems. Metra's strong commitment to research and investment into the development of cutting-edge solutions has a history of providing first-to-market solutions for HDMI cables and electronics. Its Velox Active HDMI 30 Meter Cable was recognized as the Top Long-run Copper HDMI Cable at the 2017 CEDIA Expo. Connect with Metra Home Theater Group on Facebook, Twitter, Instagram or LinkedIn. For ordering information and pricing, visit MetraHomeTheater.com or call 386-255-0234.