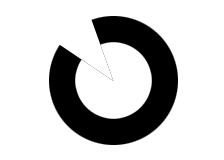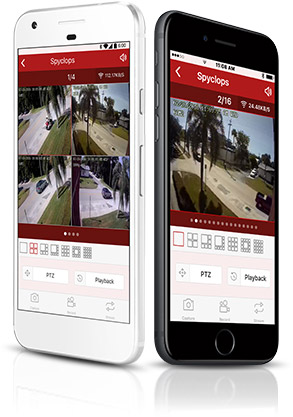 Free Remote Access Using Spyclops Mobile App
All Spyclops Surveillance Systems include free secure remote viewing via the Spyclops mobile app (or web browser). Customers can view their live camera feeds or previously recorded video from anywhere in the world. This easy to use app is available for both Android and Apple devices.
There is no monthly fee to use this service!
Learn More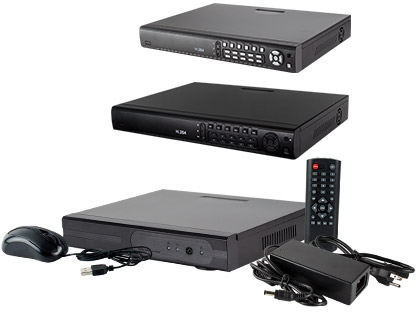 Hybrid Security DVRs
Spyclops offers versatile DVRs that can support HD over coax camera technology, ONVIF IP cameras and even legacy analog cameras. The 4-in-1 Hybrid DVRs are compatible with many of the most popular types of technology, allowing you to add onto an existing surveillance system or mix different camera technologies within your system. Easy installation does not require reconfiguration of network settings to setup remote DVR access.
Shop All DVRs
Surveillance Camera Technology
4-in-1 Camera Technology:
Provides 1080p video and allows for the most versatility when used in a wide variety of DVR brands. 4-in-1 cameras are compatible with AHD, TVI, CVI & CVBS (Analog) video outputs. Easily adjust the video technology by using the built in joypad on the camera's cable assembly.
IP Surveillance Cameras:
Available in Manual Varifocal POE Bullets that support POE and in PTZ form factors. Provides 1080p video and are fully ONVIF compliant.
Shop All IP Cameras
Versatile Security Camera Housing Options:
Spyclops' extensive line of surveillance equipment will cover any indoor or outdoor demands. Choose from multiple camera housing styles, ideal for a wide range of locations and environments. Available in Manual Varifocal lens & Fixed lens options. Outdoor options available in IP66 water resistant housings in Dome, Mini Dome, Bullet, Mini Bullet and PTZ form factors. Indoor options include low profile domes and covert motion detector style housings.
Shop All Cameras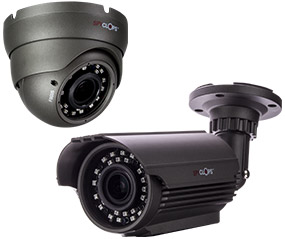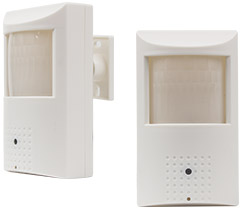 How many surveillance cameras do I need?
The size of your property is an important factor as well as camera placement points and the coverage area. You can add any number of cameras to your home surveillance system at any time, allowing you to manage them over the same network. View our blog post on how to choose the best security cameras for a home or business surveillance system.
What are the different styles?
Dome cameras tend to be more inconspicuous and blend in well with their environment where Bullet cameras are far more overt in that they are usually spotted by intruders and passersby. Dome cameras will help keep your home video surveillance system hidden to any potential trespassers.
Do I Need Day/Night Cameras?
Many cameras today come equipped with true day/night visibility to see in complete darkness. Night cameras are ideal for monitoring vehicles parked in driveways since more than two-thirds of motor vehicle thefts take place at night. Think carefully about whether or not day/night performance is an important feature to you.
Which dvr do I need for my surveillance system?
Digital Video Recorders (DVRs) are the heart of the security system and single most important component. Video storage technology and adequate hard drive space is a key feature when comparing options. DVR recording and playback resolution specs will determine the quality of video being recorded but also affect the amount of storage space needed on the DVR hard drive. Channel display options are also important for commercial systems or large residential properties that require a much higher number of cameras. To learn more, read our blog post on how to choose the best DVR for a professionally installed security system.
Featured
3M™ Temflex™ Tape 1776 is a 7 mil thick, economical, general purpose, ...

3M™ Temflex™ Tape 1776 is a 7 mil thick, economical, general purpose, ...
Articles & Info
Home Tech Tips for CIs
Read more