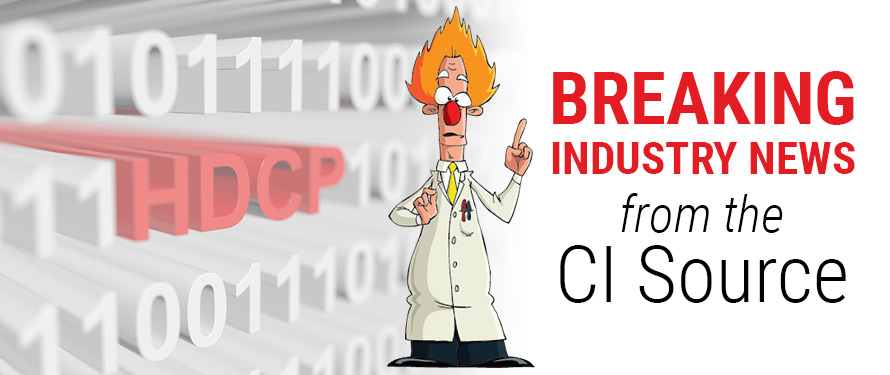 Breaking Industry News from Metra Home Theater Group's CI Source!
This article came across the wire this week and caught our attention:
HDCP Pro 2.2 Could Lead to Black Screens
By Paddy Baker On June 08, 2016

InfoComm's Future Trends sessions generally flag up new opportunities for the pro-AV industry, rather than dire warnings. In Tuesday's event, however, L. William Nattress, Director of Channel Strategy at Biamp, advised delegates that failing to observe the requirements of HDCP Pro 2.2 content protection could lead to displays going black across entire campuses.

The new standard, he said, acknowledges that the pro-AV presentation community has "justifiable and legal reasons to distribute content and materials to multiple displays simultaneously." To this end, the standard removes the limitations on the number of HDCP keys that can be distributed within a system. But, he added, there's a catch. Systems must be periodically updated with the DCP's "whitelist" and "blacklist" of manufacturers, so that only the DCP can ensure that only compliant equipment has been used.

For systems without a constant internet connection this means that "once a quarter, the licensed integrator must come on site and upload the new blacklist to the facility. If that does not occur, [DCP] are threatening that the entire facility could go black"—potentially an entire campus of AV presentation systems, he said.
This is HUGE news – good and bad – for the Custom Integrator.
First, the really good news. Currently this new requirement only affects professional environments. Now the regular good news. This update has to be done to make it easier to distribute a single source to multiple displays without the ever present worry of running out of HDCP keys (think Direct TV and Bars/Sports Bars, Gyms and Churches).!
Now the bad news.
In the past the auto update feature was not turned on by most "CI's" because it was not necessary to update the system to keep it working and could add some unwanted problems after an update. However, now the auto-update setting is needed to keep the HDCP list qualifier happy. The "CI" is going to have to either schedule a regular service call to force the updates or set the system devices for automatic updates to keep customers compliant with the new standard. Automatic updates may shut down the system in installations with a constant internet connection because it is unknown how this update will affect the system as a whole.
What does this mean for Custom Integrators?
More good news, bad news…This could be a customer service nightmare to manage or, with a little forethought and planning, it could be profitable. Eventually, residential customers are going to have this same issue. Will residential customers understand quarterly services calls? Well, without proper communication with the client, the CI will have an angry residential customer calling them with each quarterly update because the system is once again not working. We recommend being proactive, coming up with a manageable service plan, and communicating this to your customers now. By setting the expectations ahead of time, before problems arise, both you and your customers can plan for the inevitable.
If you want to stay informed on CI Source, industry announcements and real world A/V install issues, follow Metra Home Theater Group's blog here https://metrahometheater.com/subscribe.html. If you would like to discuss this issue further Dealers can contact us for any questions on this or any technical issue and speak directly with one of our technicians at 1-866-839-9187. Not a customer?