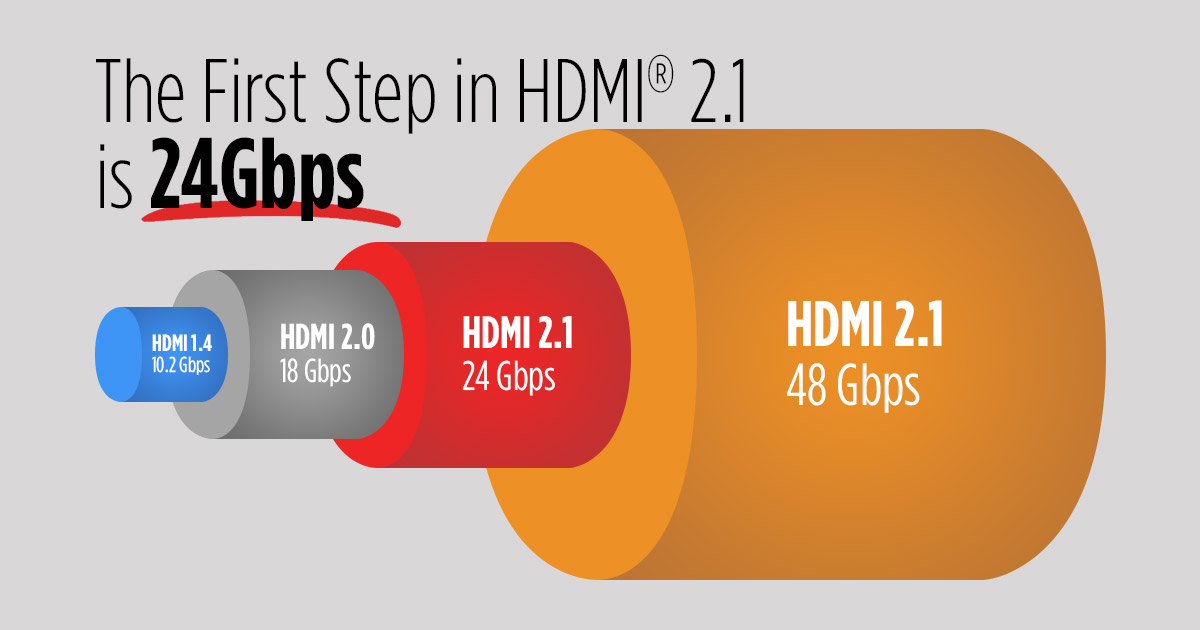 HDMI Cables will Expand Bandwidth via the 4th High Speed Video Channel, Currently the Clock Channel
As HDMI version 2.1 continues its rollout, Metra Home Theater Group spoke with HDMI expert Jeff Boccaccio of DPL Labs to hear his take on the adoption of 8K content and how it will affect existing HDMI cables. Since version 2.1 is such a significant change regarding bandwidth, Boccaccio thinks that this change will be implemented incrementally, starting with 24Gbps.
Currently, Premium High Speed Cables under HDMI version 2.0 have three lanes operating at 6Gbps each, for a total of 18Gbps bandwidth. The fourth lane, presently used as the clocking lane, is a low level, slower speed. In version 2.1, the fourth channel in the HDMI cable will now be used to transmit video, which opens up bandwidth for 24Gbps and essentially becomes the next interval for 8K. This first increment allows cable manufacturers to convert the same cable but change its channel assignments, making it a more feasible step toward mass production.
Market Adoption of 8K
Adoption of 8K requires the availability of higher resolution content, displays capable of 8K resolution and connectivity accessories capable of transmitting 8K content. But what and where will this come first? Boccaccio has seen a strong interest in 8K in Asia, specifically in China and Japan. His presentations about HDMI version 2.1 in China were met with incredible enthusiasm from attendees, and he feels that they will be working hard to adapt to 8K as quickly as possible.
Boccaccio also thinks we'll first see 8K content at the Olympics in Japan but feels that the wide dynamic and throughput of version 2.1 will mean 24Gbps is the first step in 8K content. Brent McCall of Metra Home Theater Group predicts that major markets like Tokyo, Seoul, London, New York and Los Angeles will all receive and broadcast 8K content from the Olympics. McCall also feels that a fairly quick rollout of expanded bandwidth streamable content to include 4K/120, 4:4:4, 12 bit color and dynamic HDR will occur before 8K becomes mainstream. "It has been four years since HDMI version 2.0 was first announced, and we are just now seeing 4K content become available to mainstream platforms. How quickly the market adopts 8K may depend on the availability of 8K content for consumers," says McCall.
How Will 24Gbps Affect Existing HDMI Cables?
Companies that are aware of what is going on have developed products that are compatible with the new series, by ensuring that there is the bandwidth in each lane. All of the HDMI 2.0 cables manufactured by Ethereal from Metra Home Theater Group are designed to carry clock or video in the fourth lane. This means that any of the existing 18Gbps cables can already transmit 24Gbps without any issues. As the final Compliance Test Specification (CTS) is finalized and officially announced from HDMI, we'll know more. Check our Home Tech Tips Blog for more updates on 8K.
Need help? Metra Home Theater Group dealers can call and speak directly to our technical support team at 1-866-839-9187. Not a customer? Apply to become a Metra dealer today.