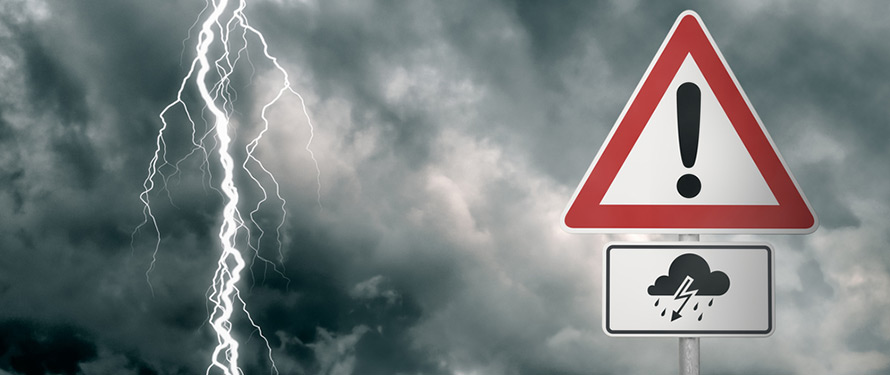 Summer storms mean lightning strikes and power surges, which can wreak havoc on every HDMI® electrical device in the building. While you may think your electronics are safe, a typical surge protector does not protect HDMI interfaces from electrostatic discharge (ESD). HDMI ports are very vulnerable to ESD and even small surges could render the entire electronic chain useless, despite having a power surge protector in place. The best way to protect yourself is to have an HDMI surge protector specifically designed to prevent ESD in line for all of your HDMI devices. The correct HDMI surge protector will defend against intruding voltage spikes that can damage HDMI components.
What is Electrostatic Discharge (ESD)?
The ESD Association states that "To many people, Electrostatic Discharge (ESD) is only experienced as a shock when touching a metal doorknob after walking across a carpeted floor or after sliding across a car seat. However, static electricity and ESD has been a serious industrial problem for centuries." Additionally, "as electronic devices become faster and the circuitry getting smaller, their sensitivity to ESD in general increases. This trend may be accelerating."
Is Failure in Electronics Due to ESD Common?
One of the most common sources of ESD is through human contact with sensitive devices (especially anything with an HDMI port). The use of solid state electronics has made this issue even more widespread. Today, consumers are investing thousands of dollars into 4K TVs or other expensive HDMI devices in their homes and businesses. A single HDMI port failure due to ESD can be costly. "Industry experts have estimated average product losses due to static to range [up to] 33%. Others estimate the actual cost of ESD damage to the electronics industry as running into the billions of dollars annually."
Protecting Your Electronics from ESD
Is your system protected? Investing in HDMI surge protection for your electronics with HDMI ports should not be overlooked. After hearing many reports from the field of issues resulting from ESD damage, Metra Home Theater Group developed the HDMI Surge Protector 2.0. However, the core problem is that many industry professionals do not know enough about this issue to realize that this type of protection is needed. Furthermore, many do not know which features they should require when purchasing these products. To assist industry professionals, the Tech Team at Metra Home Theater Group recommends looking at these five key features when choosing an HDMI surge protector for your system:
HDMI 2.0a compliance. For systems delivering 4K content, the HDMI surge protector needs to exceed HDMI 2.0 compliance. The protector should be HDMI 2.0a 18Gbps compliant to protect every aspect of your system today and into the future. Installing an HDMI surge protector that isn't up to spec with your current system's technology will result in bandwidth issues or loss of quality in the final output of 4K video content.
Protection to all HDMI Connections. All 19 connections of the HDMI interface should be protected. Leaving any of the connections unprotected will leave your entire system vulnerable. HDMI connections are sensitive and the smallest amount of damage can cause failures. To find out if a product does this, call the manufacturer's tech department and ask. If no one can answer this question, buy from another source.
Complete Protection from all Types of Power Surges. The surge protector should safeguard from electrostatic discharge in addition to storms. While nothing can protect against a direct hit, the most common issue Installers see result from electrostatic discharge. Electrostatic discharges can happen anywhere and completely shut down a section of your system and cause permanent damage to the hardware. The slightest surge can cause failures to HDMI connections.
Compact Size. HDMI surge protection does not need to be the size of a DVR player to properly defend your electronics. It should only take up a small footprint in the installed location to be as unobtrusive as possible. While a larger protector doesn't mean an inferior product, it's important to understand that bigger does not mean it's better. Consider how your system's wires will be concealed and how much room you will have for an HDMI surge protector.
Certification. Claiming an HDMI surge protector can defend your devices does make it valid, unless the manufacturer backs the statements with certification. Don't take a chance with your system components — buy an HDMI surge protector that has been manufactured to do exactly what it needs to do. If a manufacturer pays for certification from a reputable 3rd party certification company, the protector will more than likely hold up to its claims.
For more tips like this follow Metra Home Theater Group's Tech Tips blog. If you would like to discuss this issue further, authorized dealers can speak directly with one of our technicians at 1-866-839-9187 about this or any technical issue. Not a customer? Apply to become a Metra dealer today.