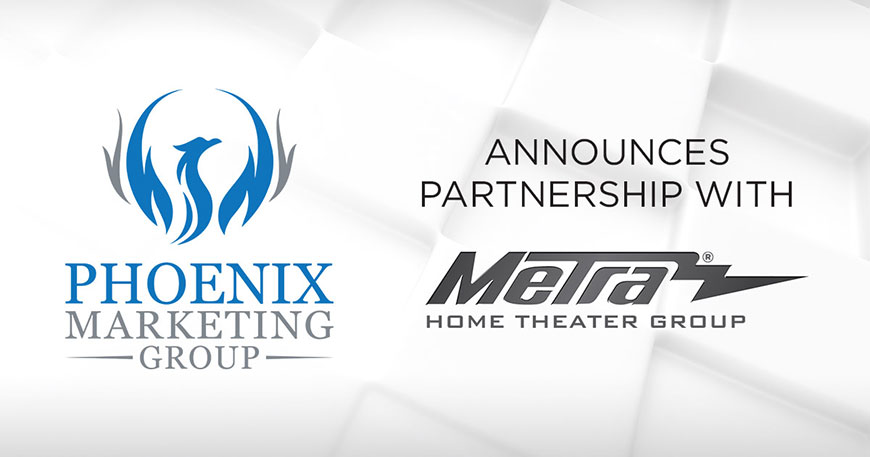 The Professional Manufacturers' Representative Firm to Provide Dealer and Distributor Support for MHTG Customers
Metra Home Theater Group® is excited to announce that Phoenix Marketing Group will be their representative firm in the southeast region of the United States. According to Phoenix Marketing Group's Principal, Chris Gilray, "Our continued success is dependent upon our partnerships with our exceptional manufacturers, and with our loyal customers." When asked about the new partnership, Gilray continued, "We are very proud to be a part of their team and represent the Metra Home Theater Group brand. The unique products and the array of custom installation products they have to offer complement our other product lines well and will help us in providing complete solutions for our customers."
This new partnership will add to MHTG's existing team of talented field representatives, specifically serving the southeast region. Jessy Crabb, General Manager for MHTG says that "the knowledge, connections and expertise of Phoenix Marketing Group will grow our existing dealer network and create stronger and more successful relationships with new customers. The strength Phoenix Marketing Group has in their relationships with the manufacturers and with their loyal customers combined with our commitment to developing cutting-edge, first-to-market solutions will broaden MHTG's influence and create new connections and customers."
About Phoenix Marketing Group
Phoenix Marketing Group is a professional manufacturers' representative firm, specializing in high quality audio, video and networking installation products. The firm is driven to provide superior representation in terms of product expertise and customer support through strong relationships and superior customer service. See additional information at Phx-Reps.com.
About Metra Home Theater Group®
Metra Home Theater Group® (MHTG), a pioneer in HDMI® cable technology, is a division of Metra Electronics® , the world leader and "The Installer's Choice"® for vehicle installation kits and car audio accessories for more than 70 years. Headquartered in Florida, MHTG's brands include Ethereal Home Theater®, Helios® and Spyclops Surveillance Systems®. Metra's strong commitment to research and investment into the development of cutting-edge solutions has a history of providing first-to-market solutions for HDMI cables and electronics. Its Velox Active HDMI 30 Meter Cable was recognized as the Top Long-run Copper HDMI Cable at the 2017 CEDIA Expo. Connect with Metra Home Theater Group on Facebook, Twitter, Instagram or LinkedIn. For ordering information and pricing, visit MetraHomeTheater.com or call 866.839.9187.