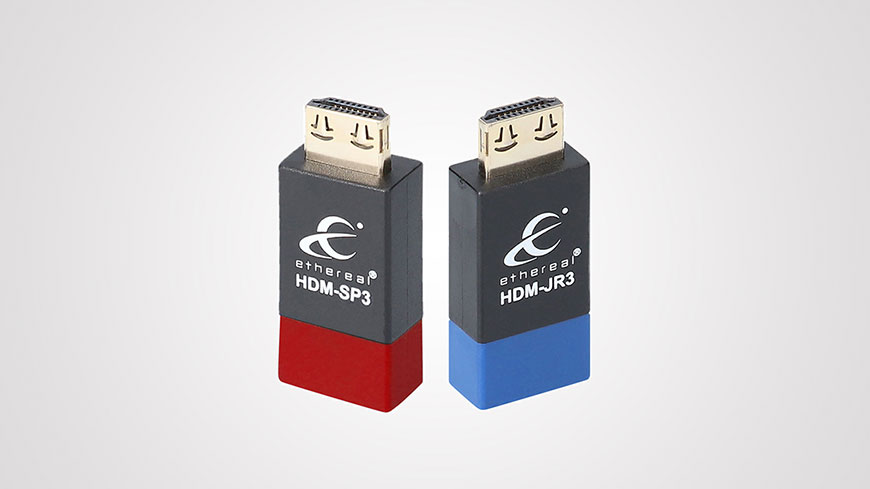 Ethereal by Metra Home Theater Group (MHTG) announces the advancement of their problem-solving HDMI products that protect equipment and fix HDMI compatibility performance at CES 2020. Their HDMI Surge Protector (HDM-SP3), Junior3 (HDM-JR3) and EDID Blocker (HDM-EDIDB3) are based on Ethereal's original products that were first to market solutions designed to fix common HDMI issues experienced by installers. While their benefit to the installer remains the same, these three electronics have been improved to keep up with evolving technology and the higher bandwidths required in today's home theater systems, now supporting 24Gbps bandwidth with 6Gbps on all four channels.
HDMI Surge Protector
The HDM-SP3 HDMI Surge Protector is designed to protect AV systems comprised of HDMI enabled electronics from up to 8,000-volt spikes of electrostatic discharge (ESD) through Coaxial, Ethernet, and Serial data ports. Electrostatic discharge (ESD) is the sudden flow of electricity between two electrically charged objects caused by contact, an electrical short, or dielectric breakdown, usually originating from a CATV or internet provider. With the known sensitivity of HDMI electronics to data port ESD spikes which can render them useless, this surge protector is a must-have for protecting expensive home theater equipment. This surge protector was originally introduced from Ethereal in the early 2000s as the only solution on the market that could protect HDMI electronics from ESD. Now, this next-generation product has been upgraded to support 24Gbps of bandwidth by providing 6Gbps on each of its four channels.
Junior3 HDMI EDID Regenerator
The HDM-JR3, also known as "The Junior3", is Ethereal's third generation of their HDMI EDID Regenerator. Black screens, long sync times, audio dropouts, and more can be prevented by installing this device into an HDMI enabled system. The Junior3 resolves two common failures that occur within the low-speed EDID communication bus; voltage swing issues and acceleration of the data speed. This HDMI low-speed data correction tool is a single compact unit that connects in-line with HDMI cables for a quick, easy to install solution. This regenerator was created specifically to combat against "Rise Time" issues commonly found on the DDC channel (EDID) of the HDMI interface. Overall, it increases compatibility between devices that have different data tolerances to minimize failures, as well as between multiple brands of HDMI-enabled electronics. This can be caused by cables, printed circuit boards, and environmental conditions. The HDM-JR3 reduces the cable's capacitive issues loading by 50% to deal with voltage and current equipment incompatibilities within the new EDID substructure. While fully backward compatible, the HDM-JR3 has been redesigned for the most modern components, providing 6Gbps on four channels to support a total of 24Gbps bandwidth. Users can fully operate within the 24Gbps domain without loss of signal integrity.
HDM-JR3 Product Features:
True 24Gbps pass-through
Bi-directional EDID repair benefits both the input and output stages
Small footprint and easy to install
HDCP 2.2 support
HDR support
BT 2020 support
Deep color support
RF shielded metal case
Self-powered
50% typical reduction in data rise times
Male/Female form factor
EDID Blocker
Some installations come with extra challenges. Integrating video surveillance DVR/NVR devices into a distributed HDMI system is one of those installations. DVR/NVR units are usually based around a computer video card and consequently do not work well when they can see multiple EDID streams that occur through an HDMI matrix or splitter. The HDM-EDIDB3 eliminates these issues by completely blocking the EDID stream on its return path to the DVR/NVR. This improved electronic features a true 24Gbps pass-through, supporting 6Gbps of bandwidth on all four channels. This is a low-profile and easy to install solution. Installers can simply plug the HDM-EDIDB3 into the HDMI port on the DVR/NVR and then the HDMI cable on the other side, with no external power required. Select the resolution of choice on the DVR/NVR and the system is all set.

HDM-EDIDB3 Product Features:
Complete block of EDID information
True 24Gbps pass-through (6Gbps x 4 channels)
Small footprint and easy to install
HDR support
BT 2020 support
Deep color support
No external power required
All of these improved products will be shipping soon. Look for them on display at CES from January 7-10 at booth 11435 in the Central Hall of the Las Vegas Convention Center. For more information, visit MetraHomeTheater.com.
About Metra Home Theater Group
Metra Home Theater Group (MHTG), a pioneer in HDMI cable technology, is a division of Metra Electronics, the world leader and "The Installer's Choice" for vehicle installation kits and car audio accessories for more than 70 years. Headquartered in Florida, MHTG's brands include Ethereal Home Theater,Helios and Spyclops Surveillance Systems. Metra's strong commitment to research and investment into the development of cutting-edge solutions has a history of providing first-to-market solutions for HDMI cables and electronics. Its Velox Active HDMI 30 Meter Cable was recognized as the Top Long-run Copper HDMI Cable at the 2017 CEDIA Expo. Connect with Metra Home Theater Group on Facebook, Twitter, Instagram or LinkedIn. For ordering information and pricing, visit MetraHomeTheater.com or call 386-255-0234.