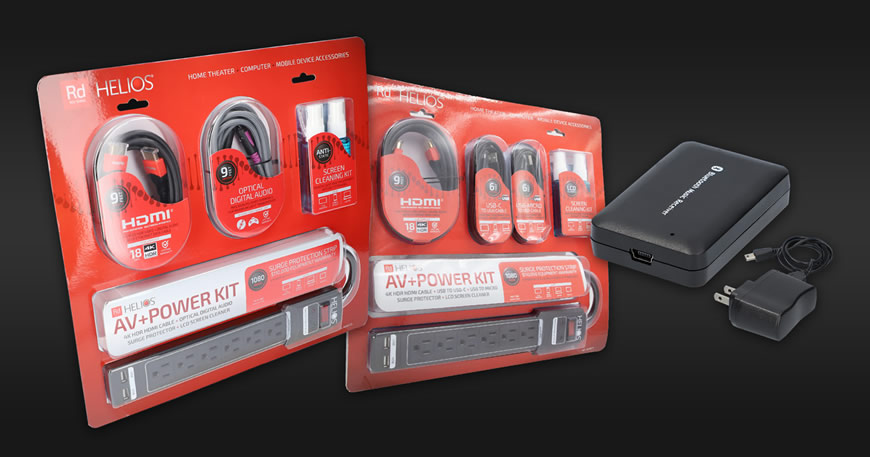 Metra Home Theater Group (MHTG) is excited to introduce new Helios retail AV products at the 2019 CEDIA Expo. Helios offers high-quality retail AV products designed to provide reliable solutions for today's 4K/HDR home theater systems and more. These convenient new products provide retailers and even custom integrators with an easy up-sell to complement new home theater, audio or office purchases. Helios AV products come in retail friendly packaging, designed with the consumer in mind. These products will be shipping soon and on display at MHTG's booth, #1338.
Two new Helios retail AV kits, the AS-AVKIT1 and the AS-AVKIT2, will power, connect, protect and even clean home theater devices. These kits combine multiple products into one package that provides the user with everything needed to complement a new TV, smartphone or computer purchase. The AS-AVKIT1 provides a 6ft USB-Micro to USB cable and a 6ft USB-C to USB cable for data transfer and charging. The AS-AVKIT2 provides a 9ft. optical digital audio cable for high-fidelity Toslink systems. Both kits include a 9ft. 4K HDMI cable for high-speed HDR video supporting 4K/60 Ultra HD up to 18Gbps bandwidth, a surge protected 6-outlet power strip with a 6ft. cord and a screen cleaning kit to safely remove dirt and fingerprints from screens and tech devices.
The AS-BTR, Bluetooth Receiver, allows high-quality music to be streamed wirelessly from mobile devices, PCs and other devices with Bluetooth functions to analog powered speakers. The receiver converts Bluetooth audio to analog stereo giving the user the ability to turn any audio system with analog inputs into a Bluetooth speaker system that can be controlled wirelessly.
Metra Home Theater Group will also be hosting a workshop at the CEDIA Expo featuring Jeff Boccaccio, president of DPL Labs, one of the industry's leading experts on digital signaling solutions and HDMI, along with Brent McCall from MHTG's technical support and product development team. This one-hour long workshop session is hosted at MHTG's booth, #1338, on Thursday 9/12 and Friday 9/13 at 1:00 PM. Both days will have the same session topic and attendees will be entered in a drawing for a chance to win new products. See all the new products first hand at the MHTG's booth, #1338. For more information, visit MetraHomeTheater.com.
About Metra Home Theater Group
Metra Home Theater Group (MHTG), a pioneer in HDMI cable technology, is a division of Metra Electronics, the world leader and "The Installer's Choice" for vehicle installation kits and car audio accessories for more than 70 years. Headquartered in Florida, MHTG's brands include Ethereal Home Theater, Helios and Spyclops Surveillance Systems. Metra's strong commitment to research and investment into the development of cutting-edge solutions has a history of providing first-to-market solutions for HDMI cables and electronics. Its Velox Active HDMI 30 Meter Cable was recognized as the Top Long-run Copper HDMI Cable at the 2017 CEDIA Expo. Connect with Metra Home Theater Group on Facebook, Twitter, Instagram or LinkedIn. For ordering information and pricing, visit MetraHomeTheater.com or call 386-255-0234.