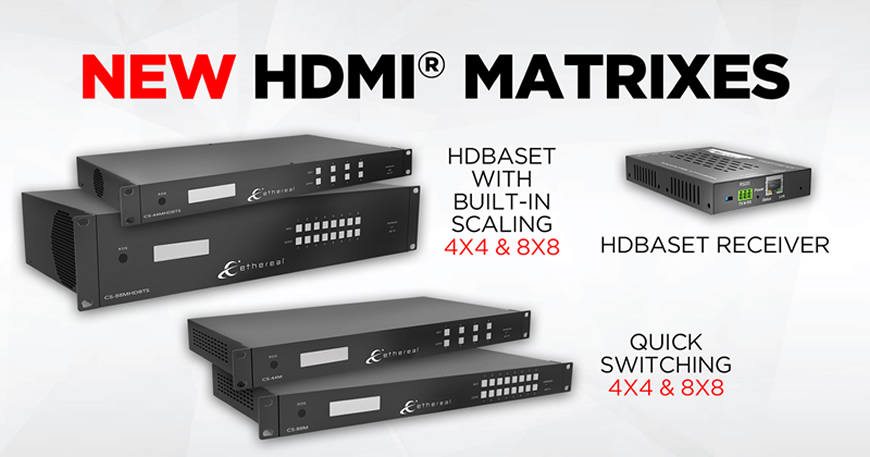 Holly Hill, FL – August 29, 2019 – Metra Home Theater Group® (MHTG) will unveil their new HDMI® Matrix products at the 2019 CEDIA Expo. Two of the new HDBaseT HDMI Matrix products, the CS-44MHDBTS and CS-88MHDBTS,will provide integrators the opportunity to scale video content at different resolutions to different displays. Unlike traditional matrixes, these will not default to the lowest resolution in the system, allowing legacy and new 4K technology to co-exist without sacrificing high-quality content for 4K capable displays. This flexible system supports 4K/60, HDR, HLG and Dolby Vision, as well as digital coax output and/or 3.5mm stereo PCM connections, plus resolution scaling on the mirrored HDBaseT outputs. It supports all versions of HDCP up to and including version 2.2, and supports 18Gbps uncompressed on HDMI outputs and 18Gbps with minimal loss compression on HDBaseT outputs.
Two of the other HDMI matrix models, the CS-44M and CS-88M, provide quick switching features that will reduce user wait time when changing content/channels. These two models also support 4K/60, HDR, HLG and Dolby Vision, as well as digital coax output and/or 3.5mm stereo connections, HDCP up to and including version 2.2, and 18Gbps uncompressed on the HDMI outputs.
All four of the new matrixes include pre-built drivers for the most commonly used control systems, including Crestron, C4, RTI and more, to make smart-home integration easy. Knowing that system setup and testing is a vital part of any installation, a built-in signal generator and built-in EDID management is included on all models to make the job even simpler. Rack ears are also included and IP, RS232 and IR control is also supported. Options will be available for 4x4 or 8x8 input/outputs in HDBaseT HDMI® with scaling (CS-44MHDBTS or CS-88MHDBTS) or HDMIquick switching (CS-44M or CS-88M). A receiver (CS-RECHDBT) will also be available for the HDBaseT matrixes.
New HDMI® Matrix Products being featured at the 2019 CEDIA Expo include:
CS-44MHDBTS: 4x4 HDBaseT HDMI Matrix with Scaling
CS-88MHDBTS: 8x8 HDBaseT HDMI Matrix with Scaling
CS-RECHDBT: HDBaseT Receiver for HDBaseT Matrix
CS-44M: 4x4 HDMI Matrix Quick Switching
CS-88M: 8x8 HDMI Matrix Quick Switching
Metra Home Theater Group® will also be hosting a workshop at the CEDIA Expo featuring Jeff Boccaccio, president of DPL Labs, one of the industry's leading experts on digital signaling solutions and HDMI®, along with Brent McCall from MHTG's technical support and product development team. This one-hour long workshop session is hosted at MHTG's booth, #1338, on Thursday 9/12 and Friday 9/13 at 1:00 PM. Both days will have the same session topic and attendees will be entered in a drawing for a chance to win new products. See all the matrix products first hand at the MHTG's booth, #1338. For more information, visit MetraHomeTheater.com.
About Metra Home Theater Group®
Metra Home Theater Group® (MHTG), a pioneer in HDMI® cable technology, is a division of Metra Electronics®, the world leader and "The Installer's Choice" ® for vehicle installation kits and car audio accessories for more than 70 years. Headquartered in Florida, MHTG's brands include Ethereal Home Theater®, Helios® and Spyclops Surveillance Systems®. Metra's strong commitment to research and investment into the development of cutting-edge solutions has a history of providing first-to-market solutions for HDMI cables and electronics. Its Velox Active HDMI 30 Meter Cable was recognized as the Top Long-run Copper HDMI Cable at the 2017 CEDIA Expo. Connect with Metra Home Theater Group on Facebook, Twitter, Instagram or LinkedIn. For ordering information and pricing, visit MetraHomeTheater.com or call 386-255-0234.