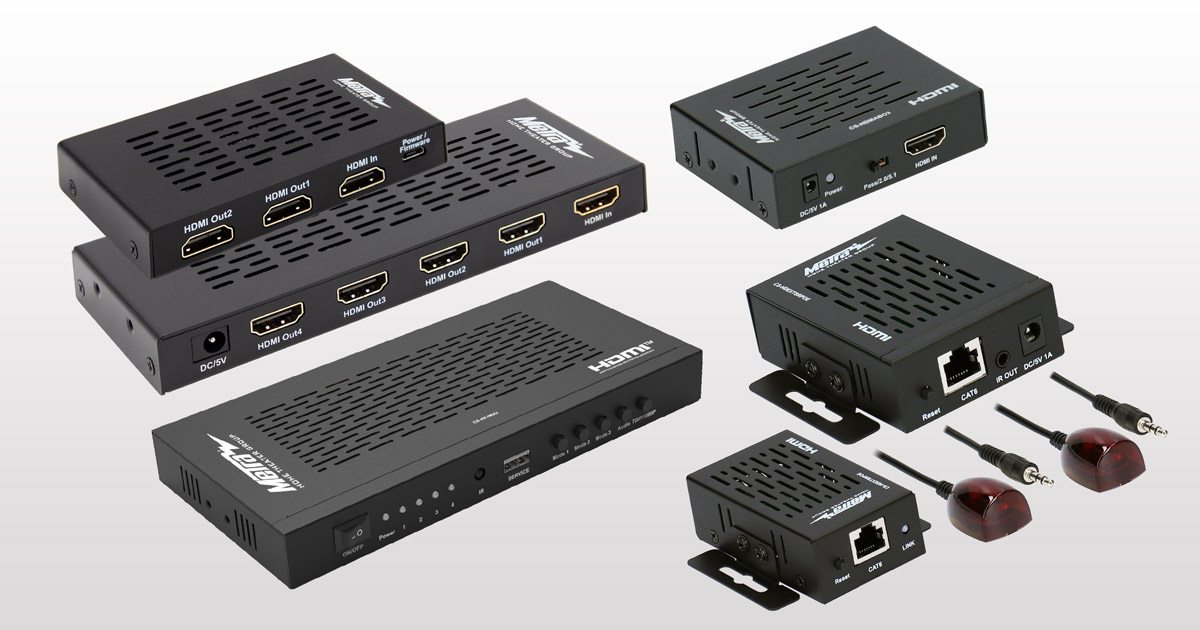 Holly Hill, FL – August 20, 2019 - Metra Home Theater Group® (MHTG) is excited to launch new HDMI® AV distribution products for installers at the 2019 CEDIA Expo. HDMI® splitters, a multi-viewer, audio de-embedder and extender will join their existing lineup of media distribution products engineered for custom integrators. These products are expected to ship soon and will be on display at booth #1338.
The CS-1X2HDMSPL5 and CS-1X4HDMSPL5 are HDMI splitters with built-in scaling and EDID management that provide the ability to take any standard resolution and scale it to match each of the connected displays simultaneously. For example, it can show 4K@60Hz content on a 4K display while also showing the same content scaled down on a 1080p display. Unlike traditional splitters, this built-in scaling allows legacy devices to work with newer higher resolution displays in the system, without automatically defaulting to the lowest resolution. The CS-1X2HDMSPL5 has two outputs and the CS-1X4HDMSPL5 has four. Both models support HDMI 2.0, HDCP 2.2 (and earlier versions), all HDR formats and 480p/i, 720p, 1080p/i, 3D, 4K/@30/60Hz 4:4:4 up to 18Gbps.
The CS-4X1MVU is a 4x1 HDMI multi-viewer that shows up to four sources with different content on one display while being able to choose between multiple split-screen viewing modes. For example, viewers can watch multiple sports games on one screen, look at a computer display and a Blu-ray player at the same time, or show both a video game and a cable box on their TV. One key feature is the ability to select which input's audio is sent to the display. Both the inputs and output supports 720p, 1080p, 1440p and 4K@30Hz.
The CS-HDMABO3 is an HDMI audio de-embedder with pass-through that allows an installer to take any HDMI source and de-embed the audio for use on either an optical audio TOSLINK® connection or a 3.5mm stereo analog connection, all while still passing audio through on the HDMI output, preserving the quality of sound. This next-generation product has been engineered with updated functionality to support HDMI 2.0, HDCP 2.2 (and earlier versions), and support 1080p, 3D, and 4K/60Hz 4:4:4 up to 18Gbps.
The CS-HDEXTSRPOE is an HDMI extender over single CAT6 that carries 1080p HDMI signals up to 50 meters. It has an HDMI loop out on the transmitter and supports IR passback and includes an IR blaster and an IR receiver. This product adds to MHTG's existing series of lower-cost extenders.
Metra Home Theater Group will also be hosting a workshop at the CEDIA Expo featuring Jeff Boccaccio, president of DPL Labs, one of the industry's leading experts on digital signaling solutions and HDMI, along with Brent McCall from MHTG's technical support and product development team. This one-hour long workshop session is hosted at MHTG's booth, #1338, on Thursday 9/12 and Friday 9/13 at 1:00 PM. Both days will have the same session topic and attendees will be entered in a drawing for a chance to win new products. For more information, visit MetraHomeTheater.com.
About Metra Home Theater Group®
Metra Home Theater Group® (MHTG), a pioneer in HDMI® cable technology, is a division of Metra Electronics®, the world leader and "The Installer's Choice"® for vehicle installation kits and car audio accessories for more than 70 years. Headquartered in Florida, MHTG's brands include Ethereal Home Theater®, Helios® and Spyclops Surveillance Systems®. Metra's strong commitment to research and investment into the development of cutting-edge solutions has a history of providing first-to-market solutions for HDMI cables and electronics. Its Velox Active HDMI 30 Meter Cable was recognized as the Top Long-run Copper HDMI Cable at the 2017 CEDIA Expo. Connect with Metra Home Theater Group on Facebook, Twitter, Instagram or LinkedIn. For ordering information and pricing, visit MetraHomeTheater.com or call 386-255-0234.