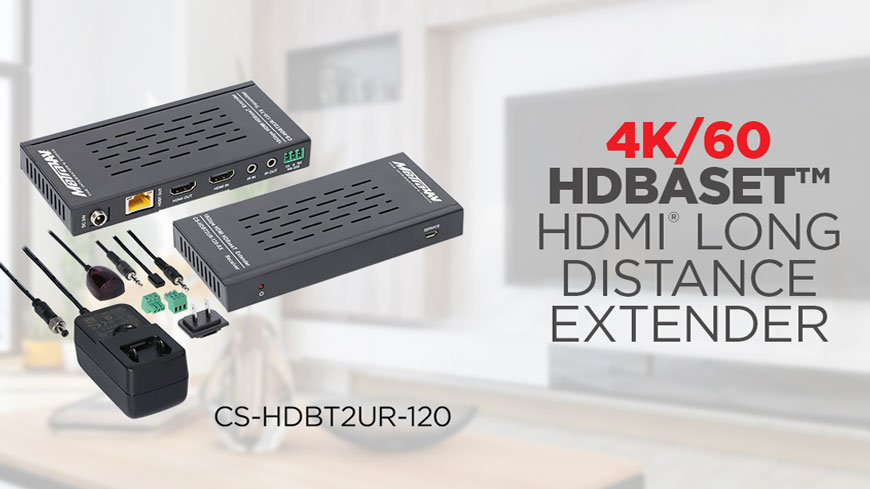 Sending 4K/60 HDR signals up to 120 meters (394 feet) over HDMI with beautiful image quality is no easy feat. True home theater aficionados can always tell the difference between native video and compressed video that runs through an HDMI extender - until now. Metra Home Theater Group is excited to introduce our latest HDBaseT HDMI extender to our robust lineup of AV distribution hardware; the CS-HDBT2UR-120. This extender is nothing short of impressive. It can transmit HDMI and bi-directional US type IR signals in 1080p up to 150 meters (492 feet) and 4K/60 up to 120 meters (394 feet) over CAT6 without a visible difference in video quality.
Remarkable 4K Performance
The best part? The image quality is better than ever before, giving even the most discerning of eyes a run for their money to try and tell the difference between native video and video from the extender. Unlike other extenders that have visible video compression, we've used the latest in proprietary DSC technology to provide remarkable 4K performance for an incredible value. This extender supports HDMI 2.0 and HDCP 2.2 (and earlier versions) for resolutions up to 4K/60Hz, 4:4:4 (8 bit), or 4K/60 HDR, 4:2:0. It is compatible with CAT5e, CAT6, CAT6A or higher cabling, but has reduced distances supported with CAT5e, so CAT6 or higher is recommended.
Impressive Features
The CS-HDBT2UR-120 extender includes RS232 pass through for easy control signal distribution. It features a 3.5mm analog audio output on the receiver for sources that are set to PCM audio to avoid down mixing. There is an HDMI loop out on the transmitter and it is powered from a single side. It supports bi-directional IR 20-60Hz and has an included US standard IR receiver and emitter. For easy wall mounting, tabs are included.
When to Use This HDMI Extender
This HDBaseT HDMI extender is ideal for scenarios where longer distances are needed but visible compression is not an option for your discerning client. Going farther with HDMI, even up to 120 meters (394 feet), has traditionally required one of our active optical HDMI cables to achieve this distance. While our premium Velox fiber cable can reach up to 100 meters at 24Gbps (or even 48Gbps) without compressing image quality, the price tag may not always be suitable for your project. When budget and project requirements are tight, the CS-HDBT2UR-120 is the answer for long-distance commercial or residential integration. This extender is available now from Metra Home Theater Group and backed by a 12-year limited warranty.
CS-HDBT2UR-120 Product Specifications:
Supports HDMI 2.0 & HDCP 2.2 (and earlier versions)
Resolutions supported: up to 4k/60Hz 4:4:4
HDR Support
Compatible with CAT5e/CAT6/CAT6A or better*
Transmission distance: 1080p up to 150m/492ft & 4K 120M/394ft over CAT6
Supports Bi-directional IR 20-60Hz with included US standard IR receiver & emitter
RS232 pass through
HDMI loop out on transmitter
Analog 3.5mm audio output on reciever for sources set to PCM audio (No down mixing)
Power from single side
Wall mountable with included mounting tabs
Supported by Metra's 12-year "2-Step" limited warranty
*Note: Reduced distances supported with CAT5e. See additional information on the CS-HDBT2UR-120 here.