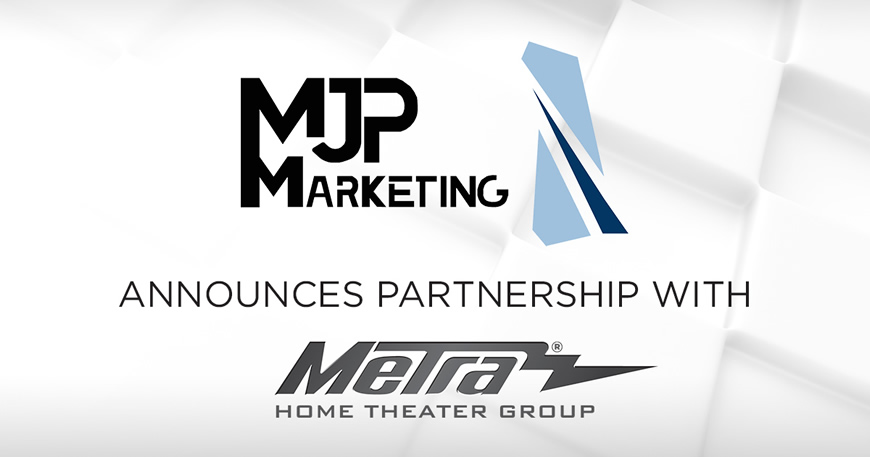 Metra Home Theater Group (MHTG) is excited to announce that the MJP Rep Firm will partner with them to provide representation and dealer and distributor support for the Mid-Atlantic territory of the United States. MJP Marketing has a professional, friendly and knowledgeable staff with more than 50 years of experience in the industry. They provide extraordinary care to their dealers by representing high-quality brands they wholeheartedly support. By choosing to represent MHTG, they are firmly standing by their products and showcasing them to their dealers and distributors.
"Metra Home Theater Group is looking forward to a strong long-term relationship with MJP Marketing that will expand our reputation, grow our customer base and help dealers and distributors with product training and sales support," says Jessy Crabb, General Manager of MHTG. This new partnership will add to MHTG's existing team of talented field representatives serving the Mid-Atlantic region of Virginia, Maryland (including DC), East Pennsylvania, Delaware and South New Jersey.
About MJP Marketing
MJP Marketing is a Manufacturer's Rep Firm located in southeastern Pennsylvania. It was founded in 2010 by the principal, Michael Pupo, a 30-year veteran of the rep business and includes Jack Rainey and David Mann. Their vision was and continues to be focused on representing a small group of high-quality brands and on providing extraordinary care to their dealers. The company has long-standing representation of brands such as Anthem, Paradigm, Integra, Onkyo, Pioneer, Parasound, Esoteric and United Leather. In 2016 they joined forces with Ace Marketing to provide better geographic coverage for the Mid-Atlantic territory. They look forward to a long relationship with the Metra Home Theater Group.
About Metra Home Theater Group
Metra Home Theater Group (MHTG), a pioneer in HDMI cable technology, is a division of Metra Electronics, the world leader and "The Installer's Choice" for vehicle installation kits and car audio accessories for more than 70 years. Headquartered in Florida, MHTG's brands include Ethereal Home Theater, Helios and Spyclops Surveillance Systems. Metra's strong commitment to research and investment into the development of cutting-edge solutions has a history of providing first-to-market solutions for HDMI cables and electronics. Its Velox Active HDMI 30 Meter Cable was recognized as the Top Long-run Copper HDMI Cable at the 2017 CEDIA Expo. Connect with Metra Home Theater Group on Facebook, Twitter, Instagram or LinkedIn. For ordering information and pricing, visit MetraHomeTheater.com or call 386-255-0234.