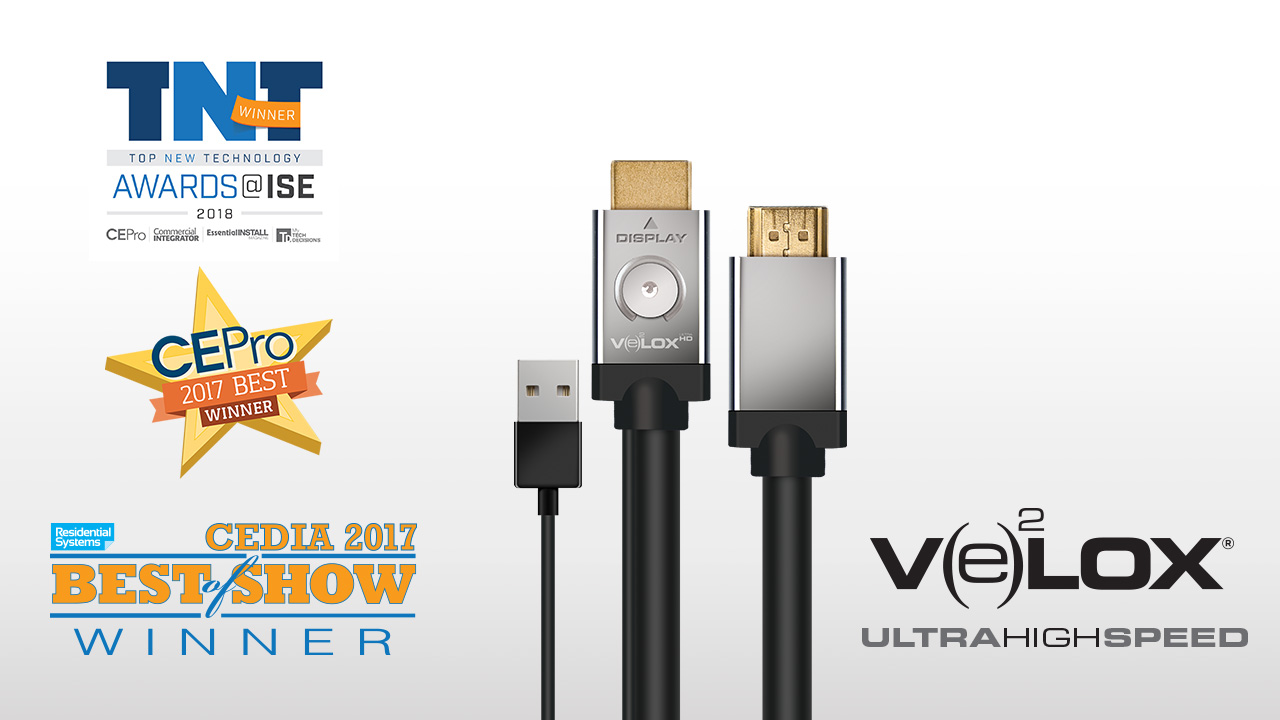 The new Velox Active 30 Meter HDMI® Cable (EHV-HDT30) from Metra Home Theater Group has earned several industry awards for its innovative new technology:
2018 Top New Technology Award at ISE
2017 CE Pro BEST Award at CEDIA
2017 TWICE and Residential Systems Best of Show Award
Velox active HDMI cables are the first-to-market cable line to combine evolutionary design and engineering techniques to support 4K/60, 4:4:4, HDR video applications up to 30 meters. These cables deliver a verified 18Gbps UHD, HDR signal for these higher resolutions, frame rates and colors.
Velox HDMI cables incorporate an innovative version of our symmetrical HDCP and EDID rise time accelerator for both the data and clock lines on the I2C bus (the Display Data Channel). This reduces EDID errors and because this repair is bidirectional ensures that the HDCP handshaking occurs reliably.
To ensure signal integrity and synchronization, Velox HDMI cables incorporate clock amplification and intra-pair skew correction necessary for delivering the latest video and audio formats reliably. This uses a USB power supply at the display side to make sure that everything is properly powered, which also resolves potential issues with EDID or on the return TMDS channels. Additionally, a 100-millisecond delay on the Hot Plug Detect signal assures that the HDMI source device receives the EDID information correctly from the sync.
Planning for the future of 8K, this new technology is compatible with HDMI 2.1 and utilizes all four of the cable channels for 48Gbps bandwidth. Once the official HDMI 2.1 Compliance Test Specifications are released, Metra Home Theater Group will be testing this cable at various lengths.
Velox HDMI cables are constructed of the highest quality materials, using only 100% pure copper with high-conductivity that results in lower losses than standard copper. Velox HDMI cables also include Metra Home Theater Group's unique interchangeable color-coding scheme for easy cable identification and management. Known for providing award-winning technical support and customer service, Metra Home Theater Group stands behind this product with a lifetime warranty.
Learn more about our Velox Active HDMI Cables.