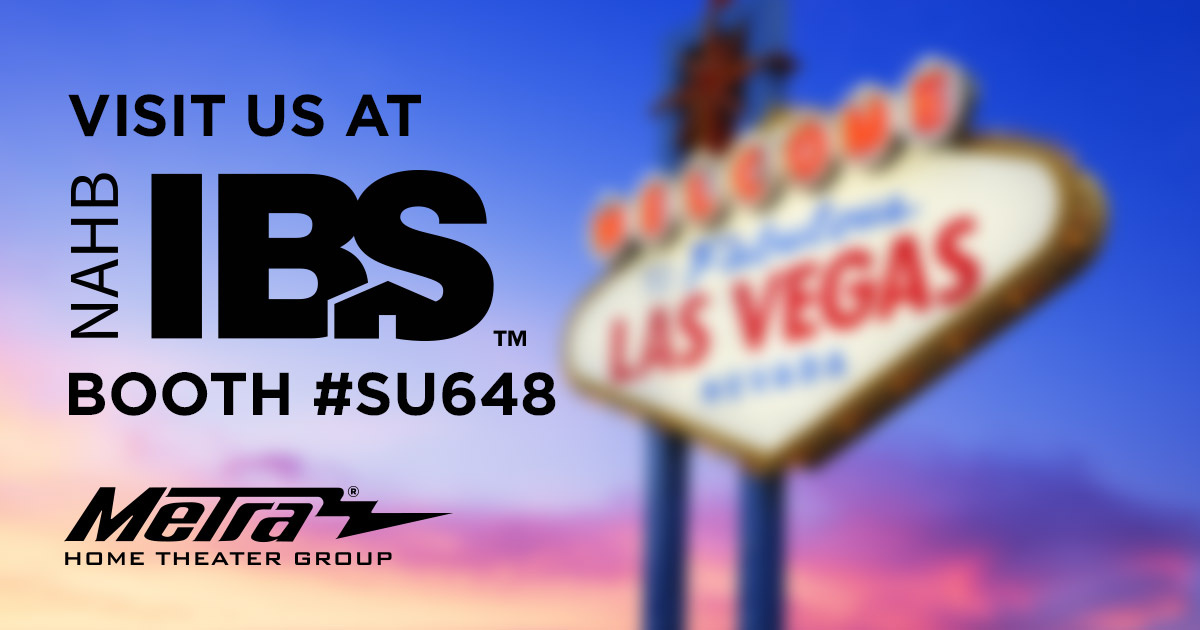 Metra Home Theater Group® (MHTG) is heading to the 2019 International Builders Show in Las Vegas from February 19th to 21st to showcase their latest home technology products for builders. "Building smart homes wired to support the latest technology and 4K home theater systems has become a significant revenue source for builders and is forecasted to grow even bigger," says Jessy Crabb, General Manager of MHTG. "With 4K becoming mainstream, higher bandwidth cables are needed to connect home theaters and we have cost-effective solutions that support 24Gbps," she added. MHTG will be at booth SU648 in the South Hall Upper Level in the Las Vegas Convention Center.
On display will be the latest HDMI® cables from the Install Bay® IB-HDAOCD series, which include a detachable head shell with a small connector cover and hook that makes pulling the cable through conduit easier. The durable CL3 jacket is designed for in-wall installation and is a home builder's top choice for pre-wiring new homes thanks to their UL-rated jacket that doesn't split or break in colder temperatures*. The hybrid active optical fiber technology supports up to 24Gbps (4x6 Gbps) bandwidth for 4K/60,10bit, 4:4:4 and all known versions of HDR, with no external power required**. The thin cable diameter and 24K gold plated connector offer beauty and performance for an unbeatable value. These cables are compatible with the new enhanced audio return channels (ARC and eARC) and all of the current HDMI specifications.
MHTG will also showcase their Ethereal® bulk wire solutions with newly improved, reinforced boxes with stronger construction. The improved box construction makes the premium wire easier to pull without tangles, kinks or snags and is based on installer feedback from the field.
Additional products on display at IBS with MHTG will be the latest home security cameras by Spyclops Surveillance Systems®, including higher resolution IP cameras and DVRs/NVRs with improved storage compression. With the rise in front door package stealing and affordability of camera and DVR technology, new homes can come equipped with surveillance systems to allow owners to remotely keep an eye on their property. All of Spyclops products work with their free remote viewing app, available for Apple or Android smartphones. For homes using Control4 automation, video feeds from Spyclops fixed position IP cameras are integrated with Control4 EA controllers, T3 touchscreens and mobile application. The camera software is available to download directly from the Control4 database.
*If external power is needed, the cable allows for a recommended USB 5 volt 1 amp power supply
**Operating Temperature -10-50 °C / 14 – 122 °F, Storage Temperature -20-60 °C / -4 – 140 °F
About Metra Home Theater Group®
Metra Home Theater Group® (MHTG), a pioneer in HDMI® cable technology, is a division of Metra Electronics® , the world leader and "The Installer's Choice" ® for vehicle installation kits and car audio accessories for more than 70 years. Headquartered in Florida, MHTG's brands include Ethereal Home Theater®, Helios® and Spyclops Surveillance Systems®. Metra's strong commitment to research and investment into the development of cutting-edge solutions has a history of providing first-to-market solutions for HDMI cables and electronics. Its Velox Active HDMI 30 Meter Cable was recognized as the Top Long-run Copper HDMI Cable at the 2017 CEDIA Expo. Connect with Metra Home Theater Group on Facebook, Twitter or MetraHomeTheater.com. For ordering information and pricing, visit Metra Home Theater Group online at MetraHomeTheater.com or call 866.839.9187.