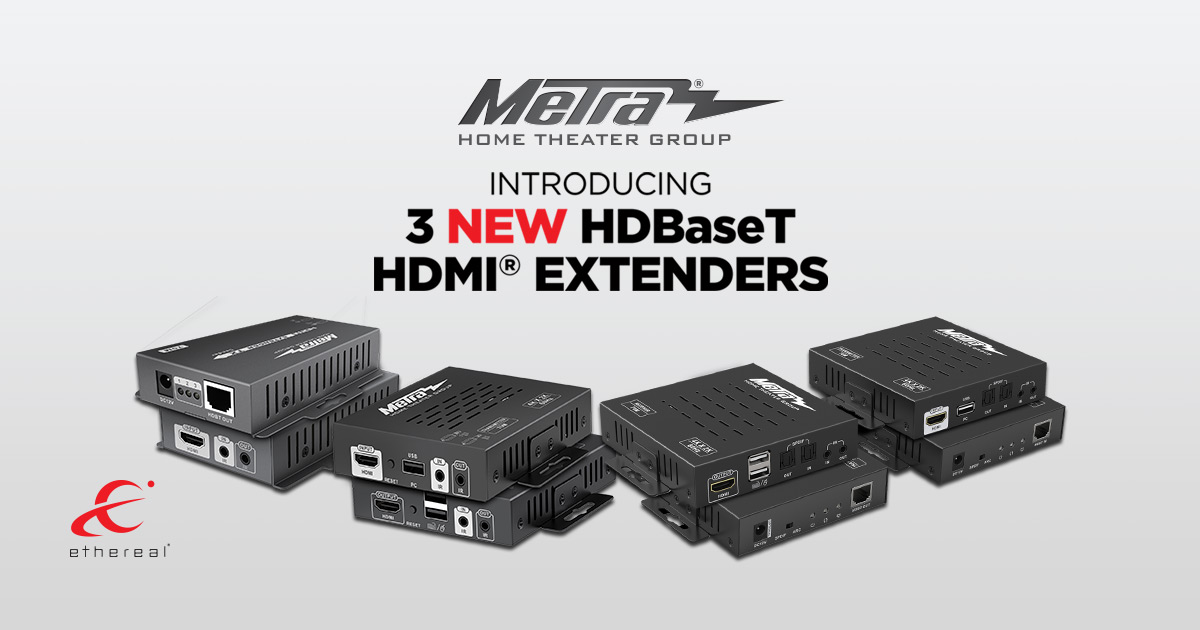 2018 CEDIA Show Rollout
Metra Home Theater Group® Ethereal® (MHTG) is introducing three new Ethereal® brand HDBaseT HDMI® extender products at the 2018 CEDIA Expo in San Diego, CA. The extenders all support HDMI 2.0 and HDCP 2.2 and are U.S. Type IR compatible. With 4K 60Hz, 4:4:4 and HDR, the CS-HDBTP2UK-70, CS-HDBTP2UKA-70 and the CS-HDBTLPOEU-70 offer the highest quality signal extension over category cable on the market today. These new products are simple to set up and will be available in different transmission distances and resolutions.
The CS-HDBTP2UK-70 has the capability to send 4K/HDR HDMI signals, bi-directional U.S. type IR signals and USB device support up to 70 meters. The resolutions supported are up to 4K/60Hz, 4:4:4. It is compatible with CAT5e, CAT6 and CAT6A with a transmission distance of up to 70 meters over CAT6. It also supports bi-directional IR 20-60Hz with included U.S. standard IR receiver and emitter as well as RS232, USB device support, designed for power from a single side and comes with wall mounting tabs.
The CS-HDBTP2UKA-70 offers all of the features listed for the CS-HDBTP2UK-70 but also includes ARC and Toslink digital audio passback. The CS-HDBTLPOEU-70 extender can send 1080p HDMI signals and bi-directional U.S. type signals up to 70 meters and 4K/30, 4:4:4 up to 40 meters.
About Metra Home Theater Group®
Metra Home Theater Group® (MHTG), a pioneer in HDMI® cable technology, is a division of Metra Electronics® , the world leader and "The Installer's Choice" ® for vehicle installation kits and car audio accessories for more than 70 years. Headquartered in Florida, MHTG's brands include Ethereal Home Theater®, Helios® and Spyclops Surveillance Systems®. Metra's strong commitment to research and investment into the development of cutting-edge solutions has a history of providing first-to-market solutions for HDMI cables and electronics. Its Velox Active HDMI 30 Meter Cable was recognized as the Top Long-run Copper HDMI Cable at the 2017 CEDIA Expo. Connect with Metra Home Theater Group on Facebook, Twitter or MetraHomeTheater.com. For ordering information and pricing, visit Metra Home Theater Group online at MetraHomeTheater.com or call 866.839.9187.