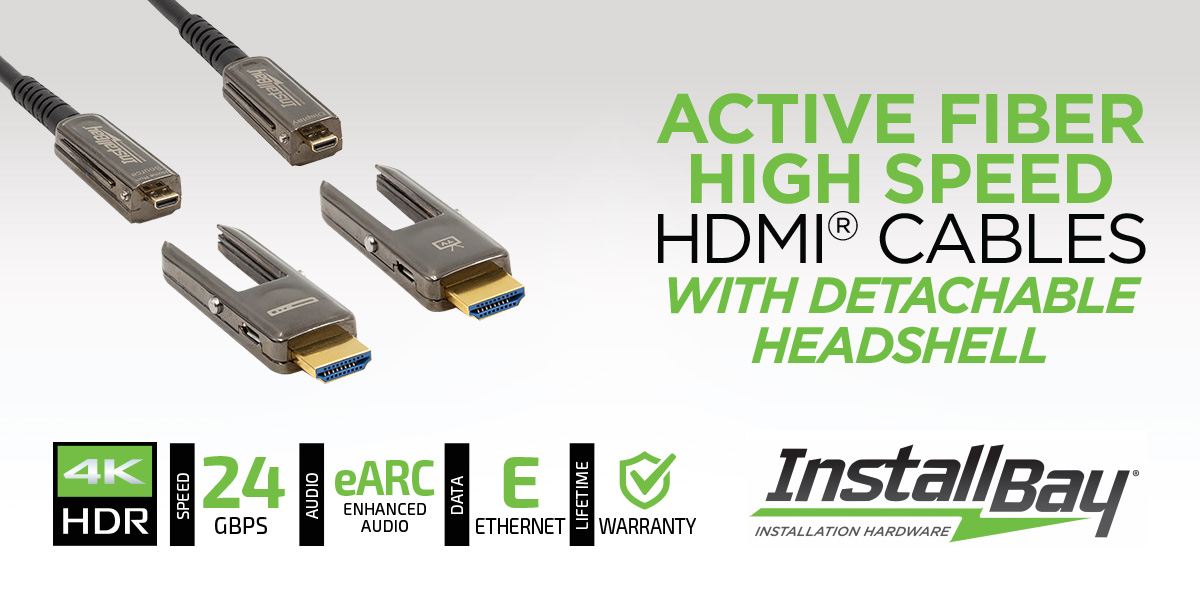 2019 CES New Product Rollout
Metra Home Theater Group® (MHTG) is introducing a new series of hybrid active optical fiber HDMI® cables from The Install Bay® that feature a removable headshell for easy in-wall installation. This installer-friendly solution is designed for pre-wiring with a small connector cover and hook that makes pulling the cable through conduit easy. The hybrid active optical fiber technology supports up to 24Gbps (4x6 Gbps) bandwidth for 4K/60,10bit, 4:4:4 and all known versions of HDR, with no external power required*. These cables were introduced to a small group of integrators at the 2018 CEDIA Show for feedback and testing. After positive feedback and a quick sellout, MHTG is ready to introduce these new cables into full production.
The thin cable diameter and 24K gold plated connector offer beauty and performance for an unbeatable value. These cables are compatible with the new enhanced audio return channels (ARC and eARC) and all of the current HDMI specifications. The durable CL3 jacket is designed for in-wall installation and is ideal for pre-wiring new homes thanks to their UL-rated jacket that doesn't split or break in colder temperatures**. Available in spools for lengths from 30 to 260 feet.
The new cables will be introduced at CES booth 11535 in the Central Hall of the Las Vegas Convention Center from January 8-11, 2019. These solutions will also be on display at the NAHB International Builder's Show booth SU648 and Integrated Systems Europe booth 1-Q80 in February.
IB-HDAOCD Series Specifications:
24Gbps (4x6Gbps) bandwidth
Supports 4K@60Hz HDR
High-speed HDMI 2.0
Supports ARC and eARC
24K gold plated connector
No external power required*
Detachable headshell reveals small connector easy for pulling through conduit
Includes connector cover with hook for pulling through conduit
Durable CL3 jacket for in-wall installations
Ethernet
*If external power is needed, the cable allows for a recommended USB 5 volt 1 amp power supply
**Operating Temperature -10-50 °C / 14 – 122 °F
**Storage Temperature -20-60 °C / -4 – 140 °F
About Metra Home Theater Group®
Metra Home Theater Group® (MHTG), a pioneer in HDMI® cable technology, is a division of Metra Electronics® , the world leader and "The Installer's Choice" ® for vehicle installation kits and car audio accessories for more than 70 years. Headquartered in Florida, MHTG's brands include Ethereal Home Theater®, Helios® and Spyclops Surveillance Systems®. Metra's strong commitment to research and investment into the development of cutting-edge solutions has a history of providing first-to-market solutions for HDMI cables and electronics. Its Velox Active HDMI 30 Meter Cable was recognized as the Top Long-run Copper HDMI Cable at the 2017 CEDIA Expo. Connect with Metra Home Theater Group on Facebook, Twitter or MetraHomeTheater.com. For ordering information and pricing, visit Metra Home Theater Group online at MetraHomeTheater.com or call 866.839.9187.