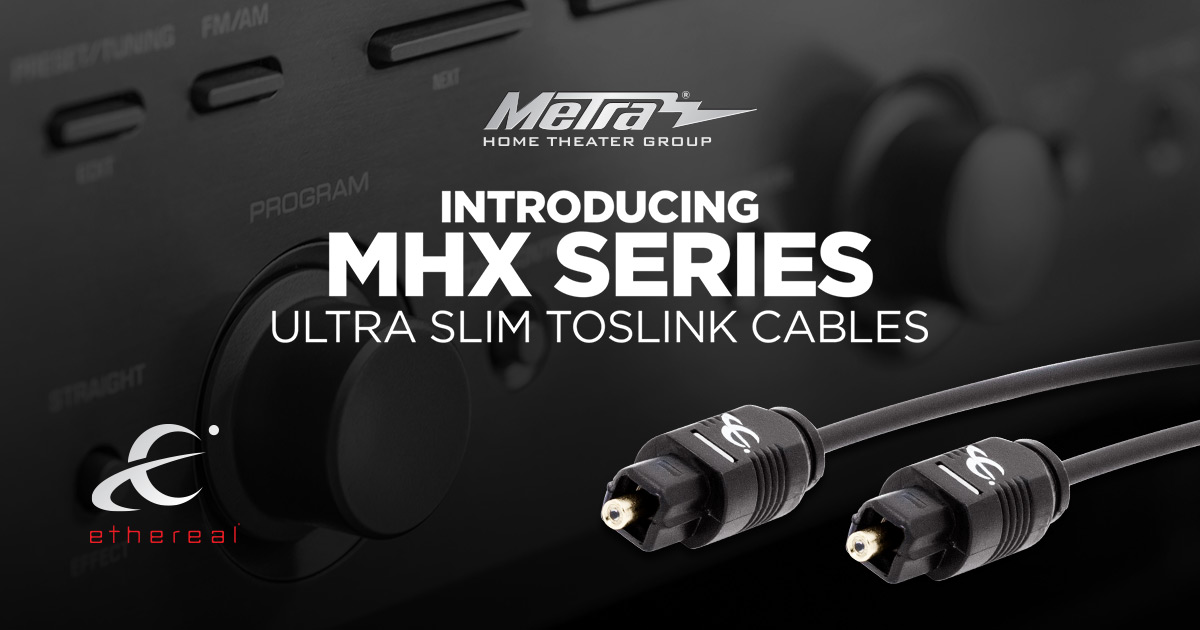 2018 CEDIA Show Rollout
Metra Home Theater Group® Ethereal® MHX Series Ultra Slim Toslink Cables are being rolled out at the 2018 CEDIA Expo in San Diego, CA. The new audio cables can carry pulse code modulation (PCM) and multi-channel digital audio between Toslink enabled devices. These ultra slim cables feature the finest quality optical fiber to provide maximum resolution.
The MHX-ST1, MHX-ST2, and MHX-ST3 with an ultra slim, low-profile head shell design come in lengths of 1, 2 and 3 meters respectively. The cables are unaffected by common noise sources and have 24k gold-plated termination. The ultra-low profile connector is ideal for installations with limited space available.
About Metra Home Theater Group®
Metra Home Theater Group® (MHTG), a pioneer in HDMI® cable technology, is a division of Metra Electronics® , the world leader and "The Installer's Choice" ® for vehicle installation kits and car audio accessories for more than 70 years. Headquartered in Florida, MHTG's brands include Ethereal Home Theater®, Helios® and Spyclops Surveillance Systems®. Metra's strong commitment to research and investment into the development of cutting-edge solutions has a history of providing first-to-market solutions for HDMI cables and electronics. Its Velox Active HDMI 30 Meter Cable was recognized as the Top Long-run Copper HDMI Cable at the 2017 CEDIA Expo. Connect with Metra Home Theater Group on Facebook, Twitter or MetraHomeTheater.com. For ordering information and pricing, visit Metra Home Theater Group online at MetraHomeTheater.com or call 866.839.9187.