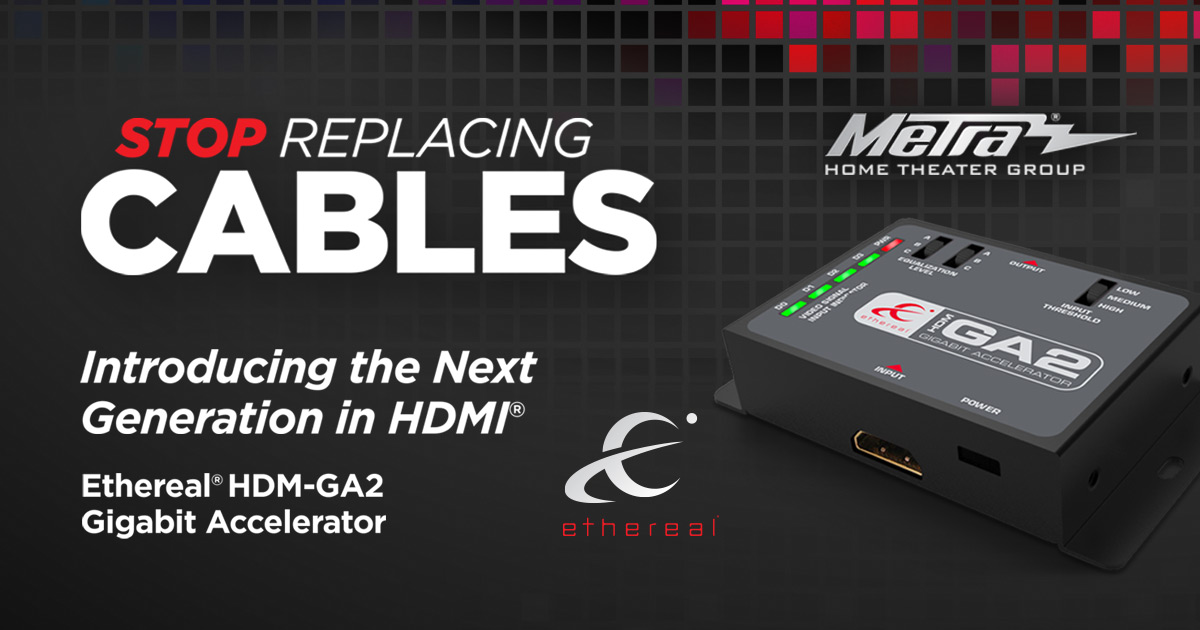 2018 TWICE VIP Award Winner, CEDIA Expo Finalist for Best New Hardware Award
Metra Home Theater Group® (MHTG) debuts its next-generation HDMI® GA2 gigabit accelerator at the 2018 CEDIA Expo in San Diego, CA. The HDM-GA2 technology breakthrough means an existing passive HDMI cable can be used for a 4K upgrade to a home theater system.
MHTG's Ethereal® second-generation gigabit accelerator, the HDM-GA2, is small enough to fit in the palm of your hand and transforms existing hard-wired passive HDMI cables by expanding their bandwidth capability to 18Gbps for up to 20 meters and an expected capability of 48Gbps for up to 9+ meters. The HDM- GA2 patented technology will support all available functions under HDMI 2.0b, and it will also support the feature sets and performance requirements of the new HDMI 2.1 specification. The product is low-profile and is designed to be used only with passive HDMI cables and installs easily at the display side of the system. It has already received the TWICE VIP Award for 2018, and is a finalist for the "Best New Hardware" award to be given by CEDIA at the expo.
"This is the best long-distance HDMI cable restorer available on the market today," said Jessy Crabb, MHTG's general manager. "When we introduced the HDM-GA1 three years ago, it was revolutionary and award-winning. The GA2 doubles down on that capability by expanding bandwidth and flexibility," she added.
Other important features include the flexibility to adjust to different cables and gauges. The result is an upgraded home theater system with a higher output resolution and bandwidth content for 4K, 8K and beyond. The HDM-GA2 has the latest in high-speed digital audio and video restoration to support any and everything. It also includes a new DDC data integrity circuit to fix EDID Low-Speed Data.
For the installer, the GA2 works to repair common issues between HDMI enabled devices and delivers better value because this one product acts as both an HDMI repair tool and signal extender combined. Additionally, the flexibility of the GA2 provides a tremendous value to custom integrators, as it adjusts to work with different passive HDMI cables and gauges. All Ethereal HDMI cables are certified by the independent DPL Labs. The HDM-GA2 is also certified by DPL Labs.

Ethereal HDM-GA2
12Gbps bandwidth x 4 channels up to 9 meters (Future ready for rev 2.1)
Greater than 30 dB of Gain on the high speed video channels.
DDC (I2C) bi-direction acceleration and recovery.
Full output limiting to prevent input saturation of the display.
Video data input indicators.
System power indicator.
8 programmable equalization settings for distance equalization.
Selectable input threshold control capability.
Extends 18Gbps capability up to 20 meters (Depending on cable quality).
Extends 48Gbps capability up to 9 meters (Depending on cable quality).
Supports all current feature sets of the new HDMI 2.0b specification
Supports all current feature sets of the new HDMI 2.1 specification
5 volt power supply and USB cable Included.
About Metra Home Theater Group®
Metra Home Theater Group® (MHTG), a pioneer in HDMI® cable technology, is a division of Metra Electronics® , the world leader and "The Installer's Choice" ® for vehicle installation kits and car audio accessories for more than 70 years. Headquartered in Florida, MHTG's brands include Ethereal Home Theater®, Helios® and Spyclops Surveillance Systems®. Metra's strong commitment to research and investment into the development of cutting-edge solutions has a history of providing first-to-market solutions for HDMI cables and electronics. Its Velox Active HDMI 30 Meter Cable was recognized as the Top Long-run Copper HDMI Cable at the 2017 CEDIA Expo. Connect with Metra Home Theater Group on Facebook, Twitter or MetraHomeTheater.com. For ordering information and pricing, visit Metra Home Theater Group online at MetraHomeTheater.com or call 866.839.9187.