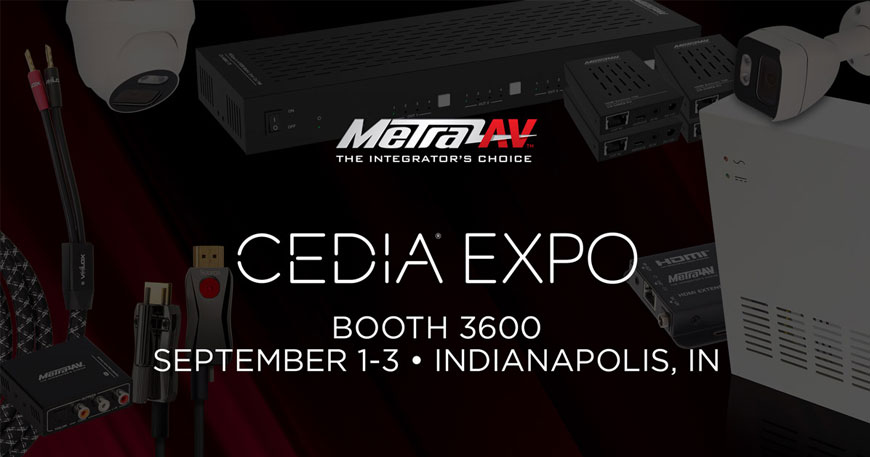 After many larger exhibitors announced their plans to leave the CEDIA Expo due to Covid-19 concerns, MetraAV™ has decided to remain in the show. "We talked with many of our dealers, surveyed our customers, and learned that many are still planning to attend and want to see us at the show. While we understand the reasons why others chose not to attend, we felt that it was important to keep our commitment to exhibit at CEDIA Expo," says Jessy Crabb, general manager of MetraAV. "This has always been one of the most important events in our industry. While we know it won't be the same as before the pandemic, our staff is all looking forward to seeing our customers, vendors, and friends at CEDIA. We've also put health measures in place to ensure a clean, safe experience for our team and booth attendees," added Crabb.
MetraAV's staff will be wearing masks when booth guests are present, surfaces will be cleaned and sanitized frequently, and there will be hand sanitizer at the front desk. The floorplan of the 2021 CEDIA Expo has been reworked and MetraAV will now be at booth #3600.
About MetraAV
MetraAV is a pioneer in HDMI® cable technology and is a division of Metra Electronics®, the world leader for aftermarket automotive accessories for 75+ years. Headquartered in Florida, MetraAV's brands include Ethereal Home Theater®, Velox®, Helios®, Spyclops Surveillance Systems® and Install Bay®. A strong commitment to research and development has resulted in a history of providing first-to-market technology for HDMI cables and electronics with numerous industry awards for innovation. Formerly known as Metra Home Theater Group, you can connect with MetraAV on Facebook, Twitter, Instagram, LinkedIn and subscribe to their videos on YouTube to watch weekly Tech Tips. For ordering information and pricing, visit MetraHomeTheater.com or call 386-255-0234.