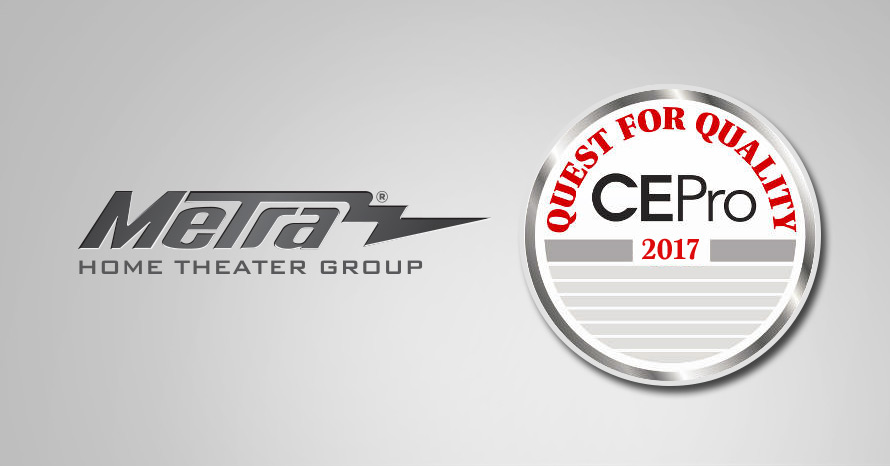 Holly Hill, Fla. - April 1, 2017 - Metra Home Theater Group is proud to receive CE Pro's Gold Quest for Quality Award for Best Training Program in 2017. Jessy Crabb, General Manager, says that "Metra Home Theater Group is dedicated to developing products that not only solve today's problems, but products that are built to support future technology. By doing so, we also understand the need for providing integrators with training programs that support the products we're innovating."

Metra Home Theater Group has invested in training programs that provide dealers with expert-level knowledge for many of the industry's trending topics. Their annual Lunch N' Learn at CEDIA continues to see great success each year, and focuses on many of the common issues integrators face while providing the best ways to resolve them. Integrators also have access to webinars, in-house support and additional tools that help them stay a step ahead of the competition.

With nearly 7,400 reader votes, the seventh annual Quest for Quality award recognizes manufacturers and distributors who provide their customers with superior service in categories such as customer service and communication, technical support, sales and marketing assistance, shipping policies, website portals, dealer incentives, training programs and other beneficial services for dealers. The individuals that nominated Metra Home Theater Group for the award are not only CE Pro readers, but also customers that work with the respective vendors and manufacturers on a daily basis – making the award recognition truly special.

In 2016, Metra Home Theater Group also won the Platinum Quest for Quality Award for Technical Support. The organization's focus and commitment to providing dealers with after-hours technical support and investing in educational resources to help integrators understand new changes in technology helped earn this award. "Educated customers that understand the technology behind new products are happier customers and more successful in their business. We are partners with our customers in every sense," said Metra Home Theater Group's management team.