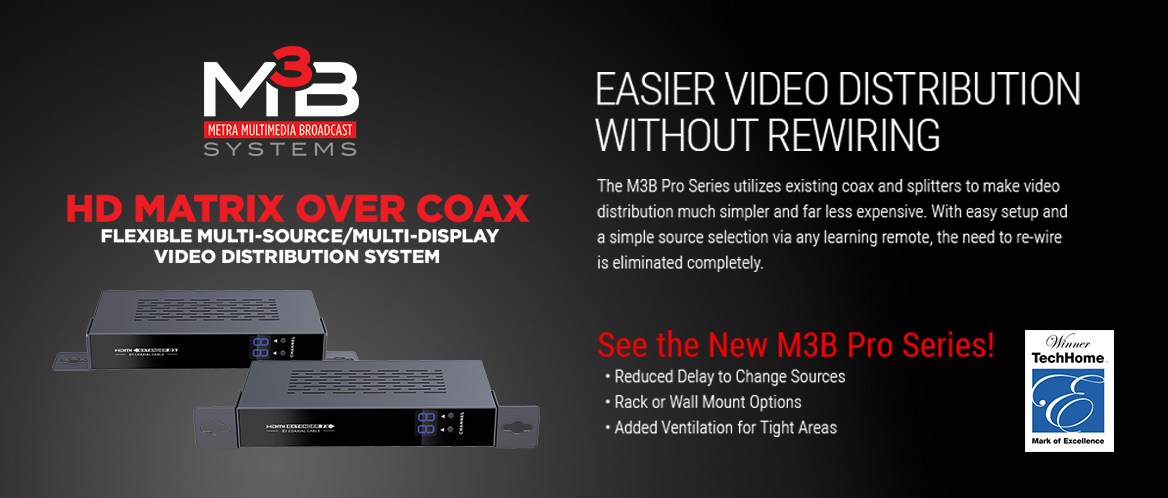 Every custom integration project is unique, with the requirements, budget and project site providing its own set of challenges. By knowing which solutions on the market are the most cost effective and easiest to install for your specific project, you'll provide a better service for your customers and a healthier profit margin for the company. In this article, we'll cover when to use Ethereal's M3B Pro System for HD video distribution and help you identify potential projects best suited for this system.
When it comes to whole house HD video distribution system, solutions on the market can get pricey and overly complex. This is the same for commercial applications when a restaurant, bar or church needs to distribute video from multiple sources to multiple displays. If you consider using HDbaseT video matrix systems (which are not scalable), you'll need Cat-rated cable at each display, which could mean running new cable to every single display in the structure. That alone would increase any project fee in terms of money and labor. Other systems on the market have complicated integration with many different pieces of expensive hardware, requiring more research and time than most integrators want to invest in a project proposal. As a result, we've seen residential installers shy away from the potential opportunity to work on a commercial AV project, assuming that it would be too complex and troublesome. If only they knew about the M3B Pro System.
Setting up an HDMI® matrix that uses the structure's existing coax cable and splitters is the fastest and most cost effective way to offer HD video distribution. M3B Pro Transmitters are placed at each source and assigned a channel, connected to splitters and coaxial cable, and then connected to receivers at each display. The M3B Pro uses RF conversion technology to convert the HDMI signal in order to transmit over coax cable. Program your channels and you're set. It's that easy! And yes, we have to tell installers this many times during tech calls, as they can't believe the setup could be so simple.
After winning awards and saving countless installers from running new cable, it's become the integrator's go-to solution for reliable video distribution. Customers love that it maintains image quality over long distances with strong anti-interference capabilities. Best of all, you can choose the source by IR at the display and the latest M3B Pro System offers improved ventilation, a rack mountable design with a corresponding rack mount system, and faster channel changing than the first generation M3B System.
So how can you determine if your project is a candidate for the M3B Pro System? Keep reading!
Metra Home Theater Group recommends the M3B Pro System for projects with these specifications:
Video distribution from one or more sources needs to be transmitted to multiple displays.
Existing RG6(75-5) (or higher level) coaxial cables and splitters are in the structure and working properly.
Project requirements are 1080p resolution with HDCP compatibility.
Transmission over coaxial cable is 300 - 700 meters. For cable distances less than 100 meters, a 20dBm signal attenuator is needed. See the product manual for details.
There are 50 or less sources being distributed to 100 or less displays. (The M3B Pro System will also work for projects with one source to multiple displays. While there are 99 total channels, we recommend using every other channel when programming).
Sources have an HDMI output and are capable of supporting 1080p resolution.
Displays have an HDMI input and are capable of supporting 1080p resolution.
Additional Things to Know:
If using an amplifier for audio you must use the audio output from display to avoid lip-sync issues. The encode/decode between transmitter and receiver is 500ms and will cause a noticeable lip-sync delay if using audio from source instead of display.
If satellite signals are traveling over same coax, diplexers must be put in place. If MoCA (Whole Home DVR) is used on the same coax, MoCA filters must be in place.
When using the CATV splitter for 1 to many and many to many connections, it is suggested to use a low consumption, high isolation and shielding 5-1000Mhz bi-directional communication splitter to build the video matrix.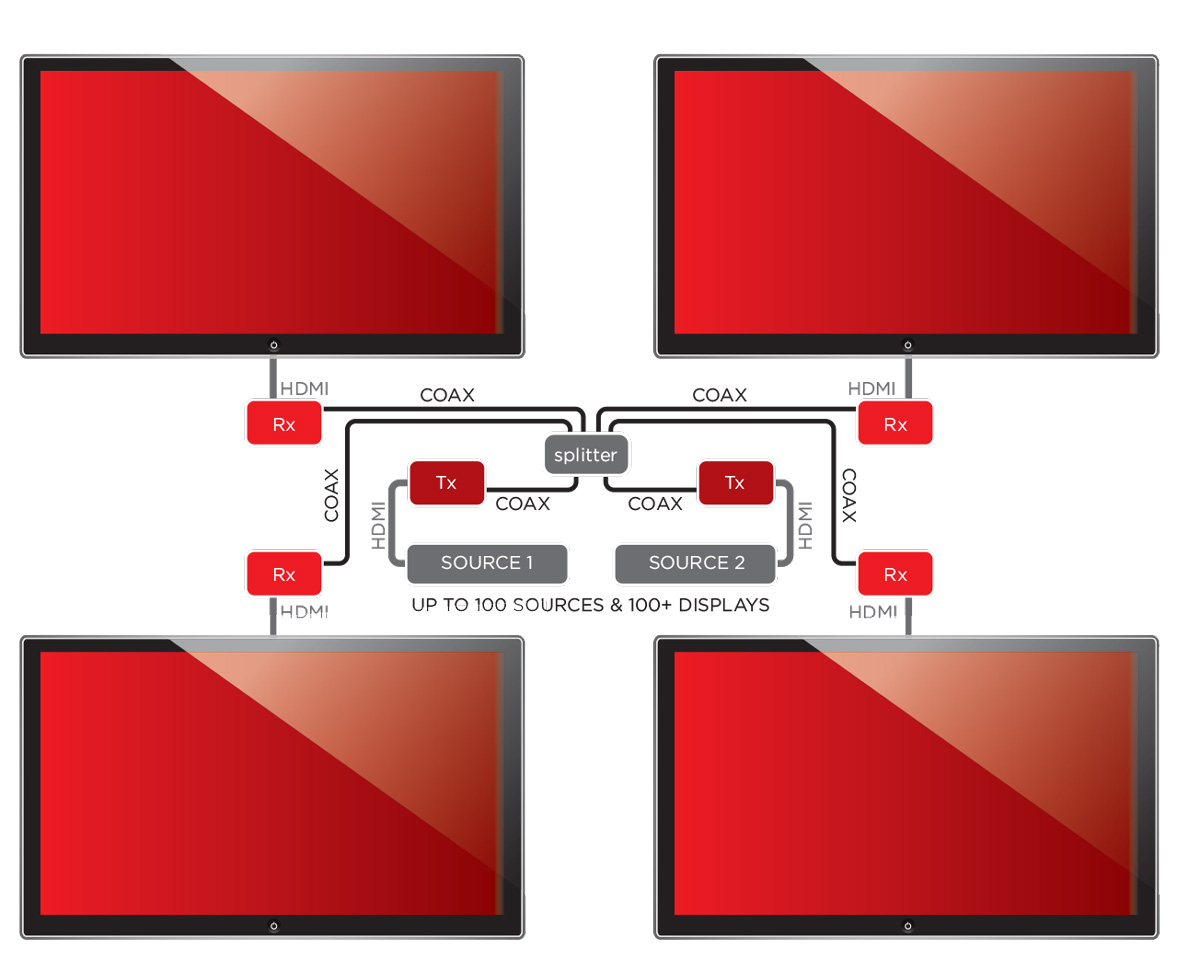 1 Year Warranty and Knowledgeable Tech Support
Call and speak to our friendly and knowledgeable technical support team for any questions about this system. Our tech team has helped integrators map out their project workflows, determine the best products for their project requirements, and most importantly - troubleshoot any potential issues that arise along the way.
The M3B Pro System by Ethereal has a one year warranty and is supported by Metra Home Theater Group, a manufacturer that chooses quality of quantity. If you are using Ethereal cables with the M3B Pro, the warranty increases to 2 years. Metra has award-winning technical support and customer service, and is one of the few manufacturers that provide direct access to their product development and technical support team.
The M3B Pro is available now from your Metra Dealer or Distributor. For dealer information or where to buy, contact us by phone or email.
Learn More About the M3B Pro System:
Receiver: CS-HDM3BRXP
Transmitter: CS-HDM3BTXP
12 Port Rack Mount: CS-HDM3BRACK12
Blank Rack Plate: CS-HDM3BRACKBP