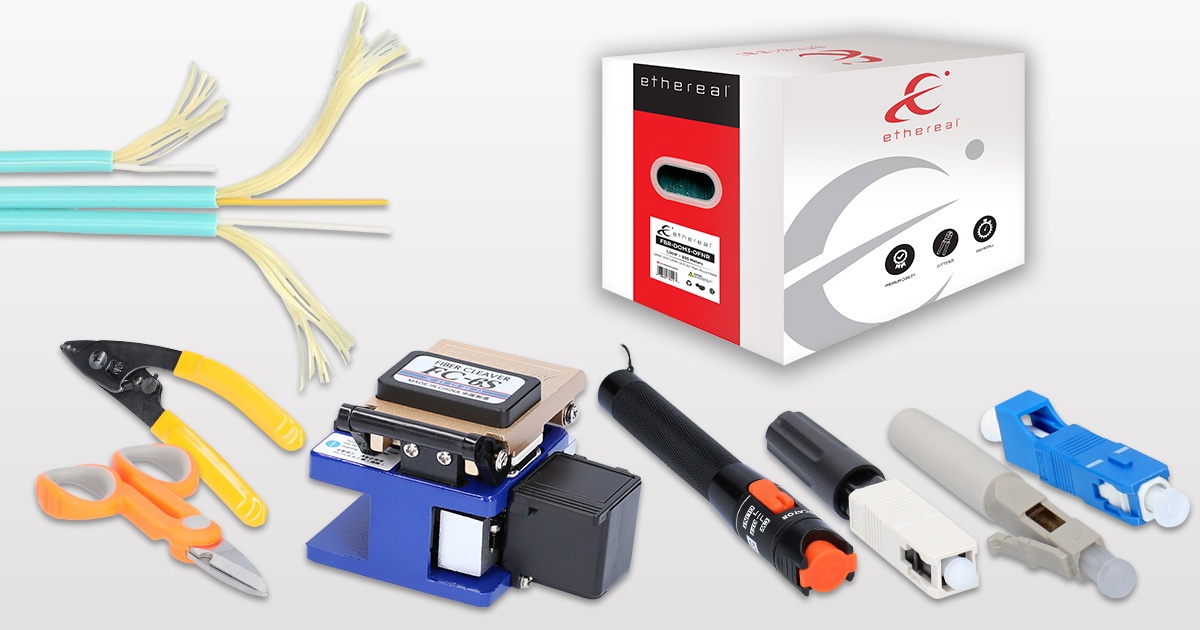 Holly Hill, FL – August 8, 2019 - Metra Home Theater Group® (MHTG) is excited to launch new bulk fiber cable and fiber termination tools for installers at the 2019 CEDIA Expo. This product line provides reliable fiber installation at a competitive price and is a first for MHTG, who currently sells bulk category cable, speaker wire, security wire and coax cable. Existing fiber products from MHTG so far have been HDMI® cables from their Velox®, Helios® and Install Bay® brands, at lengths ranging from 3 feet to 330 feet. Now, customers will have the ability to terminate their own fiber lengths with 1,000-foot bulk reels of OM3 multi-mode fiber, available in simplex or duplex options in an easy-pull box. It is available in OFNR riser rated, making it suitable for indoor floor to floor applications or OFNP for plenum applications and designed for today's 10 Gigabit applications in networks and data centers.
MHTG's new fiber termination tools are designed for both value and quality. Competitively priced, these products not only provide integrators with a complete set of termination tools for cutting and stripping, but also include SC and LC fast connectors, and a high precision visual fault locator to detect poor connection or any other damage. These products will be available soon.
New fiber products being featured at the 2019 CEDIA Expo include:
Bulk fiber in 1,000ft. dispensable reel in boxes:
FBR-SOM3-OFNR - OM3 Simplex Multi-Mode Fiber
FBR-DOM3-OFNR - OM3 Duplex Multi-Mode Fiber
FBR-SOM3-OFNP - OM3 Simplex Multi-Mode Fiber
FBR-DOM3-OFNP - OM3 Duplex Multi-Mode Fiber
Fiber termination tools:
CS-FBRSCT - SC 50/125 OM3 Connectors
CS-FBRLCT - LC 50/125 OM3 Connectors
CS-FBRCLVR - High Precision Fiber Cleaver
(featuring an integrated waste container for safe handling of fiber scraps)
CS-FBRSTRPR - Fiber Stripper Tool
CS-FBRSCSR - Fiber Kevlar Scissors
CS-FBRVFL - Fiber Visual Fault Locator
CS-FBRLCFSCM - LC Female to SC Male Adapter
Metra Home Theater Group will also be hosting a workshop at the CEDIA Expo featuring Jeff Boccaccio, president of DPL Labs, one of the industry's leading experts on digital signaling solutions and HDMI, along with Brent McCall from MHTG's technical support and product development team. This one-hour long workshop session is hosted at MHTG's booth, #1338, on Thursday 9/12 and Friday 9/13 at 1:00 PM. Both days will have the same session topic and attendees will be entered in a drawing for a chance to win new products. For more information, visit MetraHomeTheater.com.
About Metra Home Theater Group®
Metra Home Theater Group® (MHTG), a pioneer in HDMI® cable technology, is a division of Metra Electronics®, the world leader and "The Installer's Choice"® for vehicle installation kits and car audio accessories for more than 70 years. Headquartered in Florida, MHTG's brands include Ethereal Home Theater®, Helios® and Spyclops Surveillance Systems®. Metra's strong commitment to research and investment into the development of cutting-edge solutions has a history of providing first-to-market solutions for HDMI cables and electronics. Its Velox Active HDMI 30 Meter Cable was recognized as the Top Long-run Copper HDMI Cable at the 2017 CEDIA Expo. Connect with Metra Home Theater Group on Facebook, Twitter, Instagram or LinkedIn. For ordering information and pricing, visit MetraHomeTheater.com or call 386-255-0234.