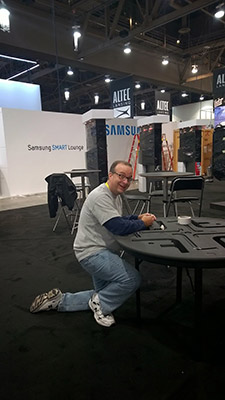 Today is the first day of the Consumer Electronics Show in Las Vegas and Metra Home Theater Group is ready for the crowd to visit booth #12434. Some of the staff flew out here on December 27th to begin putting together the booth. Here is picture of the booth in progress with one of our hard working staff.
We kick off our year at this tradeshow and it is always a great show. We have a feeling that it is going to be the best show to date. Why you might ask? Well, for starters the booth was up WAY ahead of schedule something that has not happen in a long time. Everyone is calm, relaxed and rested for the show to kick off January 6th at 10 am. Also, we are exhibiting our new kits. Our customers wanted kits and we delivered Spyclops and 4K Accessory Kits. In addition, as the industry leader for 4K accessories, we are showing our Ultra HD cable line at CES. These HDMI® high speed cables are designed for HD connections utilizing displays with 4K/60 capability for superior high definition picture and sound.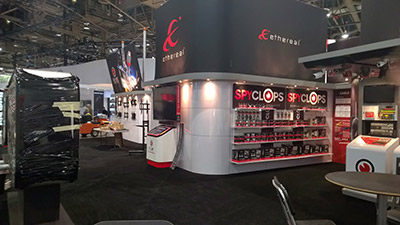 As a large show there are lots of new products from all the industry leaders which produces a certain magic to a show this size. The convention center is huge, really huge. The booths are just as mammoth. The day before the show most booths look like it would take another week to pull them together. Yet, like magic, the first day of the show each and every booth is ready. It's like CES fairies help out the night before the show to help get them in shape for opening day.
If you are attending CES 2015, stop by our booth (behind Samsung's booth) # 12434. Follow us on Twitter and Instagram for more pictures of the magic of CES.