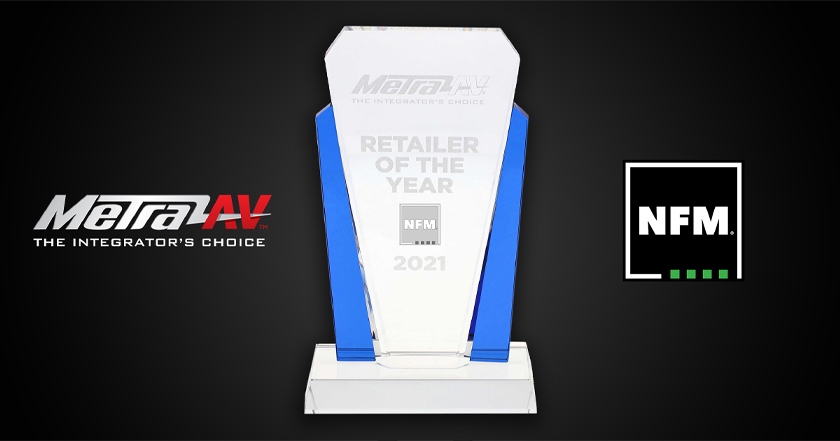 Holly Hill, Fla. – MetraAV™ is excited to present Nebraska Furniture Mart ® (NFM) with its first-ever Retailer of the Year Award for 2021. This accolade is presented to recognize a retailer that has shown a strong commitment to a successful partnership and exceptional sales growth throughout the year.
"NFM goes above and beyond to help improve our marketing and retail presence for MetraAV products sold within their stores and website. We've mutually benefited from a partnership reinforced by open communication and strong support to succeed in providing their customers with the best home theater solutions," says Jessy Crabb, General Manager of MetraAV.
"On Behalf of NFM, I'd like to thank Metra for awarding us the 2021 Retailer of the Year. We are honored by the recognition. We would also like to acknowledge the efforts of our entire Home Theater teammates – our success relies on their dedication, level of expertise and enthusiasm towards a world class selling and shopping environment. Our partnership with MetraAV assists us in creating a positive and informative experience for our customers throughout their shopping journey. NFM looks forward to our continued partnership," says David Otte, Electronics Division Merchandising Manager of NFM.
This is the first of what will become an annual award presented from MetraAV to show appreciation to a retailer based on sales growth, support, and overall commitment to the brand's partnership.
About Nebraska Furniture Mart (NFM)®
Nebraska Furniture Mart was founded by Rose Blumkin in 1937 in the basement of her husband's pawn shop in Omaha, Nebraska. In 1983, investor Warren Buffett purchased a majority interest in NFM and made it part of the Berkshire Hathaway family of companies. Today, NFM is one of the nation's largest home furnishings retailers, selling furniture, flooring, appliances and electronics. NFM currently has locations in Omaha, Des Moines, Iowa, Kansas City, Kansas and Dallas-Fort Worth, Texas. For more information on Nebraska Furniture Mart, visit www.nfm.com.
About MetraAV™
MetraAV is a pioneer in HDMI® cable technology and is a division of Metra Electronics®, the world leader for aftermarket automotive accessories for 75+ years. Headquartered in Florida, MetraAV's brands include Ethereal Home Theater®, Velox®, Helios®, Spyclops Surveillance Systems® and Install Bay®. A strong commitment to research and development has resulted in a history of providing first-to-market technology for HDMI cables and electronics with numerous industry awards for innovation. Formerly known as Metra Home Theater Group, you can connect with MetraAV on Facebook, Twitter, Instagram, LinkedIn and subscribe to their videos on YouTube to watch weekly Tech Tips. For ordering information and pricing, visit MetraHomeTheater.com or call 386-255-0234.