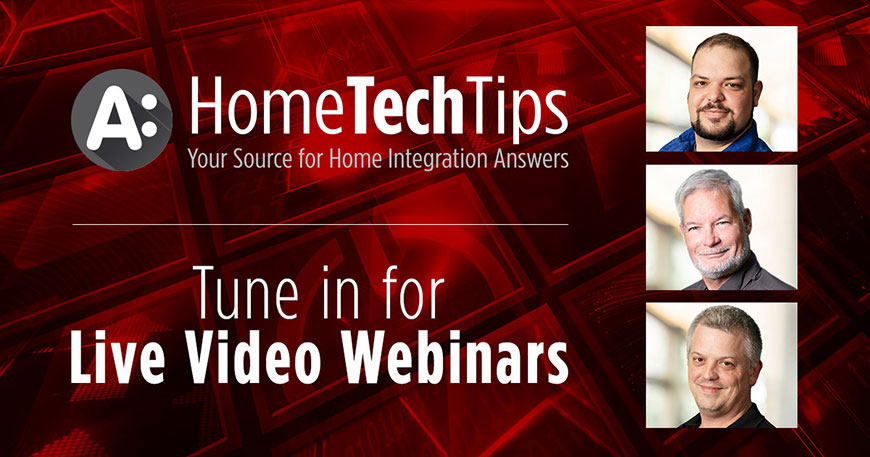 The technical support and product development team from Metra Home Theater Group® (MHTG) will be live streaming short videos every other week to answer questions custom integrators are asking about home technology products. The topics will range from HDMI® to security surveillance integration, bulk wire, multimedia distribution, home audio and other technical issues seen in the field. The videos will stream live from Facebook and YouTube and be about 10-20 minutes in length, ending with an open question and answer session to discuss questions posted in the comments section. MHTG is planning to host these live videos every other Wednesday at 11:00 A.M. (Eastern time), starting July 3rd, 2019.
The first video topic, "The Top 3 Most Important Things When Upgrading from HDMI 2.0 to 2.1," will address the critical changes when upgrading to HDMI version 2.1 that will impact home theater systems. This ongoing educational series is designed to help custom integrators better prepare for changes in the industry with quick tips they can watch from anywhere, at any time. Videos will be archived on MHTG's Facebook and YouTube page, and also embedded onto the website in the videos section so that they can be viewed later.
"We hear many of the same questions from the field each day, and felt that this platform would allow us to provide quick updates about issues that are relevant to integrators, in real-time," says Brent McCall. "If a cable box firmware update is released that causes issues with systems, we are usually the first to hear about it, but also sometimes the first to know what solution fixed the issue," he added. "By sharing this type of information quickly in weekly videos, we'll be providing a valuable service to custom integrators."
The weekly videos will stream live from Facebook.com/EtherealHomeTheater and YouTube.com/user/EtherealHomeTheater.
About Metra Home Theater Group®
Metra Home Theater Group® (MHTG), a pioneer in HDMI® cable technology, is a division of Metra Electronics®, the world leader and "The Installer's Choice"® for vehicle installation kits and car audio accessories for more than 70 years. Headquartered in Florida, MHTG's brands include Ethereal Home Theater®, Helios® and Spyclops Surveillance Systems®. Metra's strong commitment to research and investment into the development of cutting-edge solutions has a history of providing first-to-market solutions for HDMI cables and electronics. Its Velox Active HDMI 30 Meter Cable was recognized as the Top Long-run Copper HDMI Cable at the 2017 CEDIA Expo. Connect with Metra Home Theater Group on Facebook, Twitter, Instagram or LinkedIn. For ordering information and pricing, visit MetraHomeTheater.com or call 866.839.9187.