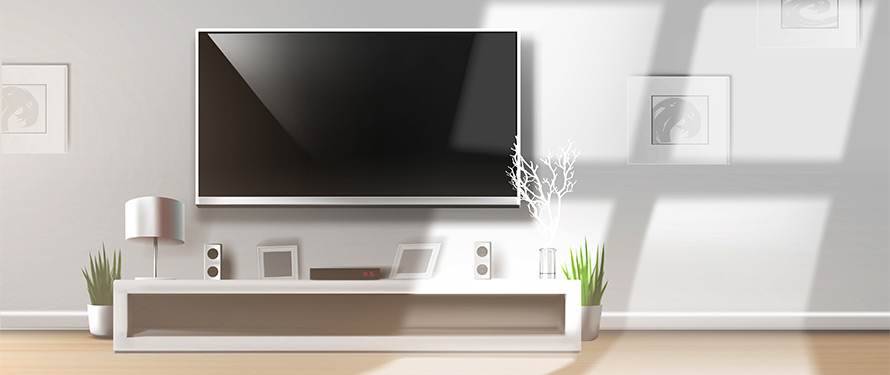 Larger flat screen TVs are in high demand, and mounting them to the wall is one of the most popular options for homeowners and businesses. The TV mount becomes one of the most important accessories, and it does more than just secure the screen to the wall. Its position, if installed correctly, enhances the entire viewing experience. However, larger, heavier screens present a challenge for installers to safely mount and still maintain a full range of motion. How do you know which TV mounts will work best for larger screens? Metra Home Theater Group's tech team recommends looking at four key things; range of motion, weight capacity, VESA pattern range and quality construction.
Range of Motion
Full motion TV mounts, or articulating TV mounts, provide larger televisions the freedom to move for optimal viewing positions. However, these are not all the same and you should pay careful attention to the specs! Many mounts tend to have a reduced range of motion for larger screens. We disagree with this. Larger displays should not have to sacrifice range of motion. The mount should tilt up and down and have an arm to come out from the wall to offer plenty of viewing options. The recommended specification for a full motion TV mount is an arm that extends 31 inches out from wall and a swivel angle of +/- 90 degrees. Anything less and you'll be limiting the potential viewing options for the screen.
Check the Weight Capacity
Larger televisions need a TV mount that can safely carry their weight, PLUS the weight of any additional accessories or cables. For example, if a 75 inch TV weighs 95 pounds (according to Best Buy), do NOT purchase a mount that holds only 100 pounds. By the time you add the cables and utilize the arm, you may be dangerously close to the 100 pound limit of the mount. More wiggle room for weight limit is needed to protect your larger television. When in doubt, get the higher weight capacity.
Look for a Large Vesa Pattern Range
The Vesa pattern determines the various brands and sizes of televisions a mount with work with. The smaller the Vesa pattern range, the fewer number of brands will work with this mount. A good quality mount will have a range up to 700x500, which will cover the most popular televisions displays on the market.
Sturdy Construction
An affordable TV mount should still have sturdy construction. After all, it is holding a very expensive piece of equipment. While a higher price doesn't always mean a higher quality TV mount, be sure to pay attention to the materials and construction. Powder coated steel holds up well to the scrapes of regular use. Premium grade steel should be used to provide the sturdiest mount.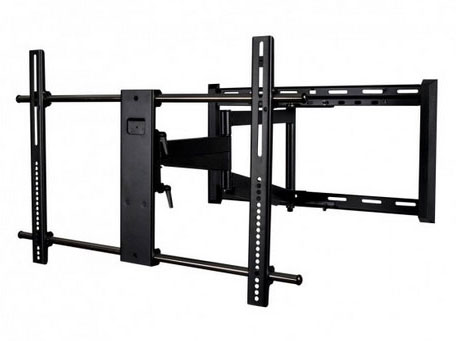 Introducing the Extra Large Full Motion Mount
Metra Home Theater Group has introduced an affordable TV mount that solves the common challenges for larger flat screen TVs. The FMXL75 by Helios is designed for TV screens between 42" and 90", with a weight capacity of up to 150 pounds. It offers a full range of motion, with a swivel angle +/- 90 degrees and can extend up to 31 inches from the wall.
After spending as much a $10k on a 75 inch 4K UltraHD with HDR display, the last thing you want to do is purchase a TV mount with limited viewing options, or worse - a mount that breaks!
For more tips like this follow Metra Home Theater Group's Tech Tips blog. If you would like to discuss this issue further, authorized dealers can speak directly with one of our technicians at 1-866-839-9187 about this or any technical issue. Not a customer? Apply to become a Metra dealer today.