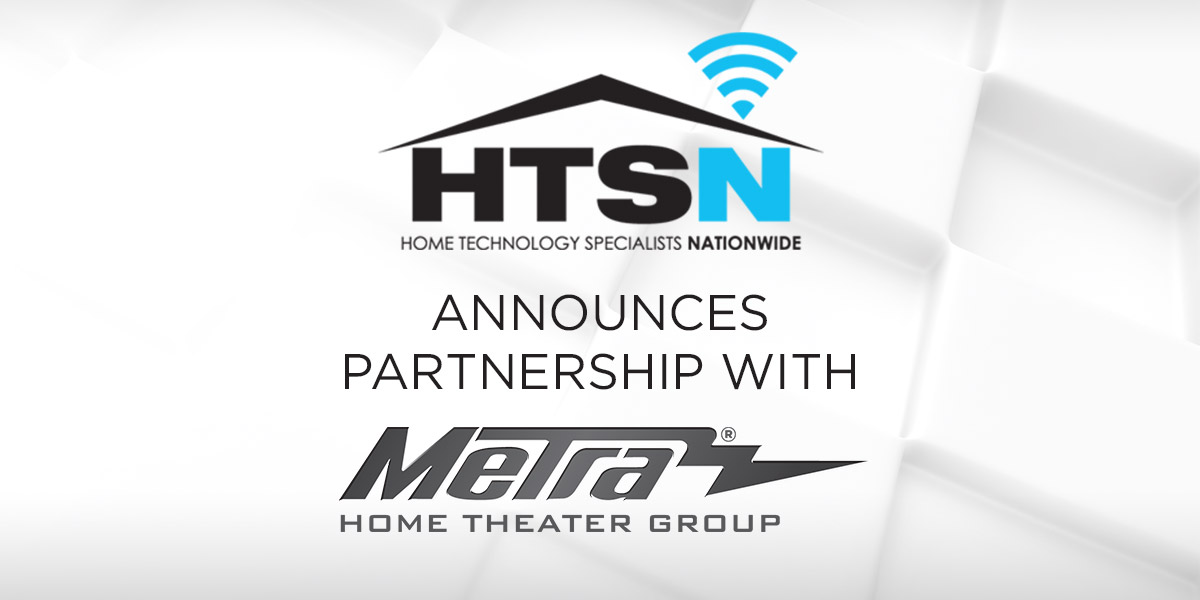 Easy Ordering, Fast Delivery and Unmatched Support Highlight Member Benefits
Home Technology Specialists Nationwide, the custom integration division of Nationwide Marketing Group announced a group exclusive program with Metra Home Theater Group, available to members of both HTSN and of Nationwide. The partnership brings to bear Metra Home Theater Group's easy ordering portal, as well as the logistic capabilities of their six US warehouses.
Metra Home Theater Group enters the partnership with a rich history, having designed, engineered and produced the most innovative products in their industry for over 70 years. MHTG built their stellar reputation having been first-to-market with HDMI solutions that deliver higher resolutions and bandwidths at record-setting lengths. The MHTG family of brands include Ethereal Home Theater, Helios and Spyclops Surveillance Systems.
Hank Alexander, Director of HTSN, shared his excitement about the new partnership, saying, "As HTSN continues to grow our dealer base we look for easy to use solutions, ease of ordering and great brands and Metra Home Theater fills all those needs. With the diverse product line of Metra Home Theater, Nationwide retailers and HTSN custom installers will have easy access to solutions for their sales and installations. We look forward to a great partnership with Metra."
The excitement from Metra Home Theater Group is equally high, as expressed by MHTG General Manager Jessy Crabb, "We've built our reputation on providing reliable high-tech products to connect home theater and audio systems of every budget. From retail solutions designed to get attention in your store to installer-friendly products engineered by and for custom integrators, Metra Home Theater Group is excited to now offer our products to HTSN and Nationwide members."
The immediate launch of the partnership will be an asset to the group's members during the busy holiday season. In addition to the easy ordering system and fast product delivery, Metra Home Theater Group also brings a high level of support to Nationwide and HTSN members as well. Jason Lundell, SE Regional Sales Manager of Metra Home Theater Group, shared, "This is a win-win partnership for Nationwide and MHTG. Metra has been known as The Installer's Choice® for more than 70 years. Headquartered in Florida, our customer service and knowledgeable tech support are unmatched. When integrators and retailers purchase our products, they know they're giving their customers the best value for performance and technology from a manufacturer that stands behind their products." HTSN's Alexander added, "In addition to creating such reliable devices, our dealers will certainly benefit from Metra Home Theater Group's lifetime support and award-winning service. The fact that a call to MHTG tech support is a direct hotline to the same people who designed the products means access to the right answers very quickly, from support needs to assistance with pre-sale system design questions."
Metra Home Theater Group will debut at Nationwide PrimeTime, as the industry's largest trade show for Independents returns to the Venetian | Palazzo and Sands Expo Center in February. Registration for PrimeTime is now open at www.nationwideprimetime.com.
About Nationwide Marketing Group
Nationwide Marketing Group works on behalf of thousands of independent retailers, rent-to-own dealers, and custom installers to help them grow their businesses and thrive on their own terms. With over 5,500 members operating more than 14,000 store fronts, Nationwide Marketing Group is the largest buying, marketing, and business support organization of its kind with members representing billions in combined annual sales within the major appliance, furniture, bedding, electronics and specialty electronics industries. For nearly 50 years, the organization has remained committed to the independent channel by empowering members with the scale, sophistication, and efficiencies they need to compete. Along with providing unmatched business intelligence, tools, and resources to help them win in an ever-changing business environment. Learn more at nationwidegroup.org
About Metra Home Theater Group®
Metra Home Theater Group® (MHTG), a pioneer in HDMI® cable technology, is a division of Metra Electronics® , the world leader and "The Installer's Choice" ® for vehicle installation kits and car audio accessories for more than 70 years. Headquartered in Florida, MHTG's brands include Ethereal Home Theater®, Helios® and Spyclops Surveillance Systems®. Metra's strong commitment to research and investment into the development of cutting-edge solutions has a history of providing first-to-market solutions for HDMI cables and electronics. Its Velox Active HDMI 30 Meter Cable was recognized as the Top Long-run Copper HDMI Cable at the 2017 CEDIA Expo. Connect with Metra Home Theater Group on Facebook, Twitter or MetraHomeTheater.com. For ordering information and pricing, visit Metra Home Theater Group online at MetraHomeTheater.com or call 866.839.9187.