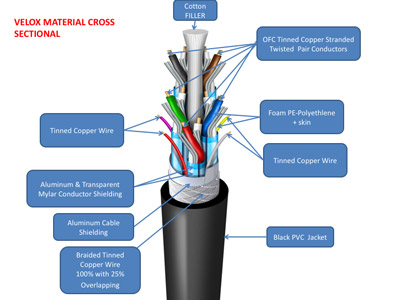 The second part of this blog series we are discussing the two types of shielding and why they are important. The two types of shielding that a HDIMI cable should have to provide the best protection are braid and foil.
A braid shield keeps outside noise from interfering with your HDMI® cable by cutting down the 110/60Hz interference. If outside RF/EMI noise penetrates the HDMI cable it can cause all sorts of havoc. Since pretty much everyone has had some experience with HDMI Cat/x Extender failure due to high voltage switched devices (lights, motors, etc.) cause a short term dropout of the HDMI signal, there is an understanding of this issue.
Foil shield reduces the high frequency interference and keeps the noise within the cable. A foil shield also protects components from damage caused by spurious HDMI noise from running amok in your system like a gremlin. Foil shielding around the TMDS feeds of a HDMI cable also keeps the noise from causing problems with infra-red components and RF control systems.
Here is a cutaway to demonstrate where the shielding is in our Velox cables:
What does this have to do with cables? Better materials and more coverage within the shielding protects all of the system components and promotes a higher level of performance.
Next week we will discuss bandwidth and speed. Comment below if you have any questions regarding this blog series so far. We will do our best to answer you ASAP.