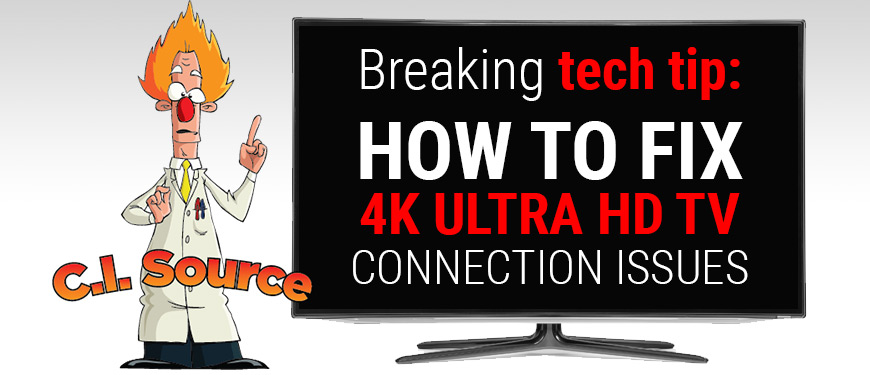 When setting up a home theater system with a new 4K Ultra HD television, one our customers came across the following message on their TV's display:
"For optimal picture quality, connect your 4K Ultra HD Blu-ray Player to a Television that supports 4K Ultra HD with High Dynamic Range."
Below is a photo of the message shown on the display, sent to us from a dealer needing tech support: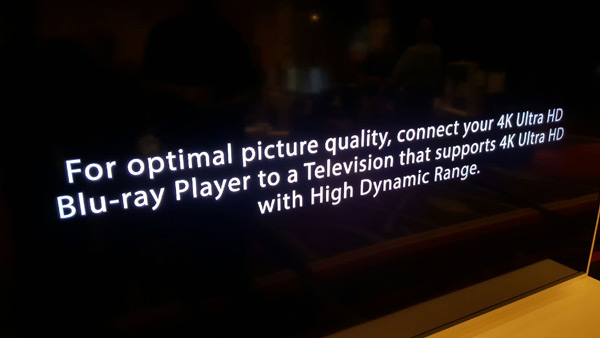 Are you seeing this message on your 4K TV screen? Metra Home Theater Group's tech support team is here to help our customers diagnose and solve 4K Ultra HD connectivity issues. Here's what you need to do for quick tech support.
Have the following information written down and in front of you when you call Metra Home Theater's tech support team at 1-866-839-9187:
Brand and model numbers for all sources and displays in the system.
The model/brand information on each display and source helps Tech Support determine the technology supported to help solve the issue. There is a range to the 4K Ultra HD Spec. Knowing where each source and display fall into this range is crucial in fixing the problem.
Which input is being used for connection?
All accessories and HDMI® ports in the connection chain must support the same spec to work.
What gear is between the source and the display?
For example, switchers, matrix, AVR splitter.
Brand, models and lengths of cables being used in the system.
Cables are the most important accessory in your connection chain because the display and sources can't do their job properly without the correct cable. There are very few cables on the market now that can support the technology needed to fix the problem shown in the picture above. As it stands now, no baluns can support this technology. In addition, the specs for 4K cables change when running longer lengths.
It is a process of elimination to fix this type of issue. If you are a Metra Home Theater Group dealer or distributor, call us today at 1-866-839-9187 and we will help you fix this connectivity issue with the correct products. Interested in becoming a customer? Apply to become a Metra Home Theater Group Dealer and we'll be in touch shortly.