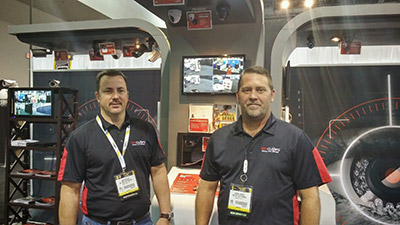 Last week Jason and Bob were at the ISC WEST Show at the Sands in Las Vegas. This is the first time Metra Home Theater Group has exhibited at this show and we featured our Spyclops line. I hear the show went well and the booth looked fantastic. When the staff returns, I like to ask a few standard questions to get a feel for a show and how it went, how to improve, etc. I email them the questions and they answer them within the first few days of being back in the office. I work with some funny people and sometimes these answers make me laugh. This was one of those times. I decided to make it my ISE Show Wrap up post because it shows why we are such a tight group here at Metra Home Theater Group. I hope you enjoy these as much as I did.
What did you learn at the show? Las Vegas is just as hard on us Floridians in April as it is in January when we are there for CES. When breaking down the booth we need to make sure our crates get there on time. It's difficult to work hard when your body is craving humidity.


What did you think about booth location? I think by the time people got back to us, they had seen it all and they gave us a glance and turned around. Still got some good leads in between nose bleeds. Also, we need to make sure we do a nose check during the show. Nose bleeds can happen at any time and scare people off no matter where we are located next year.


How many exhibitors were there? Over 10000 and they all had big TVs in their booths. We need big TVs next year to help draw in the crowds.


What can we do to improve at the show next year? Didn't you just ask that? Well, big TVs are the way to go next year. They catch the eye and will bring in traffic. Packing a humidifier in the crates so we are prepared for environment will also save us from multiple trips to the store after the show.


What was one positive from the show? Break down goes really fast when you are ready to get home and breath the fresh Florida air full of humidity.