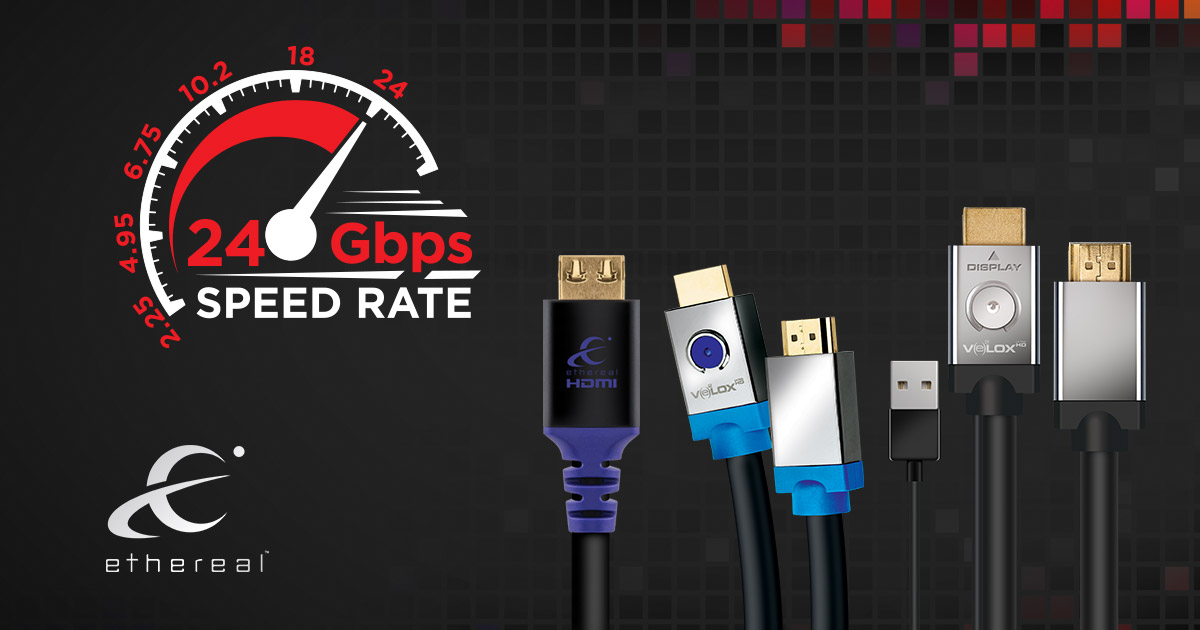 As home theater enthusiasts and technology professionals eagerly await the rollout of HDMI 2.1, manufacturers are working to bring 4K/120, 4:4:4, 12 bit color, dynamic HDR and 8K into mainstream production. While details for Ultra High Speed HDMI Cables are still being finalized, we do know that the next step in 8K will require 24Gbps bandwidth by reassigning the 4th channel, currently used as the clocking lane, to carry video.
Anticipating this change and engineering for the future, the Velox Active, Velox Passive and MHX cables manufactured by Ethereal, a part of Metra Home Theater Group, are designed to carry either clock or video in the fourth lane. This means that many of the existing passive 18Gbps cables, or Passive High Speed cables used with the HDM-GA1, can already transmit 24Gbps without any issues. While this costs more to manufacture, it has helped to prepare these HDMI cables for the next interval of 8K content. Going beyond 24Gbps, the Velox Active HDMI Cable designed with patented module technology allows for much higher bandwidth and already supports 24Gbps. It is currently being developed to go even farther with 32Gbps bandwidth at longer lengths.
For standard HDMI cables that were not designed to carry video content in the fourth clock channel lane, they will need to be upgraded for 8K at 24Gbps. As more information from HDMI is announced regarding the final Version 2.1 Compliance Test Specification (CTS), we'll provide performance updates on all of our Ethereal HDMI cables.
Need help? Metra Home Theater Group dealers can call and speak directly to our technical support team at 1-866-839-9187. Not a customer? Apply to become a Metra dealer today.