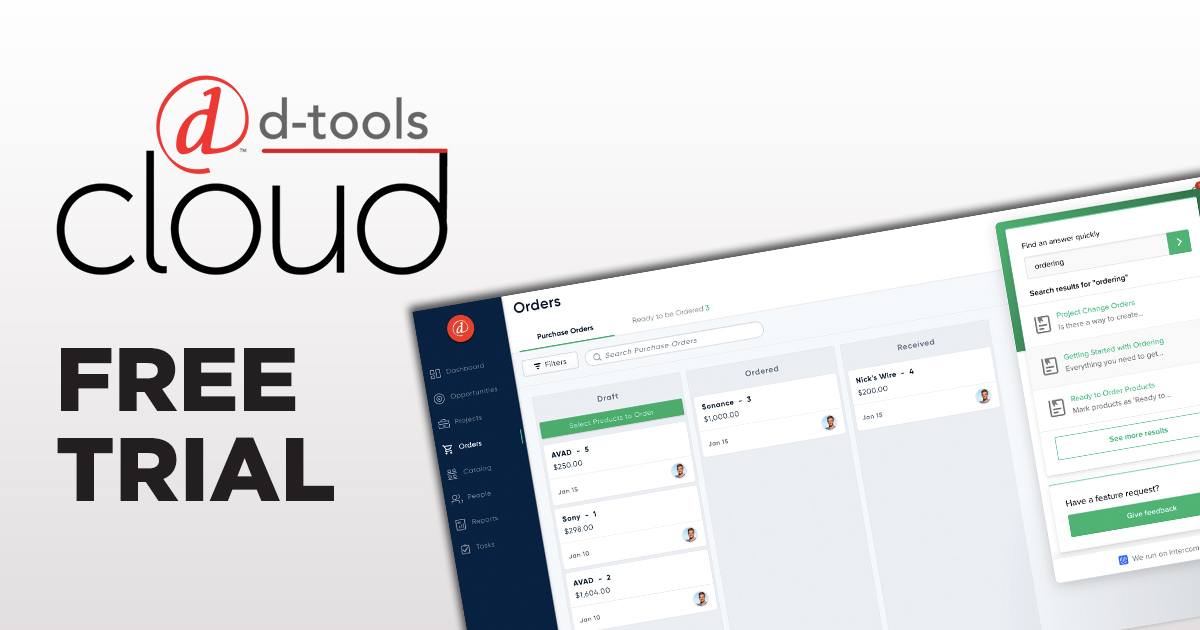 D-Tools, Inc., the worldwide leader in data-driven system integration software, is offering a free 45-day trial of its new cloud-based platform to Metra Home Theater Group® (MHTG) customers. D-Tools Cloud debuted at the 2018 CEDIA show as an affordable multi-OS, web-accessible platform, winning many awards for its innovative technology. The platform enables home technology professionals and system integration companies to better manage their project sales and design process – from pipeline and opportunity management through system design, quoting, proposal, acceptance, and procurement.
All of Metra Home Theater Group's products are available to authorized dealers who are using D-Tools Cloud, allowing them access to pricing and product information when designing and quoting their projects. "We want to assist our customers and make it as easy as possible to use our products for their projects. By partnering with D-Tools, we are excited to provide dealer-specific pricing within the D-Tools Cloud so that they can quickly create proposals and then order products from one place," says Jessy Crabb, General Manager of Metra Home Theater Group. "Now, a 45-day free trial gives dealers a way to try out the software before making any commitments," she added. MHTG dealers can see more information about the D-Tools Cloud platform and sign up for the free 45 day trial at https://d-tools.com/d-tools-cloud-metra/.
About Metra Home Theater Group®
Metra Home Theater Group® (MHTG), a pioneer in HDMI® cable technology, is a division of Metra Electronics® , the world leader and "The Installer's Choice" ® for vehicle installation kits and car audio accessories for more than 70 years. Headquartered in Florida, MHTG's brands include Ethereal Home Theater®, Helios® and Spyclops Surveillance Systems®. Metra's strong commitment to research and investment into the development of cutting-edge solutions has a history of providing first-to-market solutions for HDMI cables and electronics. Its Velox Active HDMI 30 Meter Cable was recognized as the Top Long-run Copper HDMI Cable at the 2017 CEDIA Expo. Connect with Metra Home Theater Group on Facebook, Twitter, Instagram or LinkedIn. For ordering information and pricing, visit MetraHomeTheater.com or call 866.839.9187.
About D-Tools, Inc.
D-Tools, Inc. is a worldwide leader in accessible, highly accurate business software that caters to the unique and diverse needs of systems design and installation firms. The company's on-premises software, System Integrator™ (SI), and new cloud-based platform, D-Tools Cloud, are robust solutions that help manage all aspects of an integrator's business, including sales, comprehensive system design, project documentation, procurement, and project management. Today, more than 6,000 companies in over 80 countries use D-Tools' award-winning software to streamline business processes, leading to improved operational efficiencies and increased profitability.