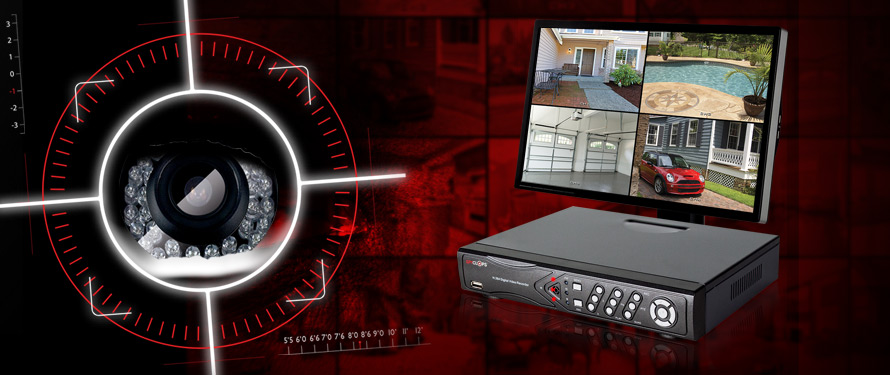 When it comes to installing a professional surveillance system, Digital Video Recorders are the heart of the security camera system and single most important component. Installers have many affordable options to choose from, but they aren't always high quality or customer friendly. While our Spyclops brand of surveillance products has high-quality features, the latest technology and affordable pricing, we want you to understand what to look for in a DVR and how it affects your project. This will help you pick the best Digital Video Recorder for your customer's needs.
Read Metra Home Theater Group's recommendations for professionals on choosing the best DVR for a security surveillance system:
Check the DVR's Recording and Playback Resolution Specs.
The recording resolution and playback (live video) resolutions are not always the same quality. Commonly, the live video is of a much higher quality to free up video storage space. You may have a playback resolution that is the same as what the camera can record but notice a big difference when you review older footage, which is of lower quality. The recorded resolution is important when trying to look at previous footage to identify a license plate number, person's face, or currency numbers on money. The details make the difference, and the specs like frames per second (fps) are a key indicator as to how clear the video footage will be, with 30 fps being the best frame rate. Pay close attention to the DVR's resolution and frames per second when comparing models.
Don't Pay to Access Security Camera Footage.
Customers like having control of their security system from any high speed internet connection in the world. Most systems offer a smartphone app for remote viewing, as this is the most convenient way to check your system. This must-have service should also be free and secure.
Look at Long Term Costs and Invest in Video Storage Technology.
With better camera footage comes the need for more storage space. This is important to research ahead of time and discuss with your customer. Many "quick-setup" DVR features on the market don't draw attention to the fact that you have to pay monthly fees for ongoing cloud video storage. At $15 to $50+ a month, this adds up. Installing a CCTV system that stores video footage to a hard drive eliminates the need for cloud based fees. Look for DVRs with H.264 image compression (also referred to as H264 Codec) to offer a good amount of video storage. Using H.264 compression stores 3x more video footage than the older DVRs. Do your research based on your customer's expected storage needs and have them invest more upfront in proper hardware, technology and system installation (ie: your labor and expertise) so they can avoid recurring monthly fees paid to a 3rd party for video storage. Overall, you'll be able to charge more for your time and they will end up saving money in the long run. It's a win–win.
Ensure Proper Backup Capabilities.
DVRs should allow you to backup your footage. This is especially important in a situation where the footage needs to be transferred to another device for investigation or to transfer video footage to free up space on the hard drive. Make sure the DVR has a USB port to backup videos. If this isn't an option, keep shopping.
Choose the Correct Channel Display Options.
How does your customer want to view the security footage? Do they want to view a single camera at a time or four, eight or sixteen channels on one screen? For a commercial installation project, this may require a discussion with the security personnel or whomever is in charge of monitoring the surveillance footage. The size of the monitor may also make a difference. Be sure the display options on the DVR fit the customer's needs before you order and install the hardware. See our Spyclops products: SPY-NVR4720W, SPY-DVR4HYB, SPY-DVR8HYB and SPY-DVR16HYB2 for examples of different channel display options.
Use Motion Detection to Save Time and Storage Space.
Residential and commercial security system customers expect functional features that will make their life easier. Sophisticated motion detection with area masking is one of these functional must-have features, saving both time and money. Instead of scouring through hours of footage, this feature makes it easy for customers to review the most important events on each camera and saves valuable room on the hard drive. If constant video monitoring isn't required, consider motion detection.
Save Money on Existing Hardware.
It's common to see projects where a customer has an existing system but wants to upgrade to the newest features. A quick, money-saving upgrade is to install a new DVR and keep the existing cameras in place. A Hybrid Security DVR like the SPY-DVR8HYB will work with Analog, AHD & IP (up to 1080P) cameras. This is ideal for situations where you are not the original installer for the existing surveillance system. For more channels and camera options, the SPY-DVR16HYB2 is another great choice and is compatible with Analog, AHD, TVI and IP cameras up to 1080P. If you know how to install a hard drive, purchasing a DVR without a hard drive (SPY-DVR16HYB2ND) and installing one yourself will put a little more profit into your bottom line. The client pays the same for DVR – but you'll make more profit for your time.
While installing a security system may seem like a simple request, the different options can be overwhelming. We have a technical department standing by that can help with purchasing our products to fit the job. Call us to learn more. Dealers can contact us for any questions on this or any technical issue and speak directly with one of our technicians at 1-866-839-9187. Not a customer? Apply to become a Metra Home Theater Group dealer today.
Want to learn more about setting up professional surveillance systems? Watch our Spyclops videos here.