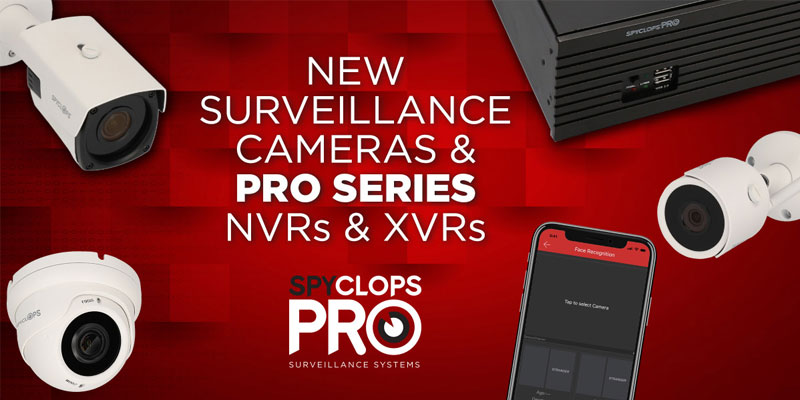 Metra Home Theater Group (MHTG) announces new surveillance system cameras, hard drives, and a robust lineup of NVRs and XVRs from Spyclops. The new Spyclops Pro Series provides increased storage capacity for video recorders, 5-in-1 technology support for XVRs, and NVR options for larger surveillance systems to expand to 16, 36, and even 64 channels. New 4-in-1 HD Coax cameras and IP cameras come in a variety of styles for bullet, mini bullet, dome, turret dome, and mini turret dome options. An 8-channel wireless NVR kit allows for easy installation into smaller projects and new surveillance grade hard drives provide reliable storage options for video recording. The free Spyclops Pro remote viewing app features better uptime for reliable video playback and works specifically with the Pro Series line. These new products are in stock and shipping.
---
16-Channel 4K PoE NVR
The new Pro Series Network Video Recorder (NVR) from Spyclops records in resolutions up to 8MP 4K for each channel. It supports H.265 and H.265+ for maximum video storage efficiency and the HDD bay supports up to 8TB. The SPYP-NVR16POE has 16 PoE LAN ports for direct camera connection and can add up to 9 additional cameras connected to the same LAN for a total of up to 25 channels of recording.
36 and 64-Channel 12MP NVRs
For even larger surveillance systems, the Pro Series introduces NVRs that can record up to 12MP resolution and are capable of supporting more channels than ever before, available in a 36-channel (SPYP-NVR36) and 64-channel (SPYP-NVR64) option. Both NVRs support H.265 and H.265+ for maximum video storage efficiency. The 36-channel NVR has 2 HDD bays that support up to 6TB HDDs each for a total storage capacity of up to 12TB. The 64-channel NVR has 8 HDD bays that support up to 6TB HDDs each for a total storage capacity of up to 48TB.
Hybrid 4K XVRs with 5-in1 Technology
Designed for versatility, the Pro Series hybrid XVRs can record and playback both HD coax and IP cameras for maximum scalability with VGA and HDMI® outputs. These hybrid XVRs take 8MP 4K recording to the next level to support the most common HD coax video formats including AHD, TVI, CVI, CVBS, and IP cameras. Spyclops has introduced the hybrid XVRs in a 4-channel (SPYP-XVR4), 8-channel (SPYP-XVR8), and 16-channel (SPYP-XVR16) option, compatible with all Spyclops cameras and featuring H.265 and H.265+ video compression.
HD Coax Cameras with 4-in-1 Technology
New HD coax cameras supporting TVI, AHD, CVI, and CVBS technologies have a 5MP CMOS sensor with smart IR LEDs for night vision. These cameras also feature an On-Screen Display (OSD) for additional adjustment settings. The coax cameras support 4K lite and native 5MP resolutions and are available in white or gray in several different styles:
The turret dome-style coax cameras support 1080P/30 or 5MP/20 resolutions and also come in white (SPY-DOME2W4N15) or gray (SPY-DOME2G4N15). The mini turret dome-style coax cameras have an ultra wide-angle 2.8mm fixed lens and are available in white (SPY-MNDM2W4N15) and gray (SPY-MNDM2G4N15), supporting 1080P/30, 4MP/30, or 5MP/30 resolutions.
IP Cameras with Built-in PoE
New IP cameras feature built-in PoE, support up to 5MP/20 resolution, have a 5MP CMOS sensor, smart IR LEDs for night vision, and support for H.264, H.264+, H.265 & H.265+ video compression. These cameras are available in different styles and resolutions, with lens options for fixed, manual varifocal, or auto-focus:
8-Channel Wireless NVR Kit
The versatile new SPYP-NVR8W kit supports the future addition of an IP camera for a maximum of 9 channels total. The NVR includes a pre-installed 1TB hard drive with a SATA port that can be upgraded to 8TB. It comes with 8 wireless bullet cameras that support 2MP 1080p resolution at 20FPS with a 3.6mm fixed lens, IR LEDs for night vision up to 25m (82ft), and are rated IP66 for indoor or outdoor use.
Surveillance Grade Hard Drives
Spyclops 3.5-inch surveillance grade hard drives are designed to handle the continuous writing demands of surveillance systems to provide years of reliable service for important video footage. New hard drives are available in 1TB (SPY-SG1TB), 2TB (SPY-SG12B), 4TB (SPY-SG4TB), 6TB (SPY-SG6TB) and 8TB (SPY-SG8TB) options.
These products are now shipping and the Spyclops Pro catalog and additional product specifications are available online at MetraHomeTheater.com.
---
About Metra Home Theater Group
Metra Home Theater Group (MHTG), a pioneer in HDMI cable technology, is a division of Metra Electronics, the world leader and "The Installer's Choice" for vehicle installation kits and car audio accessories for more than 70 years. Headquartered in Florida, MHTG's brands include Ethereal Home Theater,Heliosand Spyclops Surveillance Systems. Metra's strong commitment to research and investment into the development of cutting-edge solutions has a history of providing first-to-market solutions for HDMI cables and electronics. Its Velox Active HDMI 30 Meter Cable was recognized as the Top Long-run Copper HDMI Cable at the 2017 CEDIA Expo. Connect with Metra Home Theater Group on Facebook, Twitter, Instagram or LinkedIn. For ordering information and pricing, visit MetraHomeTheater.com or call 386-255-0234.