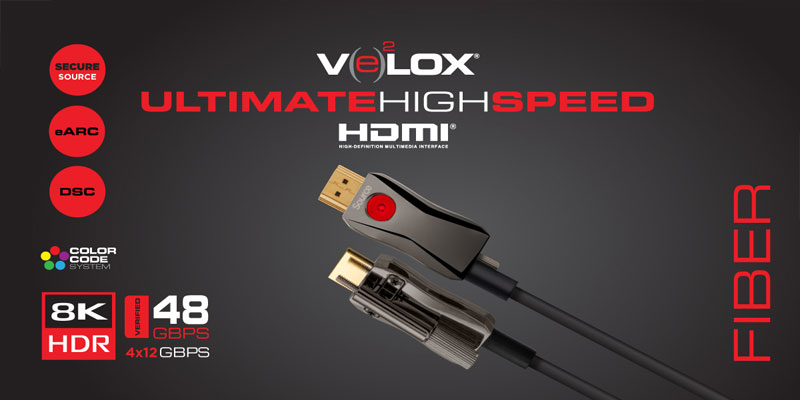 Metra Home Theater Group® (MHTG) has introduced its Velox® fiber HDMI® cables designed for the 8K future in new 5- and 8-meter lengths. These ultimate high speed cables are engineered with a bandwidth capability up to 48Gbps for 8K and 10K content. The EHV-HDG2 Series from Velox was previously available in lengths from 10 to 100 meters, or 32.8 to 328 feet, for long-distance runs. Now, integrators can purchase these cables in 5-meter and 8-meter lengths, or 16.4 and 26.3 feet, as the EHV-HDG2-005 and EHV-HDG2-008. The 100-meter cable in this series won a Residential Top New Technology (TNT) award in 2020 as it was one of the first HDMI cables to support 48Gbps at 100 meters with its innovative technology. The ability to inject external power into the cable has also been one of its cutting-edge features that have helped make this cable compatible with a wide range of devices. For more information about the Velox ultra-premium product line from Ethereal Home Theater®, visit MetraHomeTheater.com/brands/velox.html.
Product Specifications:
48Gbps bandwidth for uncompressed ultimate high speed video performance
Supports up to 8K/10K resolutions, designed at 12Gbps per channel x 4 channels
ARC, eARC and Ethernet supported up to 10 meters (32.8 feet)
Supports all color subsampling
Supports Dynamic HDR
Backward compatible with HDMI 2.0, HDCP 2.2 and all earlier versions
24K gold plated, corrosion-resistant contact connectors
Multi-layer shielding to prevent electromagnetic interference, maximizing noise isolation and protecting components from HDMI ultra-low speed emanations
CL-listed for in-wall installations
Includes USB cables for external power
Attachable screw locking connectors included
Lifetime warranty
About Metra Home Theater Group
Metra Home Theater Group (MHTG), a pioneer in HDMI cable technology, is a division of Metra Electronics, the world leader and "The Installer's Choice" for vehicle installation kits and car audio accessories for more than 70 years. Headquartered in Florida, MHTG's brands include Ethereal Home Theater,Heliosand Spyclops Surveillance Systems. Metra's strong commitment to research and investment into the development of cutting-edge solutions has a history of providing first-to-market solutions for HDMI cables and electronics. Its Velox Active HDMI 30 Meter Cable was recognized as the Top Long-run Copper HDMI Cable at the 2017 CEDIA Expo. Connect with Metra Home Theater Group on Facebook, Twitter, Instagram or LinkedIn. For ordering information and pricing, visit MetraHomeTheater.com or call 386-255-0234.