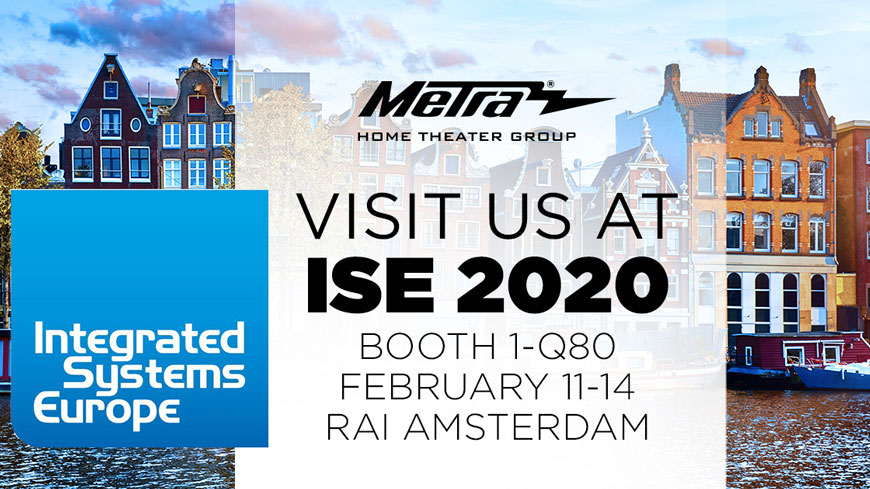 Metra Home Theater Group (MHTG) is showcasing HDMI cables with 48Gbps bandwidth, 8K products, next-generation HDMI electronics and more at booth 1-Q80 at the 2020 Integrated Systems Europe show in Amsterdam. Their new products launched at the recent CEDIA Expo and CES will be heading to ISE.
MHTG's new Velox fiber HDMI cables with Ethernet support 48Gbps for 8K and even 10K content up to 100 meters. The 100-meter cable was previewed at CES with a true 8K signal generator and will be on display at ISE. Ultra-premium construction and high-tech engineering results in clean, reliable performance for the demands of higher bandwidth content in long runs. Multi-layer shielding prevents electromagnetic interference, maximizing noise isolation and protecting components from HDMI ultra-low speed emanations. The Velox EHV-HDG2 series will be available soon in lengths from 10 to 100 meters / 32.8 to 328 feet.
A live demo of MHTG's popular new 4x1 HDMI Multi-Viewer will be at their booth for attendees to see. The CS-4X1MVU shows up to four sources with different content on a single display while being able to choose between multiple split-screen viewing modes. For example, viewers can watch multiple sports games on one screen, look at a computer display and a Blu-ray player at the same time, or show both a video game and a cable box on their TV. One key feature is the ability to select which input's audio is sent to the display. Both the inputs and output supports 720p, 1080p, 1440p and 4K@30Hz.
MHTG is also showcasing its new series of Helios 8K DisplayPort gaming cables that feature zero latency at ISE. These 8K cables are designed to provide an ultra-fast response time for serious gamers with unprecedented picture quality. The cables will be available in retail packaging with lengths of 3, 6 and 9 feet and connect to high-frequency gaming monitors to work with video resolutions ranging from HD to 8K. They support the highest quality audio pass-through for uncompressed digital 7.1, 5.1 or 2 channels for convenient flexibility and performance. Intended for gamers needing multiple screens, the cables are also designed to facilitate multi-monitor configuration with a Display Port 1.4 cable and provide backward compatibility with a DisplayPort 1.2 cable.
Also on display will be MHTG's next-generation HDMI electronics, including an HDMI surge protector, All-in-One-Correction Tool and EDID Regenerator that now support 24Gbps. The HDMI Surge Protector (HDM-SP3) protects AV systems comprised of HDMI enabled electronics from up to 8,000-volt spikes of electrostatic discharge through Coaxial, Ethernet, and Serial data ports. The HDMI All-in-One Correction Tool (HDM-AIO2) is an exclusive product that instantly fixes most of the common HDMI problems that installers experience in today's home theater systems. It now has a smaller footprint and lower price tag, along with a completely redesigned circuit board to increase efficiency and provide faster input switching. Black screens, long sync times, audio dropouts, and more can be prevented by installing the Junior3 (HDM-JR3) EDID regenerator to increase compatibility and minimize failures between HDMI enabled devices. The new EDID Blocker (HDM-EDIDB) blocks the EDID stream when integrating video surveillance DVR/NVR devices into a distributed HDMI system when more than one display is used. These HDMI solution pieces have been improved to keep up with evolving technology and the higher bandwidths required in today's home theater or surveillance systems.
For easy AV distribution, MHTG's new HDMI matrixes will also be on display at ISE. A 4x4 and 8x8 HDBaseT HDMI Matrix product will provide integrators the opportunity to scale video content at different resolutions to different displays. Unlike traditional matrixes, these will not default to the lowest resolution in the system, allowing legacy and new 4K technology to co-exist without sacrificing high-quality content for 4K capable displays. Additional 4x4 and 8x8 HDMI matrix models provide quick switching features that will reduce user wait time when changing content/channels. All four of the new matrixes include pre-built drivers for the most commonly used control systems, including Crestron, C4, RTI and more, to make smart-home integration easy and support 4K/60, HDR, HLG and Dolby Vision, as well as digital coax output and/or 3.5mm stereo PCM connections.
MHTG will also showcase its new fiber HDMI extender (CS-HDFBREXT-VLC) that supports resolutions up to 4K@60Hz HDR. This product allows an installer to extend an HDMI signal up to 300 meters over a single strand of multi-mode OM3 fiber optic cable with LC connectors while still maintaining 4K/HDR resolution at 18Gbps bandwidth.
"8K was everywhere at the CEDIA Expo and CES and we're expecting it to be another big theme at ISE. While TV manufacturers are debuting more and more 8K displays, we're excited to showcase the latest technology in cables and electronics that will help integrators provide a home theater experience that will perform up to its true 8K potential. Additionally, we are still providing reliable solutions for 4K AV distribution and next-generation electronics that solve today's HDMI problems," says Jessy Crabb, General Manager of Metra Home Theater Group. MHTG will be at ISE booth 1-Q80 from February 11th-14th, 2020, at the RAI Amsterdam.
About Metra Home Theater Group
Metra Home Theater Group (MHTG), a pioneer in HDMI cable technology, is a division of Metra Electronics, the world leader and "The Installer's Choice" for vehicle installation kits and car audio accessories for more than 70 years. Headquartered in Florida, MHTG's brands include Ethereal Home Theater,Heliosand Spyclops Surveillance Systems. Metra's strong commitment to research and investment into the development of cutting-edge solutions has a history of providing first-to-market solutions for HDMI cables and electronics. Its Velox Active HDMI 30 Meter Cable was recognized as the Top Long-run Copper HDMI Cable at the 2017 CEDIA Expo. Connect with Metra Home Theater Group on Facebook, Twitter, Instagram or LinkedIn. For ordering information and pricing, visit MetraHomeTheater.com or call 386-255-0234.
About ISE
ISE, Integrated Systems Europe, is the world's largest pro AV and systems integration exhibition. Supported by association co-owners, AVIXA and CEDIA, ISE 2020 is complete with full professional development programs with the latest ideas and newest technology in the global AV industry.