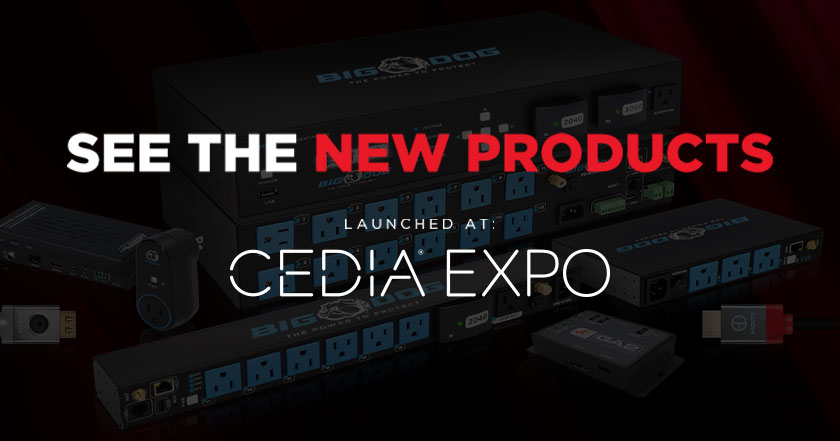 Holly Hill, Fla. – Ethereal, formerly MetraAV, is excited to return to the 2023 Integrated Systems Europe (ISE) conference from Jan 31-Feb 3 with 8K solutions, HiFi audio cables, exciting new power distribution products, and more on display. Ethereal will be at booth 2L220 of the Fira de Barcelona's Gran Via venue. The booth will be packed with AV solutions and other technology, including Velox® premium audio and HDMI® cables, new innovations in power distribution from Big Dog Power, HDMI® extenders, a line of distributor-focused architectural and outdoor speakers from Adept Audio, and much more!
Ethereal will introduce its industry-leading Velox EHV-HDUP Series Passive HDMI Cables to ISE attendees. This is the first and only passive HDMI® cable on the market to support speeds up to 48Gbps at 8 meters! Available in 1 meter to 8 meter lengths, these cables are a substantial upgrade in what a Non-Active copper based HDMI® cable can accomplish. For the first time it is possible to support all the resolutions and feature sets that are incorporated into the HDMI® 2.1 specification in a long distance passive HDMI® Cable. Additional Velox products will be on display as well, such as premium audio cables and more HDMI® solutions.
Big Dog Power's award-winning Smart Power Distribution Units will also draw crowds to Ethereal's booth this year. This innovation has created a buzz amongst AV integrators since its launch in June of 2022, as it combines all the features integrators need into one device to deliver surge protection, remote control, smart home integration, rack temperature management, and more. Twelve individually-controllable outlets have power metering, self-healing, and automatic reboot capabilities for smarter and easier remote management of connected devices. The PR-R13PI Smart Outlet PDU includes a surge mileage meter that shows when surges have occurred and the percentage of remaining protection. Two removable surge protection modules can be replaced without sacrificing the entire PDU, making this solution unique and cost-effective.
Attendees will also have the opportunity to see Ethereal's newest generation of MHX-LUHDME and MHY-LUHDME Series Cables. With the latest HDMI® 2.1a specification, the massive bandwidth of 48Gbps is the current performance goal, and it can be a hard target to hit. However, the new Ethereal HDMI® cables meet this challenge in lengths from .5 meters to 5 meters with a design that is years in the making. The Ethereal development team uses a combination of advanced metallurgy and cable topology technology to meet and exceed the requirements of the latest sources and gaming devices without the need for added "booster" electronics. The MHY series offers impressive results in a slim, flexible, and easy to install cable suitable for tight spaces, TV mounts, and equipment racks that meet your 48Gbps needs.
Other HDMI solutions will be on display, including two innovative 1X4 and 1X8 2.0 Splitter extenders. The CS-1X4HDSP4KEXT and CS-1X8HDSP4KEXT feature 18Gbps video bandwidth, resolution up to 4K2K@50/60Hz, digital and analog audio de-embedded output. These products extend the signal transmission distance up to 35 meters at 4K/60Hz, 50 meters at 4K/30Hz, and 60 meters at 1080P.
In partnership with Adept Audio, engineered and designed by Origin Acoustics, Ethereal will also showcase a full line of distributor-focused architectural and outdoor speakers. These speakers boast exceptional sound, easier installation and affordable prices. They are designed to deliver a demonstrably better listening experience for clients of residential and commercial installation companies. Whether it's a home theater, whole-house audio, outdoor sound system, or commercial space, Adept products are crafted for, above all, high quality sonic performance, easy installation, high-value and durability. These products include down-firing ceiling speakers, in-wall LCR speakers, indoor-outdoor speakers, and more.
Be sure to visit booth 2L220 to be truly impressed by the latest technological innovations available in AV integration. Attendees will have the opportunity to get an up-close look at these new products, and talk with sales representatives on-site. In addition, Ethereal will give away various promotional items throughout the event from its popular brands. Customers are invited to book a private meeting at the show with the sales team to learn more about these exciting new products.
Ethereal's recent rebranding and name change from MetraAV is an effort to reconnect with its original foundations. The company was conceived as Ethereal Home Theater® in 2001, as its parent company, Metra Electronics, applied its expertise in car audio connectivity to create a division specifically for HDMI® products and home theater systems. This division has grown to include Ethereal®, Velox®, Helios®, and Big Dog Power® product lines today, and the company has earned a reputation as one of the most reliable manufacturers for premium residential and commercial integration products. More information about Ethereal's newest products can be found at https://metrahometheater.com/new-products.html.
About Ethereal
Ethereal is a pioneer in HDMI® cable technology, power distribution products, premium audio cable design, and AV integration headquartered in Holly Hill, Florida. Ethereal's brands include Ethereal Home Theater®, Velox®, Helios®, and Big Dog Power®. A strong commitment to research and development has resulted in a history of providing first-to-market technology for HDMI cables and electronics with numerous industry awards for innovation. Formerly known as MetraAV, you can connect with Ethereal on Facebook, Twitter, Instagram, LinkedIn and subscribe to their page on YouTube to watch informational product videos and more. For ordering information and pricing, visit MetraHomeTheater.com or call 386-255-0234.