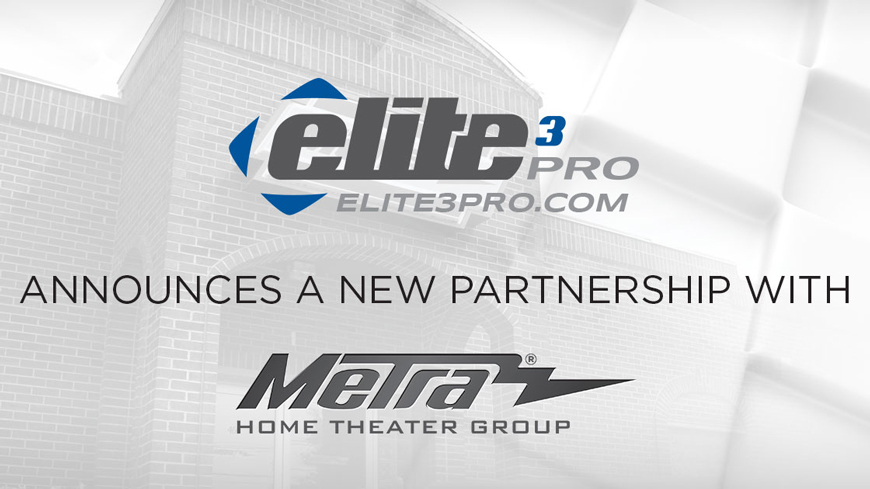 Metra Home Theater Group (MHTG) is excited to announce that Elite 3 Pro will be their new representative firm for Texas, Arkansas, Oklahoma, and Louisiana. They will support Metra's Ethereal, Velox and Spyclopsproducts for commercial and residential integrators. According to Elite 3 Pro, formerly known as Elite Marketing, the firm was "created out of necessity to meet the increasing demands to support the ever-changing technology landscape and the purveyors that support them." Part of their mission is to become the "resident expert" for the brands they represent, allowing them to provide customer service and support for their technology partners.
This new partnership will provide connections to grow MHTG's existing network and generate new clientele, plus add to MHTG's existing team of talented field representatives in the region. "Our Ethereal, Velox, and Spyclops product lines will work well for their AV division and give their customers access to award-winning technology that will save time in the field," says Jessy Crabb, General Manager for MHTG. "We look forward to a great long-term relationship with Elite 3 Pro and providing more support for customers in the midsouth region," she added. Dale Pugh, President of Elite 3 Pro, says that "the opportunity to work with Metra Electronics is absolutely one that my team and I feel very excited about. When you look at the industry and see all the acquisitions taking place over the last 10 years, it's truly remarkable to think that a 75-year-old company like Metra is still a family-owned and operated business. Not only that, this is a company that continues to innovate and expand its product offering, giving their customers more quality solutions they can count on. Based on what I've seen and heard thus far, 2021 is only the beginning of what I would call 'the awakening of the sleeping giant.' The future not only looks promising but likely game-changing for all of their partners."
About Elite 3 Pro
Elite 3 Pro is a Texas-based, manufacturers' rep agency responsible for managing the TOLA region in the custom integration space. The company, led by its team of audio and video professionals, has built on its pillars of success since 2006. The diverse experience and out of the box thinking within this organization, coupled with a passion for music and technology, have been the fundamental fuel to evolve and adapt within the industry's ever-changing landscape. Visit
ElitePro3.com
to learn more.
About Metra Home Theater Group
Metra Home Theater Group (MHTG), a pioneer in HDMI cable technology, is a division of Metra Electronics, the world leader and "The Installer's Choice" for vehicle installation kits and car audio accessories for more than 70 years. Headquartered in Florida, MHTG's brands include Ethereal Home Theater, Helios, Spyclops Surveillance Systems and The Install Bay. Metra's strong commitment to research and the development of cutting-edge solutions has resulted in a history of providing first-to-market solutions for HDMI cables and electronics. Its Velox Fiber HDMI 100 Meter Cable was recognized with a 2019 Top New Technology Award and the All-in-One Repair Tool (HDM-AIO2) has won numerous industry awards for innovation. Connect with Metra Home Theater Group on Facebook, Twitter, Instagram, LinkedIn and subscribe to their videos on YouTube to watch weekly Tech Tips. For ordering information and pricing, visit MetraHomeTheater.com or call 386-255-0234.