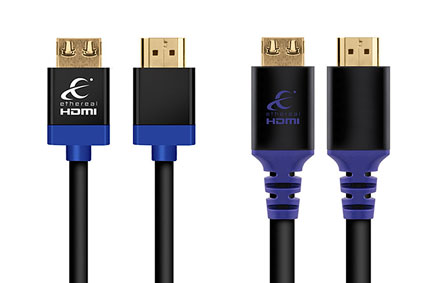 New technology takes 4K at 18Gbps to longer distances
Metra Home Theater Group®, a leading provider of home theater products and accessories for the integration community, announces new technology and redesigned features in Ethereal's popular MHX and MHY HDMI cables, debuting at CES 2018 from January 9 – 12, 2018 in Las Vegas, Nevada.
Ethereal's MHX and MHY HDMI cables feature high-quality construction and offer an incredible value for their price point. Using new technology, the MHX and MHY HDMI cables will take 4K content even farther. The Ethereal MHY high-speed HDMI cables with ethernet support 4K at 60Hz HDR, delivering 18Gbps from 0.5 to 10 meters, and 10.2Gbps at 12 to 15 meters. The Ethereal MHX high-speed ethernet cables have extended their length for delivering 18Gbps content to 7.5 meters. MHX cables between 8 and 12 meters deliver 10.2Gbps and the 15 to 17-meter cables deliver 6.75Gbps. For 4K/HDR content at 18Gbps, the Gigabit Accelerator (HDM-GA1) can be used with the 8 to 17-meter MHX cables.
Read More